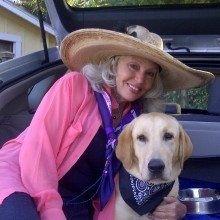 Travels with Journey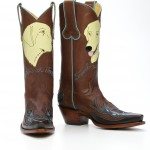 We got lucky! Six years ago we adopted the most "labradorable" puppy.
He was given his name by a three-year-old having learned that three dogs were more then their household could handle. Just before having to give this beautiful pup away she said to her mom with the wisdom of sage,"Let's name him Journey because life is a journey."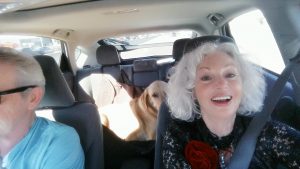 From the moment he entered our lives, we knew he was special. His love of people exudes and the joy he brings gives us a new meaning for life. Call it sign.
Traveling with Journey has become our passion and we've been on the road ever since

My favorite book is John Steinbeck's classic, "Travels with Charley In Search of America." His romance for the open road and the people he met along the way was enhanced ten-fold by his traveling companion. A beautifully sensitive, bright, brown, French Poodle known throughout the world's literary circles for having helped his master receive the Nobel Prize for literature in 1962. Ironically, it stayed on the New York Times Best Seller list for one week until it was replaced by Rachel Carson's Silent Spring.
"John Steinbeck …. when the beauty is found inside, the search ends and a beautiful journey begins."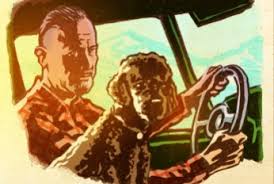 As Boomers, Jim and I love to travel. We decided it was time to create new opportunities for pet owners like us, who hated the idea of leaving their beloved behind.
After much  research and a ton of ChutzPAW we were able to convince small boutique hotels throughout the central coast that Journey's wagging tail and appetite for culinary treats would pave the way for a new start-up business model. Simply put, all they had to was roll out the green carpet, offer treats upon arrival, lay out decorative food bowls and provide furry friends menu choices, along with plush luxury beds tailored to fit the exact size of your pet. Mind you, we've had more minature poodle sized beds brought to our rooms largely because many hotels have SIZE LIMITS. Don't worry! Travels with Journey has created new opportunities for many 5 star hotels who see an unlimited opportunity to increase their revenue simply by including pets as welcomed guests and the amenities that appeal most. You can now easily book your stay in any of our pet-friendly hotel recommendations thanks to Journey.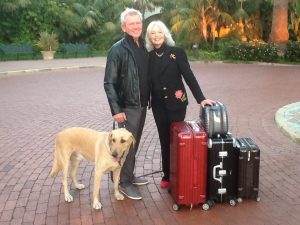 When I say passion for travel he's got it. Every time he sees our luggage on the landing, Journey starts grabbing treats, running wild in circles, finding a misplaced shoe under the bed… anything to make sure that he is going along not just for the ride but for the experience. He even has his own hemp Travel Bag. And leash and collar is a must.. the more bling the better.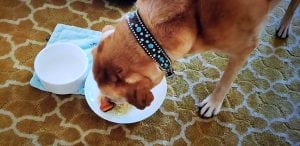 And then comes the prep. Not just for me but for Journey. When Valerie Taylor's Pouch Parlor pulls into our driveway he makes a mad dash to greet her.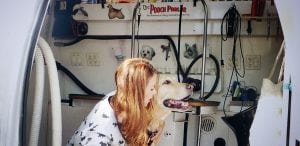 It's been a few years now, and Travels with Journey is becoming a brand. Journey is waiting for CNN to cut him a deal. And why not.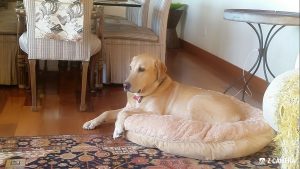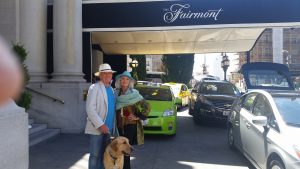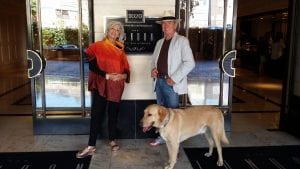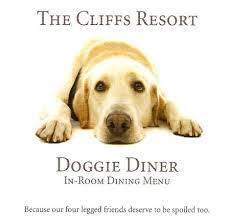 He's been personally welcomed to nearly every hotel on California's central coast, stayed in San Francisco's best, placed his five-star paw print in literally every Beverly Hills hotel's lobby, been given signature treats, had his photograph taken for many Furry Friends Menus.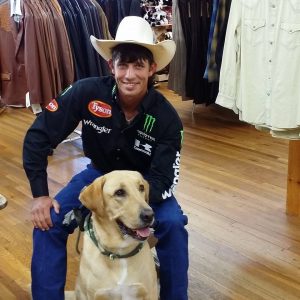 He's attended national rodeos and had his picture taken with the world's champion leading bull rider, J.B. Mauney. His social media presence has skyrocketed.
Ty Warner, owner of the Four Seasons Biltmore even treated Journey to a private 45-minute massage on the deck of his private suite at the famous San Ysidro Ranch. And Journey got to stay at the Four Seasons Biltmore Hotel in the honeymoon cottage, with an ocean view at Butterfly Beach. He's considered a celebrity  and was recently treated to a tasty welcome at the new, posh Waldorf Astoria in Beverly Hills, next to the famous Beverly Hilton Hotel which has been the epicenter of the entertainment industry for years.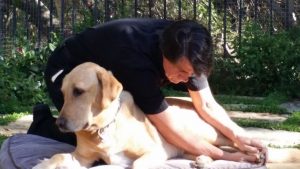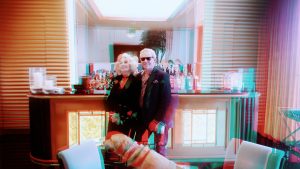 To think that it's taken this long for hotels to get it; knowing most pet owners would prefer  to travel with their pets.Don't you want to travel with yours?
Journey's new favorite place to stay in Beverly Hills is the Waldorf Astoria…ours too.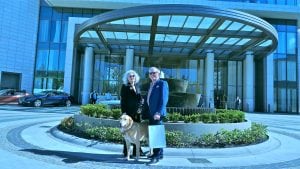 You can't imagine the beauty, comfort and style and the epicurean creations at Jean-Georges.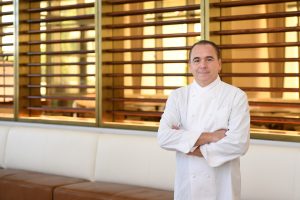 We were treated like royalty. Imagine your butler greets you with your luggage, brings all of the BEST DOG AMENITIES the minute you arrive. The entire staff welcomed Journey with a PLATTER of homemade organic treats. Better then the Hors D'oeuvres served at Meghan and Harry's wedding.

And later when we dined downstairs in the fabulous well-touted Jean-Georges restaurant while Journey had his two Michelin Star dinner via room service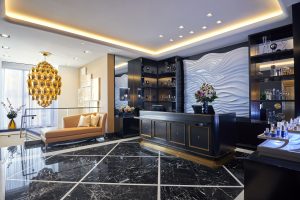 The La Prarie Spa is a must! Beautifully designed with a zen sense of quietude. Excellent spa choices and wonderfully talented masseurs. Deep relaxation follows you where ever you go in this remarkable hotel. My favorite spot and Journey's was the rooftop garden. You can dine lavishly, swim, or just sit in awe of the view. At night, the city comes to life with a sparkling glow. The famous Beverly Hills water fountain can be seen from your suite below. The chromatherapy colors against the night sky remind you of time when Beverly Hills was known for its footpaths, not the bustle of hybrid cars. The nostalgia of the past is felt but the electrifying beauty and the "hyper buzz" of the new Waldorf Astoria is here to stay. The remarkable view from the roof-top, in my opinion, is  second to the Eiffel Tower in Paris.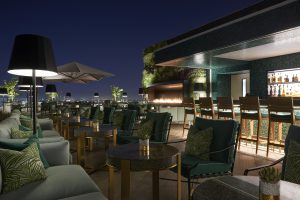 Travels with Journey is our passion. Every very pet is special. And like Journey when you travel with yours he or she will become the center of attention. The star. I always say to friends, they'll get the red carpet and you'll get the peanuts.