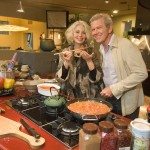 I decided to leap onto the glorious food stage with the hopes that Google's Adsense would add words to discover Nancy's Organic Kitchen.
Let's bake bread!
I know it's fattening! And you don't need the fat or the carb calories.. but every once in while, if your like me, you crave comfort food. Bread pudding is one of the best. There are a gazillion recipes on the Internet, some more tantalizing than others. But they all have the same ingredients in common; butter, eggs, milk, sugar, cinnamon, and of course bread.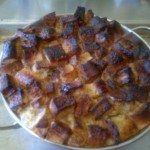 I decided to improvise a little. Instead of the full amount of sugar required I used maple syrup and if you don't have that blue agave syrup is a great sweetener. To top it off, I made a delicious fruit sauce with, organic plums, strawberries, rhubarb, and apricots. I added a little orange zest and refrigerated this ahead of time in glass Ball Canning Jars. Also, a perfect topping for yogurt in the morning. Plus you get plenty of vitamin c from all the organic fruits.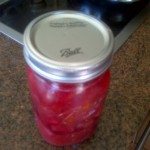 Recently, we had an event at Sunstone Winery in Santa Ynez California.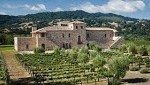 We were pairing the best wines with the best cheeses provided by Cowgirl Creamery and The Wisconsin Cheeseman. I had a couple of french sourdough baguettes  leftover which had naturally become stale. I had to use my electric knife to cut through what seemed like plywood. The yeast in the bread, once it is airborne causes it to loose its freshness. Often, I have had to discard perfectly good bread. What a waste!
I was determined to bring life back to the once fresh sourdough bread. I feel good when I can recycle food and stretch its capacity and shelf life.
Give this recipe a try. You won't regret the taste but you will have to make up for the calories.
Ingredients
6 cups cubed days-old bread
9 eggs

2-1/4 cups

whole milk

1-3/4 cups

heavy whipping cream

1 cup sugar

3/4 cup

butter, melted

3 teaspoons

vanilla extract

1-1/2 teaspoons

ground cinnamon
Directions
Place bread cubes in a greased 13-in. x 9-in. baking dish. In a large bowl, whisk the eggs, milk, cream, sugar, butter, vanilla and cinnamon. Pour evenly over bread.
Bake, uncovered, at 350° for 40-45 minutes or until a knife inserted near the center comes out clean. Let stand for 5 minutes before cutting.
Meanwhile, in a small saucepan, bring the sugar, water and lemon juice to a boil. Reduce heat to medium; cook until sugar is dissolved and mixture turns a golden amber color. Stir in butter until melted. Add cream. Remove from the heat. Serve with bread pudding. Yield: 12 servings.
Nancy's Organic Plum Sauce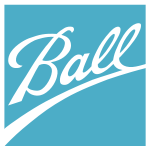 Go to the open farmers market and buy at least 3 cups of small damson plums. Red skinned and sour to sweet tasting. Purchase three to four stalks of organic rhubarb, 2 cartons of organic strawberries, a handful of ripe apricots and a couple of organic oranges.
Wash all the fruit and cut the rhubarb into 1/2 inch slices. Remove the stems from the strawberries and cut the plums and apricots into small but equal pieces. Remove any pits.
Place all the fruit in a large saucepan and add water to cover only 1/2 of the  fruit. Add one cup of sugar and the zest of one orange rind. Let the fruit simmer under low heat… do not boil. Stir occasionally to get the sugar mixed into the  fruit. Taste to make sure the rhubarb has cooked thoroughly. When the fruit has thickened in its own liquid, remove the pot from the stove. Let the mixture cool while you prepare the glass Ball Canning Jars (2) by simply adding boiling water and letting it stand for a few minutes. Empty the water and while the glass is containers are still hot, add the fruit mixture and seal. Let the jars reach room temperature before attempting to refrigerate.
How to Serve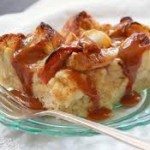 Make sure the bread pudding is warm then simply spoon some of the fruit sauce over each individual serving. I like to add a dollop of freshly whipped cream to which I add a teaspoon of Tahitian Vanilla Bean Crystallized Sugar. This is simply one of the most sumptuous and filling deserts. Best to think about smart calories for the main course, no carbs, and let this little slice of heavenly baked bread pudding make your day and night.
Bon Appetite