By Nancy and James Chuda founders of LuxEcoLiving and co-founders of Healthy Child Healthy World
I miss my dog! Not enough to fly him cross country in the belly of an airplane. But just enough to settle for a hand carved wooden clone.

LuxEcoLiving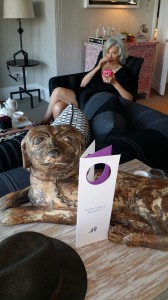 The Crosby SoHo is a magnificent 86 room hotel with phenomenal interiors designed by Kit Kemp who has mastered the art of unique contemporary style. In fact, no one does it better. She and her husband Tim own Firmdale Properties the majority of which are situated throughout London.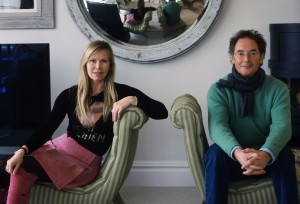 Kit and Tim Kemp Firmdale Hotels LuxEcoLiving
The Kemp's are brilliant! They deserve the highest accolades for achieving the Queens Award for Enterprise in 2000, 2006, and 2009, a recognition of its outstanding achievement to international trade.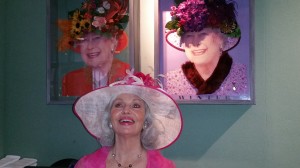 Nancy Chuda Selfie Galaxy 5S LuxEcoLiving
One of the themes which adds to the Crosby's high standards of environmental excellence is their emphasis on growing sustainable organic food.
Roof Top Gardening and Free Range Chickens

There is The Crosby Bar, a private leafy garden, guest drawing room, several stylish private event and meeting rooms, a luxurious 99 seat screening room and fully equipped gym.

The beautiful black and white themed suite is the perfect place to perch and be amused by the historic charm of SoHo. Best part of this experience is it feels like home. I would have to say that of all the hotels we have covered thus far Kit Kemp gets the highest score for her ingenious interior designs.

NGC- Where does your vibrant sense of color come from and how does nature influence you?
KK-I think that rooms should be an adventure, a bit of fun, and not too serious. I love colour and texture and like to create a carefree element through the use of colour.
I love organic pieces and my inspirations will always be nature, but of course the adventure of travelling always ignites the senses and you find you come back with lots of different ideas on colour and texture.
NGC- I read your husband is a workaholic yet you are obviously well matched and a team. How long does it take to transform a property and what has been your most challenging Firmdale hotel?
KK-All our properties have taken different amounts of time and have had their own challenges from the new builds to the unloved buildings we're bringing back to life
NGC-  One of our most unique experiences in covereing The Best Hotels in the World series for The Huffington Post, was residing in Salvador Dali's Suite at Le Meurice in Paris. It truly was a once in a lifetime experience having learned he lived and painted in this suite for sometime. In your own travel experiences outside your own signature properties, what are some of your reflections on hotels that have impressed you the most?
KK- One of my favourite and inspirational hotels is Il Convento in Puglia, which was owned by Lord McAlpine (who sadly died at the beginning of this year) and his wife Athena. He was an obsessive collector and filled the property with some of the best Aboriginal art, Joe Tilson pieces and books I've ever seen. You walk through the kitchen to get to the breakfast room, past all the preserves, fruits and vegetables, so you feel fully involved. The rooms don't all have en-suites, so it's not everyone's cup of tea, but that didn't bother me one jot. It's a very romantic place, unlike anywhere else I've been.
NGC-. The two properties we visited, Dorset Square and The Crosby offer a very personal point of view. The suites are art forms, every object from the placement of a mirror, to the large wooden accessories, in this case a dog, conjures a whimsical yet fabulously unique experience. (IT MADE ME MISS MINE… in fact I put him on the bed to feel more like at home) When you take on this challenge what comes first? The colors of the rooms, the bedding and fabrics, the materials like the stone in the bathrooms, and finally the decorative arts… how do you begin?
KK-Every space is much like creating a piece of art where every canvas is different from the next. That's the joy of it for me, it's why I love doing it.
The design process depends on lots of things – function and natural lighting and scale. You have to take each space on its own merits. Hardly any building is perfect so you have to enhance the things that are good and negate those that are not. And that's easy to do with colour and shape. After getting all the necessary things in, it is all about making something interesting, not too serious and arousing curiosity and capturing the imagination. I am always aware of this.
NGC- Where do your source your fabrics?
KK-I've always loved fabric, and I think texture within a room is very important. For the hotels, we've designed so many things specifically for just our use, and I think that's what makes the hotels special, really — the fact that it's tailor-made for a particular job, and that there are things you can't see anywhere else. I've done fabric ranges with Christopher Farr and Chelsea textiles, as well as designing carpets, and lighting.
I always try to source a fabric wherever I go to remind me of my travels. In London I go to Chelsea Harbour Design Centre – under 3 domes you have every manufacturer in Europe. For really brightly coloured linens in about 20 different colours, at a good price , I go to the cloth shop in Portobello Road. And whilst there I can buy a jug at the same time, and some interesting pieces of boiled wool.
NGC-There is a huge movement in your industry towards environmental stewardship.. saving of water, non-toxic cleaning materials, organic bedding… does Firmdale Properties adhere to those standards?
KK-We try to be as environmentally friendly at the hotels as possible following guidelines and legislation for sustainable development.
NGC-At The Crosby we loved the black and white themed suite. We were surprised by the views. I think the loft-style, floor-to-ceiling windows work well—being able to sit on a little cushion by the window and "feel like a bird" (your words). It was so imaginative we didn't want to leave the room. Where does this sense of your imagination come from and who influenced you the most?
KK-I like to create interiors with a sense of adventure. With every room, I want to pique people's curiosity, to encourage them to come in and enjoy poking around.
I'm influenced and inspired by so many things – I'm never off duty and always looking for inspiration wherever I go, on my travels, in art galleries, private homes and museums.
Editor's Notes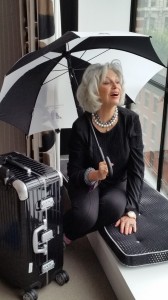 LuxEcoLiving for Rimowa
79 Crosby Street
New York
NY 10012
T: +1 212 226 6400 or +1 888 559 5508