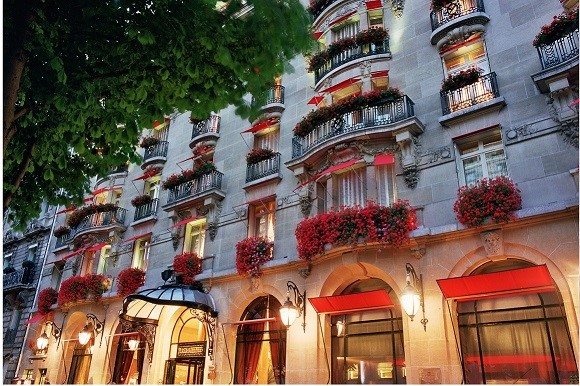 "We didn't want to do a 'wow' kind of renovation, we wanted to keep our soul." Mr. François Delahaye, the general manager of the Plaza Athénée and the chief operating officer of the Dorchester Collection. 
What can I say? It was a revelation. Like the opening of a hit play on Broadway. BRAVO!  All the grande pompe of its iconic facade and bright, brilliantly RED awnings hang like masts blowing in the wind.  A light spring rain dampened the darlings, the scarlet geraniums which tumbled ever so gently from the bolstered and buffed Art Nouveau balconies. Checking in to the newly remodeled Hotel Plaza Athénée whose $268 million dollar expansion sets the bar WAY HIGHER than expected for just one of the crown jewels of the Dorchester Collection.
LuxEcoLiving
If you count the minutes which leads to hours for a one night stay you can do the math, put simply, in August (prepare and pack now!) 695 euros, or about $920 at $1.32 to the euro, for a standard single of 270 square feet with a queen bed and a "quiet inner courtyard view," will get you peace of mind and the splendiforous expectation that you have arrived not only in Paris but get to live (albeit shortly) among the international iconoclasts who consider the PA their home.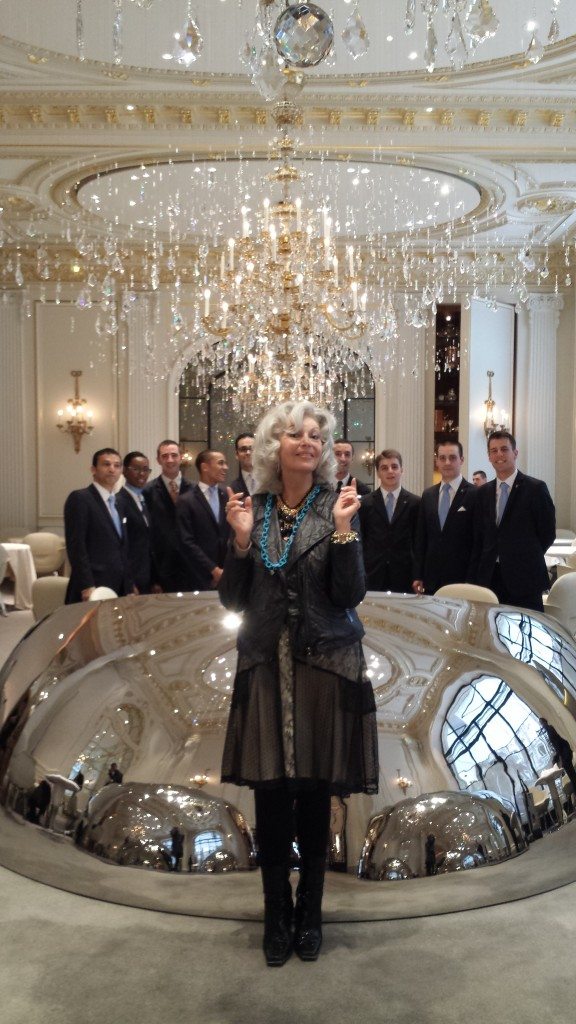 It was early morning and from our vantage point we could sense that our serenity was attributed to material things. For one, you could literally fall out of your bed dressed in those Italian-made Beltrami 300-thread-count satiny cotton sheets, and be steps away for the haute couture houses like Dior and Chanel or you could put on your newly made white linen robe and head to the Dior Spa for a little more rejuvenation to uplift those sinking pockets under eyes from lasts nights cap du jour at Le Bar.
"I'll toast to the 101-year-old Plaza Athénée," I said in honor of Mr. Delahaye, who was named manager of the year by the industry group European Hotel Managers Association last year. A former butler to the Duke of Westminister. Mr. Delahaye could re-write  Schulberg's, "What Makes Sammy Run."
And include his own kind of  Chutzpah!
 The historic backdrop from which he covets  is still considered a special place in Parisan hotel history which includes the presence of Rudolph Valentino and later Christian Dior, who turned his formal haute into one of the most prestigious houses and locations in all of Paris.
Diamonds were not only Harry Winston's nom de lieu but the recent location of integrating the magnetic impulse to shop for the worlds rarest of rare gem stones within only a few interior steps of the hotel itself was pure brilliance.
What attracts a more youthful crowd without having to relinquish the income derived from older wealthy customers was a big challenge. Lighting is key. It works for both although better for those who prefer to lounge in the classic French interior and be upstaged by designer fabrics like the lush International Klein Blue, named for the French postwar artist Yves Klein, who often used it in his works.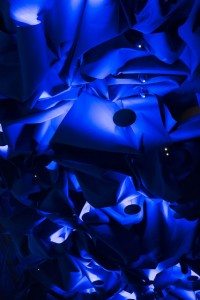 The ceiling of the hotel's Le Bar is done in waves and folds of fabric. Credit Lauren Fleishman for The New York Times
As for the young at heart the street-level cocktail lounge, Le Bar and of course the signature Alain Ducasse restaurant bestows an ambiance that can't be felt in any  5 star hotels in Paris. There are others who try to capture this ambiance but fall prey to older and staid traditions that frankly just don't translate.
Within a space-aged landscape of Swarovski Stars (illuminated chandeliers) that dazzle and drip a silvery essence, the restaurant Alain Ducasse au Plaza Athénée marries the perfect balance for every palate. Paris-based designers Jouin-Manku have created a new idealistic mode for fine dining a la "pods." The fresh fish known for its light and indelible taste is featured here along with many legumes.
I always ask for fresh steamed spinach and was told that it was literally picked an hour before having been grown and harvested in Mr. Ducasse's private city gardens. Voila!
And if your lucky enough to get and have saved up for Suite 745, your affair, whether you are older and wiser and prefer to order your newspapers delivered immediately upon arrival or young and inclined to savor breakfast, lunch and dinner in bed, this three bedroom luxurious apartment with terrace on the hotel's Art Deco seventh floor offers a view of the Eiffel Tower from each room, including the lieu…. but who cares for the view when you can go under cover. And at 7,500 euros a night you better like the way you look covered in 300-thread count satiny cotton.
As for the competition. The refurbished Ritz Paris, famed for its Bar Hemingway, is set to reopen next year on Place Vendôme; a renovated Hôtel de Crillon in Place de la Concorde is also due to reopen next year; and the Peninsula Paris near the Arc de Triomphe opened its doors the same weekend as the updated Plaza Athénée.
A special congratulations to Mr. Delahaye and Mr. Ducasse. Your's is the Best Hotel in Paris if not the world.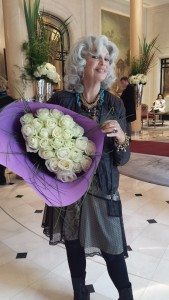 Editor's Notes:
Hotel Plaza Athénée Paris25 avenue Montaigne
75008 PARIS
France
Room & Suites Reservations:
+33 1 5367 6667
Special thanks to our American and French teams, Prin Baclan Hawkins PR New York, Stila Cosmetics, Linda Gaunt, Kelly Willingham, and Lauren Vidal/ Audrey at Niiki Bijoux Paris