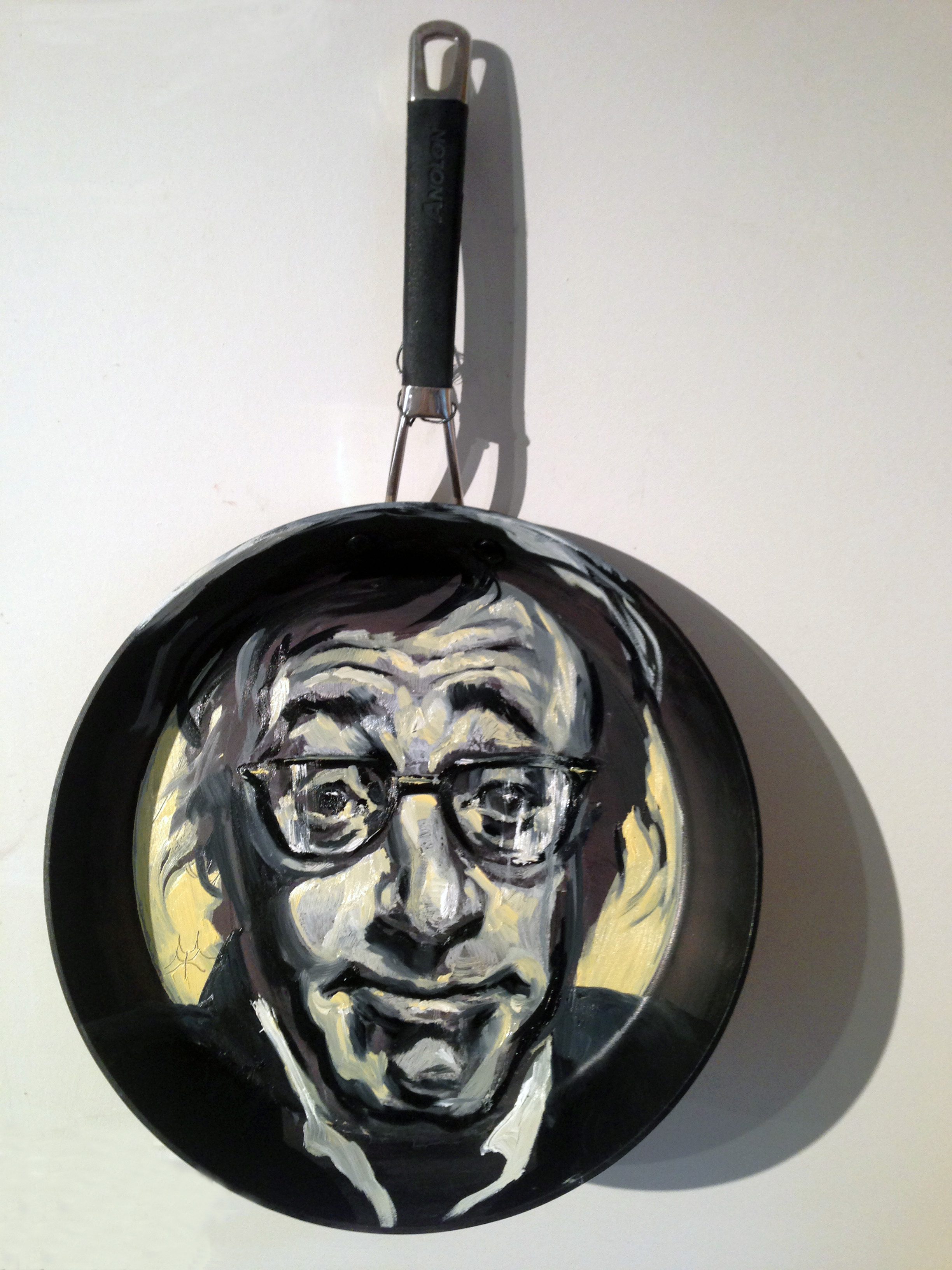 By Zhenya Gershman artist, historian, and LuxEcoLiving contributor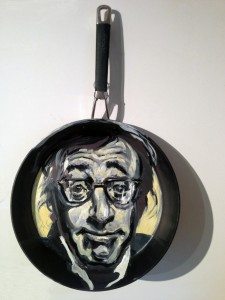 It really happened! My dream come true- Woody Allen held my painting lovingly in his arms…on stage!
Yesterday, at an unforgettable concert, Woody Allen performed with his New Orleans Jazz Band at UCLA Royce Hall. He received a standing ovation deservedly. But what came as a total surprise to him was the presentation of my personal portrait, "Woody Sunny Side Up." After receiving it, he gifted the audience with a radiant smile.
I wanted to create a quintessential portrait of Woody, one that would encapsulate his iconic face, wit, and most of all his sense of humor. I decided to combine two recipes: cooking and painting. Instead of eggs and butter I used paint and instead of a canvas a frying pan. The result, his portrait was born.
Woody Allen's films have global meaning across many generations. As an artist his work has personal resonance. In most of his films art is treated with reverence alongside the main characters. Pivotal scenes often take place at exhibition openings, museum visits, artist studios or in private galleries. Whether good, bad, or ridiculous art–Woody shows us that art is inseparable from our lives and our stories.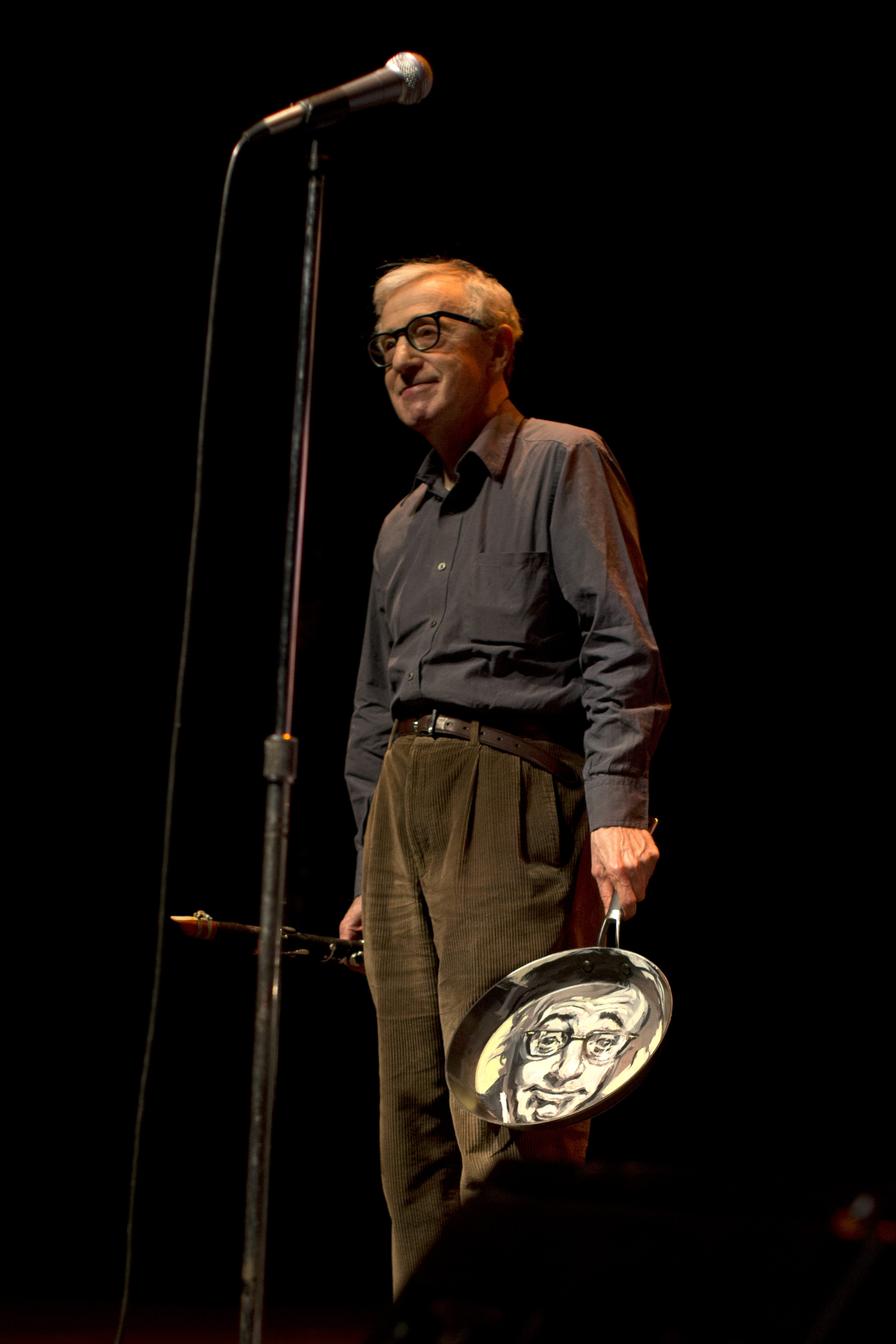 I never dreamed to be in a movie, but instead maybe my secret dream will come true one day and my painting can play a role in a Woody Allen masterpiece.
About the Artist
ZHENYA GERSHMAN was born in Moscow, Russia.  She held her 1st solo exhibition in St. Petersburg at age 14, and was selected as a subject of the TV Documentary Film Our Generation, a project dedicated to searching for the five most talented teenagers in Russia, showing hope for the cultural future of the country.
The youngest student to be admitted to Otis Art Institute, Zhenya graduated with Honors and later received her Masters of Fine Arts degree from Art Center College of Design.  Today, Zhenya's work is featured in such preeminent private collections as Donald Simon (Chagall, Picasso, and other 20th Century Masterworks) and Richard Weisman (American Modern and Contemporary Art).  Zhenya has been invited to participate in important international exhibitions including Art Aspen, Art Miami, and Art Chicago. She is a recipient of numerous awards, including the ALEX Award in Visual Arts, presented nationally to honored scholars and artists.  The MusiCares Foundation invited Zhenya to create a portrait of Bruce Springsteen.  Her work is featured at the Grammys charity gala annually.
Zhenya is passionate in combining her practice of art, art history, and education.  She worked for over a decade in The J. Paul Getty Museum Education Department, participating in interpretation of such exhibitions as Icons of Sinai and Rembrandt: Telling the Difference.  In 2011, Zhenya's important discovery of a hidden Rembrandt self portrait was published by Arion, Boston University and was a subject of the article for Le Monde, Paris.  She is currently working on a Rembrandt book and painting in her studio in Los Angeles.