By Nancy and James Chuda founders of LuxEcoLiving and Healthy Child Healthy World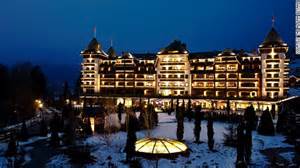 Gstaad Switzerland
The Alpina Gstaad (5 Stars) cannot be rivaled by any other hotel in Switzerland. This is where authenticity gleams and goes beyond any experience I have ever had. This hotel takes Swiss luxury to an entire new level of distinction. The warmth and ambiance of the interiors which is a mixture of contemporary designs reflects the natural environment throughout. Second to its beauty is the perception and diligence of its staff. Guests are provided with specialized service throughout their stay.
Beauty is power; a smile is its sword John Ray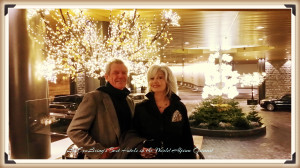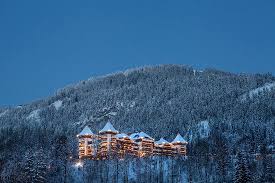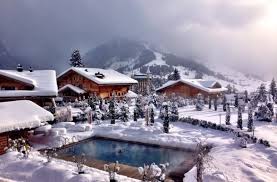 Discover the magic of the The Alpina Gstaad. The lights never go out in this remarkable village… home of the European elite most of the year, but to American's, Gstaad is a cornerstone of natural beauty, a place where Switzerland's heart and soul resonates a vibrancy like no other place in the world.
From the moment we began our ascent aboard Eurorail's Golden Compass we were lost in the horizons diminishing view having been upstaged by vasts amount of open space, craggy topped alpine views at close range, and the best part… the sound of silence.
Nestled into five acres and crafted from local materials (including stone from the Alps and repurposed wood from nearby centuries-old farmhouses), this $337 million-dollar showpiece includes the hotel, private apartments and three chalets.WATCH!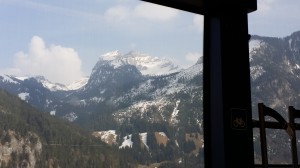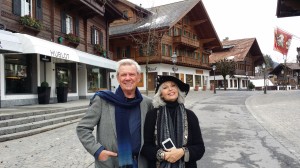 Our arrival at the train station in Gstaad, was a welcomed joy. No porters in sight. Clean surroundings. Air so fresh it hurt to breathe. Within moments we were being transported in the best of style and make of car to The Alpina Gtsaad. Even better was the welcome from the staff and the efficient means in which we were escorted to our suite. When I say suite I have to pause… this was not an ordinary suite. It was like a private chalet with a view that would not stop. Dramatic in the sense that the alps take pride and privilege to new heights. From ones humblest observation you are struck by their power to captivate, to ensconce and to enlighten.
On out first night we decided to get settled, unpack, and light a roaring fire. Dinner was served within minutes. The in-room dining menu was the perfect way to relax.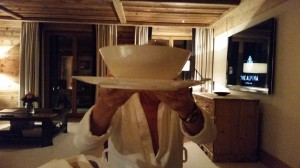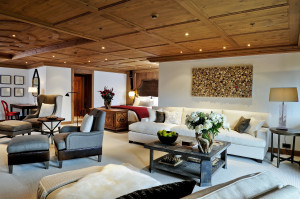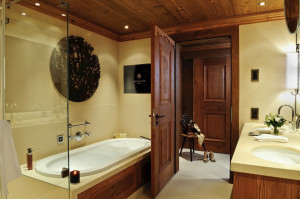 LuxEcoLiving: The Chuda's Suite with the finest service thanks to Adiel.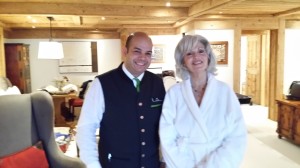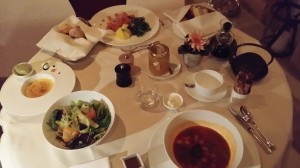 Early to bed for a great night sleep but up at dawn for one of the most breathtaking views.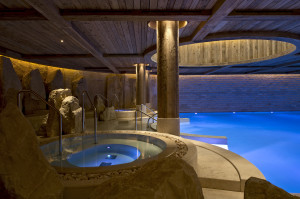 Day 2: Six Senses Spa- I have traveled the world and have never seen or experienced anything quite like this! Built underground with monolithic slabs of granite that cover the surrounds of a large swimming pool and jacuzzi powered hot water soaking spas. We were amazed at the selections provided at the 21,500-square-foot Six Senses Spa. Guests indulge in an array of treatments delivered by extraordinary therapists. At Six Senses, each selection of service is crafted to meet the needs of the individual. Everything from Deep Tissue Massage to Thai with a special emphasis on Foot Acupressure and those who want a more invigorating experience, a Shiatsu massage provides pressure along the meridians to release energy and stress. One of the best parts of this experience was the relaxed atmosphere throughout our stay at the Alpina Gstaad. We literally lived in our robes and slippers, exited our suite, and returned for additional treatments.
I have to compliment the esthetician (Raphaella) who provided one of the most effective facials.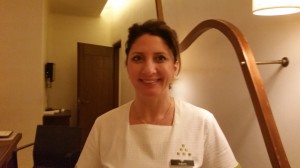 Watch!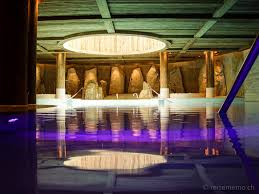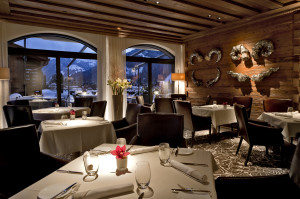 A Gastronomic Feast at the Sommet Restaurant
Restaurant Sommet has one Michelin star and 18/20 Gault Millau points. It features award-winning chef Marcus G. Lindner who was recently at the two-star Michelin Masa in Zurich. The Alpina Gstaad is also home to the first European outpost of MEGU, and the traditional, ever popular, Swiss stübli which is every child's dream.
Swiss Stübli, the traditional Swiss restaurant open in the winter months only, serves Alpine specialties like fondue and Raclette. We experienced both. I truly loved the ambiance and the emphasis of authenticity at each place.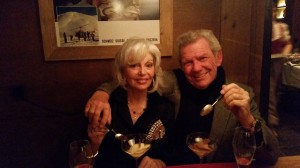 We experienced a 6 course tasting menu which was an exquisite mixture of Swiss and Japanese cuisine.
Hamachi accented with lime and peanuts mixed with Edamame. Light and fresh. A great way to begin the following three courses. Eel with Duck liver served with Pear and Barberry.Salmon trout/Calamaretti/Cucumber/Wasabi 2x Wagyu/Mushroom/Nectarine/Onion
And for desert… wow! Curd/Blueberry/Milk/Sour cream
Apres dinner one can experience a multitude of fine art, watch a movie in a private theater, indulge in tasting the finest wines and relax in the Havana-inspired cigar lounge.
A Summer Beyond The Expected
One of our highlights was having the opportunity to speak personally with Eric Favre the The Alpina Gstaad's Managing Director. Winter season was coming to a close but he spoke about the incredible experiences that begin on June 5th…the official opening of the Summer Season. The Bernese Alps turn a vibrant emerald green. Unlike the winter season, this is the time to enjoy all of the natural beauty on foot. There is a complete synergy between world famous virtuosos who perform classics from Joseph Haydn, Franz Liszt and Claude Debussy in a setting that brings the music to life. And if you are interested in following the robust life of honey bees this summer promises to be the first ever collection of Alpina honey which will be served with your breakfast.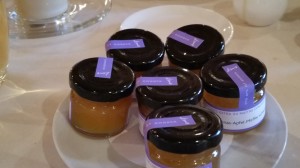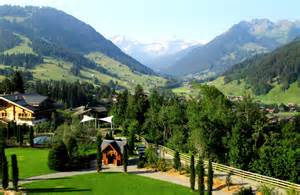 Mind Body Nature– From June to September guests can experience A Tibetan Retreat with Antonis Sarris whose work is meant to create a sense of well being. And for culinary, for those who would like to learn how to become a Michelin-starred chef, The Alpina Gstaad offers workshops with Executive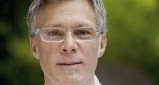 Chef Marcus G. Linder who will inspire by sharing his culinary arts secrets.
Imagine this! Waking up to the sound of birds in the most exclusive, discrete Swiss resort in the world. The Alpina Gstaad is unlike any hotel you will ever experience in your lifetime. It is a rare jewel that offers peace of mind, tranquility and luxury beyond description. There is absolutely no comparison in the hotel industry. The Alpina Gstaad sets the bar for others to emulate.
Editor's Notes: A very special thanks to Eric Favre Managing Director of The Alpina Gstaad.
Alpinastrasse 23, 3780, Switzerland +41 33 888 98 88
Nancy Chuda's wardrobe, Equestrian, vintage Oscar de la Renta, Stila Cosmetics, UGG Since 1974.