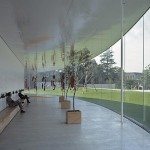 By Margret Debanne, Art Historian and LuxEco Advocate
With yesterday's naming of SANAA Partners as winner of the Pritzker Prize for Architecture, Kazuyo Sejima has joined Zaha Hadid as a female Prizker laureate.  The prize goes jointly to Sejima and Ryue Nishizawa (her male partner since 1995 in the acclaimed Tokyo firm) which also highlights the art of architecture as collaboration.  Sejima will be Director of this year's Architecture Biennale in Venice, for which Toyo Ito described her as "an architect who uses the maximum simplicity to link the material and the abstract." Her minimalist geometries are strong yet calming forms for the difficult period in which we live.
Read more at The Los Angeles Times.