By Nancy Chuda founder and Editor-in-Chief of LuxEcoLiving and co-founder of Healthy Child Healthy World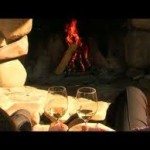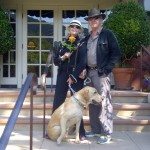 I had never heard of a Mushroom Medley massage have you?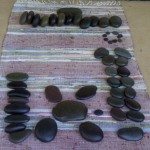 Designed as a perfect seasonal treatment for the fall or winter, using the Cepe mushroom, known for its healing and soothing properties, it is applied two ways. First as a scrub followed by a hot rock massage infused with a mixture of divinely scented oils.
Franziska Haala, Spa Director  has initiated the medley treatment and it is the first time they have combined the Cepe mushroom in both the scrub and the massage. She is very excited about the results.
I am extremely sensitive to smell. I love aroma therapy. The Bernardus Spa is an amazing luxury. Combined with the massage are the oils which are integrated and absorbed into the skin through the application of heat which stems from the beauty of flat, smooth surfaced, river bed rocks. Colleen Ingram, CMT mixes many Ajne oils which include oak moss, eucalyptus, black spruce, douglas fir, laures Nobilis, patchouli (my favorite) vetiver, labdanum (rockrose) juniperus virginiana (cedarv), all are superbly earthy in scent and are foraged from the area.
Between the smell of the oils and the touch of the hot stones which were strategically placed along my spine, I fell into a deep state of relaxation. I was in heaven! I couldn't get off the table!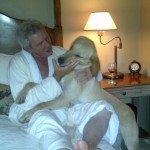 A dream becomes a bonus reality for discerning travelers

Traveling to Bordeaux France sounds like a great idea except it's expensive and you can't take your pet. Imagine, instead you are staying in a luxury resort situated on verdant acres with stately pines and treasured California oak trees and you are surrounded by one of the most prestigious vineyards in the world. And just minutes from Carmel-by-the-Sea on the Monterey Peninsula.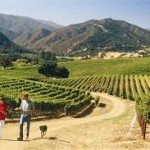 Ben Pon created the acclaimed vineyard and winery to inspire guests who want to experience the finest viticulture matched with the simple elegance of country living.
What a gift! Ben and his wife chose the Carmel Valley because of its potential to be the best viticultural appelation in America for traditional Bordeaux-style red wines.
Par none, if you want an exquisite culinary experience to pair with Bernardus Winery wines you are steps away from the award-winning Marinus restaurant which features the sumptuous and creative menus of chef Cal Stamenov. Both restaurants take great pride in their locally grown organic vegetables.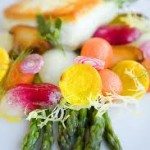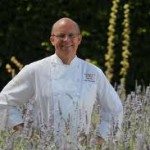 We arrived on a Monday and Marinus was dark so instead  we had dinner on the property at  Wickets which shares the chefs speciality's as well as the exceptional baked goods including rustic breads, cakes, tarts and cookies all made daily by on-site. What a treat!
Ramsey our delightful server was instrumental in guiding us through choices that lead to one of the best dining experiences. It couldn't have been better even if we had been in France. Seriously!
We began with mixed variety of organic greens grown on the property.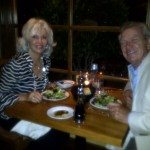 We then added an appetizer of fresh Kumamoto Oysters.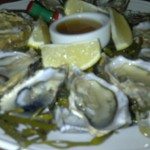 We each had a main course. Mine was slowly braised short ribs of beef  slowly cooked and served with a variety of fresh vegetables, carrots and turnips, and savory golden yukon potatoes which absorbed the flavorful beef a jus.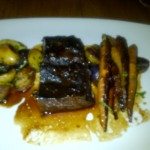 Jim had the grass fed rib eye and loved it.
The best part of being on the exquisite Bernardus property is the pet friendly opportunities near by. Ranchers, vinters, and equestrians all call Carmel Valley home. What a perfect geological location for pet-lovers who want to find great fido picks. Here are some wonderful options worth exploring:
For dining the Athena Cafe, Baja Cantina, Cafe Rustica, Carmel Valley Roasting Company, Corkscren, and Kathy's Little Kitchen are just a few of fun places to visit with your pet. Also a majority of the of wine tasting venues welcome pets.
We surprised our dear friend Myra Goodman with a visit to nearby Earthbound Farm. Myra and her husband Drew founded one of the first organic produce companies in America. And their farm stand welcome visitors everyday.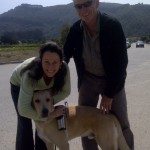 I don't think anything could rival our stay at the beautiful Bernardus Lodge.  This is the ultimate LuxEcoLiving4u experience for you and your pet.
Bernardus Lodge in Carmel Valley sets the bar in terms of luxury for Travels with Journey
We had a glorious stay. Weather was perfect. Early signs of fall with the turning of leaves in the vineyard.
What sets Bernardus apart from other exclusive resorts in the area is the feeling of ultimate European luxury. What could be better!
Our suite was impeccably furnished down to the last doggy bone.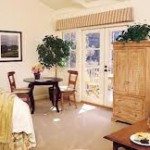 Editor's Notes: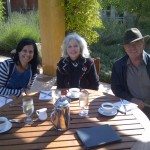 We had a superb breakfast on the terrace (also dog friendly for dining) and were joined by Sue Dreyer who is the Director of Sales and Marketing of this exquisite 57 room resort. She asked , "Have you ever had our Huevos Rancheros?" Well, nothing can compare to this rendition of a traditional Mexican favorite. Make a reservation today 888.648.9463 or 831.658.3400 and tell them Travels with Journey sent you.