By Nancy Chuda founder and Editor-in-Chief of LuxEcoLiving and co-founder of Healthy Child Healthy World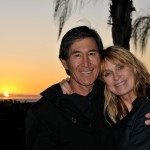 For most people the diagnosis of cancer is a daunting reality. They have to deal with the diagnosis, treatment and hopefully a positive prognosis. Their reality has an affect on family and friends who share the roller coaster of emotions when the ups and downs of treatments followed by surgeries lead to change. The biggest being death.
For those who bear courage to have witnessed the ride, not as the passenger but the driver who helped family and friends endure the painful setbacks and learn how to process years of warring against this insidious disease… in the end, are words of sympathy and regret.
The lifeline that connected Ron to Rebecca provide a model for us all. For cancers common thread is a toll which steals life itself but it cannot bury their hearts nor the love they shared for one another.
This poem is dedicated to my friend Rebecca Foster in memory of her Ron.
An Angel's Skin
Once in a great while and angel sheds her skin
To cover another whose name is kin
I have a friend whose love covered all
She carries great courage
Enough for us all
Through darkest of hours through the light of day
She opened her heart and gave it away
We can rejoice because Ron's spirit soars
He was gifted her wings to fly over the ocean shores
He let her know that in her arms he will always be           
Because her smiling face is all that he sees
In the dawn when Gods golden light appears
Our Becca will always cherish that memory so dear
For every  wave that comes to shore
Ron's beating heart
Remains
Forever more