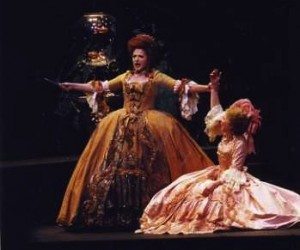 Intro by Nancy Chuda, Founder of LuxEco Living
I was introduced to Amanda Nisenson through her mother Karen. In 2004, our charity Healthy Child Healthy World hosted a wonderful event in partnership with Arts for Healing, a nonprofit founded by Karen Nisenson.
Arts for Healing is a unique, nurturing community-based center that helps people with learning and developmental disabilities improve the quality of their lives through music and creative arts therapy.
Out of this beautiful collaboration I was honored to meet Amanda. A dedicated student of the opera, Amanda possess a natural gift, a magnificent voice but the hard work and dedication that followed is what enabled her to touch audiences world wide.
Through Operatunity on LuxEcoLiving we hope to inspire other cultural creatives to express their passions. Whether it be singing at The Metropolitan Opera House in New York City, or in the Baths of Soho New York, where my dear friend Bette Midler got her start, it's all about having  "the dream."
By Amanda Nisenson, Opera Singer and  LuxEco Advocate
"Two roads diverged in a wood, and I – I took the one less traveled by, And that has made all the difference." This Robert Frost quote has stayed with me from the first day I heard it in eighth grade English class. It has continued to serve as a metaphor throughout my evolving journey as an artist.
My story began when I was introduced to classical piano at the age of 4. From my first Bach Minuet, I knew I loved playing. I became very proficient, and even won a few local competitions.  Piano gave me much pleasure throughout these  younger years, however I still felt a kind of emptiness that my mind could not grasp at the time. I instinctively knew there was something else for me, another form of expression I was not tapping into. At 13 years old, I began to grow more aware of this inner longing for a new artistic yet spiritual form of expression. It was during these early teen years that I discovered a "knowing" of who I was and who I wasn't.
My grandparents are Holocaust Survivors. I was brought up in a cultural, traditional Jewish background that really had nothing to do with religion, and so my perception of God remained totally open. I embraced my higher power in whatever form it needed to take at the time, and trusted in the universe to lead me to something new. I experienced this nameless, inner knowledge as I attended an excellent private school in Connecticut, where the focus was academic achievement, sports and excellence in everything! While my talents were greatly appreciated there,  my identity as an accomplished pianist did very little for my inner search for meaning.
As fate would have it, I found myself at Basketball practice one afternoon, and heard a friend of mine singing operatically before the game. I asked her if she studied privately because I had recently developed a great fondness for singing in the shower. She referred me to a local voice teacher whom I began studying with.
I had found a new artistic talent within myself, my singing voice.  I began to take singing rather seriously and  was overjoyed when I was able to attend a summer vocal program in Italy. It was there, within the incredible European environment, that I discovered my operatic voice! The Italian language and authenticity of opera consumed my identity, as I performed with the excitement and exuberance of a young adolescent who  lived to sing.
That fall, I entered 10th grade and auditioned for the Director of the Metropolitan Opera Children's Chorus, Ms. Elena Doria. Elena told me I was too old to be part of the children's chorus but she did say she would teach me to be an opera singer.    She was a  very "old school", harsh type teacher and  was just what I needed to get to the next level.  She gave me  "thick skin" as well  as a great education about the personalities I was yet to encounter along my operatic path. I attended Juilliard Preparatory Division on Saturdays and saw as many operas as possible  at the Met. After graduating High School, I began Manhattan School of Music's opera program, which included acting, language study, voice lessons, movement, diction and stage combat.  The school had a highly reputable opera program and had many guest maestros come in to conduct their productions. During my senior year Julius Rudel, one of the most famous maestros in the world, was set to conduct one of the operas.  I was told I would never be cast in the title role because I was an undergrad and lead roles were only given to Masters students.   I wanted this so badly, and decided nothing would affect my desire to try.  I did end up getting the lead role, and was thrilled to have this opportunity. It was then that I transformed from young student opera singer to Dramatic Mezzo-Soprano. I received critical acclaim in Opera News Magazine and got the attention of some  influential people in the opera business.  After finishing my Bachelor's Degree at Manhattan School of Music, the prestigious Academy of Vocal Arts in Philadelphia, Pa. provided me with great operatic stage experience and  performing possibilities. Once there, I caught the eye of an agent who started getting me opera roles and orchestra concert work.  I was finally a professional opera singer and  began traveling to Europe for competitions and working under the batons of great maestros.
I was immersed in opera, so proud to have come this far. Now in my mid-twenties, I had not looked back at all I had accomplished. I was so consumed with my singing career, I neglected to notice I had no personal life, and no awareness of the culture that was happening right before my eyes. In 2007, when my last contract was over at New York City Opera, I knew I needed a break, and found myself once again in the midst of the "yearning" that haunted me as a young child. I needed to take a step back and  re-examine, once again, where the road less traveled was going to take me. The land of "Operatunity" had been the basis of my own survival, as well as the discovery of myself as an artist. Music had provided me with the stability and peace that was needed throughout years of struggle and pain, growing up as a witness to hardship. I felt alone in the crossroads of this new place, and once again, needed to "give over" to that trust I knew would bring me to the right place.
I had a friend, while living in New York, who was singing on Broadway. He introduced me to an established Broadway music director who began helping me put together my concept of a one woman show I named, "From Carmen to Cole Porter". Within this compilation, I could fulfill the desire to expand my singing style. A new voice was emerging from within, giving me the freedom to express myself in new ways, without the stress and worry of operatic vocal technique that had been thoroughly ingrained in me for so many years.
During this time, I reconnected with my original love of music and started teaching piano. I also became more aware of the various genres of music that were "out there" in the world. I began working at an all Green children's music studio that included education for families in healthy living, and learned about an organic way of life at home and within my own body. Losing thirty pounds was just one of the ways I transformed during this time which led me to a new lifestyle of inner and outer peace.
I found myself always playing the piano and singing any type of song. I became my own "Michael Feinstein", someone I truly admired as a child. I always wanted to play piano and sing, and never thought I could until now. Any chance I had, I performed all different types of songs, from folk to jazz, to opera, to musical theater, and even Latin and Brazilian songs. At thirty years old, I found my truth! Incorporating my piano skills and singing brought  me total joy and happiness. Sharing it with family and friends in intimate settings was the ultimate experience.
I always thought  my life  was going to be about an  ongoing opera career. Little did I realize,  I was on a new path as a performer. It is to simply  bring the joy of song to a larger, more diversified audience. Love, laughter, happiness, hope and peace are all qualities that music can bring to people.  It is the universal language that can connect to one individual while bringing an entire group together at the same time.
My road less traveled is calling me in new directions. I need to keep the faith and know the opportunities will come in order for me to reach my goal. It is the relationship and connection with the audience that drives my performance, inspiring hope through music and bringing joy through song.
"Operatunity" is about transformation through music. Our journeys, no matter how difficult, must be accepted as life is accepted. I am grateful for my "gifts", and for the chance to help others find joy in the moment.
Please listen to Amanda Nisenson opera performance sound clips here.