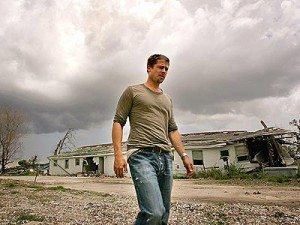 by Sahar Ghaffari, LuxEco Living Editorial Assistant
Just last month marks the fifth year anniversary of Hurricane Katrina, the catastrophic natural disaster that claimed more than 1,800 lives in the Gulf coast region with damages totaling $80 billion. After the devastation of the hurricane and consequent flooding, it seemed to its residents and many around the world that New Orleans, specifically, was making a painstakingly slow recovery. Frustrated by the sluggish progress, actor Brad Pitt founded the Make It Right Foundation in 2007 to help rebuild the hardest hit region of New Orleans, the Lower 9th ward.
Since then, the foundation whose goal was to "make it right" again has built 50 homes allowing 200 residents to move back into homes in their neighborhood; and with numerous homes in construction, Make It Right promises complete 150 homes by December of 2010. In addition to simply rebuilding homes, Brad Pitt has pledged to build "affordable, green, storm resistant, and high-design homes."
The 21 architects that Pitt invited to volunteer their time and talent to these efforts are highly acclaimed from all around the world and their aptitude for design is clear when viewing the innovatively stunning and modern homes. Besides their beautiful designs, the homes are made green through solar powering and tankless water heaters, as well as equipped with energy star rated appliances and light fixtures, to name just a few of the ecologically aware components that are being utilized.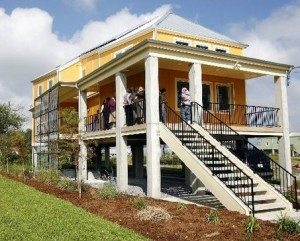 By fusing together the ecologically friendly designs of top architects and non-toxic green construction materials, the Make It Right homes have been honored with the title of "the largest, greenest neighborhood of single family homes in America" by the U.S. Green Building Council.
When asked about developing more green neighborhoods elsewhere Pitt replied, "That was the plan all along. This thing could become a template for other communities to follow." We hope it does.