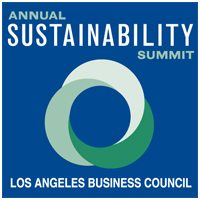 LABC Sustainability Summit: Fulfilling Our New Market Potential
Much is in store for the LA Business Council Sustainability Summit, including the "Salon of Masters" panel, featuring Michael Northrop, Sustainable Development Programs Director for the Rockefeller Brothers Fund, Scott Lyle, COO for GE/Arden Realty, John Mooney, CFO of Haworth, Inc. and Richard Maullin, President of FM3, who will discuss the findings of a citywide poll he conducted on Angelenos' desire for in-basin solar. Specific panel topics this year will include business' role in helping achieve renewable goals and how we develop and grow green business.
Who will be there and what's happening? Ok, now, where can I sign up? Note: Registration is now *closed*.
Tue, Apr 12, 7:30 AM – 2:00 PM, Harold M. Williams Auditorium at the Getty Center.  Guess what, the event is *free*.
Curious about your local environmental sustainability and regulatory integration? Then this LABC event is for you.