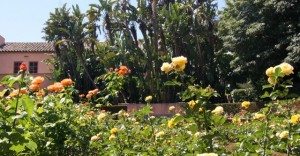 By: Molly Rovero, LuxEco Living Editorial Assistant
View Madame's stunning rose garden and learn about sustainable horticulture at Lotusland. All gardening methods are entirely organic! No pesticides or harmful chemicals are sprayed on any of the plants. Today, LuxEcoLiving will also share one of Lotusland's secrets with you: How to make organic tea compost for use in your own home garden.
Tea Compost Recipe:
1/2 lb compost (good quality)
1 oz. Fish Hydrolysate
1 oz. Kelp Powder
1 oz. SOLU-PLKS (Humic Acid)
Makes up 5 gallons
Kits and materials for brewing tea composts are available from earthfort, Lotusland's recommended company.