Ken Kragen
knows what it's like to accomplish the impossible. He's done it time and time, again. This time every California Community College Campus and Student is his beneficiary with his Hands Across California campaign on April 17th, 2011.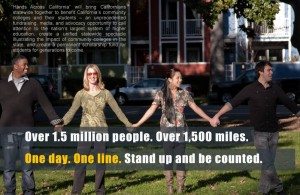 By Merry Elkins, LuxEco Editorial Assistant
Merry Elkins for LuxEco Living: How has the Internet helped you?
KK: When we did Hands Across America, we didn't have the Internet, or Facebook or Twitter or mobile texting.  Now we have the ability to reach out to millions of people.  I ran into Tony Robbins the other night and we were talking about the Hands Across California project. He said he would Tweet his fan base.  Well, he reaches a million people. Then there's the fact that Yahoo and AT&T are on board heavily on this project.  They're doing all the technical stuff.  They have an outreach of 600 million. There's just a huge opportunity here, and it allows us to do it in 100 different ways and to do it quickly.
ME: What about timing?  How does timing affect an event?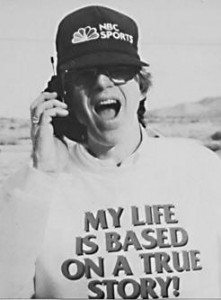 KK: It's very important. For instance, some of the frustration people have had with the Obama administration is that there hasn't been enough change and it hasn't happened quickly enough. When he was elected, Emma, our daughter, was at Berkeley and tens of thousands of people were out on the streets celebrating.   She told me about it the next day and about how significant it was for them.   I thought to myself, we've got to do something to bottle this quickly and turn it into something concrete to make change happen.
The idea I came up with was to have the president-elect come out here and say,  "The only way we're going to make change in America is that we're going to have to do it together. I want every American to give me two hours a month – two hours of your time a month, that's all – doing something to help make a difference for our society and our country.  Two hours." If we could have gotten just 20 million people to do 2 hours extra of volunteer work a month, that's 40 million hours of volunteer work a month.  But I couldn't get anyone on the transition team to pay attention.
The problem was that the administration didn't capitalize on the euphoria that would have moved people to make commitments in that very early stage.  They waited till the inauguration and they lost the momentum and missed a huge opportunity to solidify that support.
The point is that these moments, these windows of opportunity, these moments where you can make some kind of change are very tight periods of time.  You have to recognize the opportunity and capitalize on it.
ME:  How do you capitalize on this in the short window after Hands Across California?
KK: Some of the community colleges already have a plan to follow up with their donors and others after the demonstration on April 17th.  The 17th will provide visibility but then the community colleges, themselves, and their Foundations need to have a follow through plan.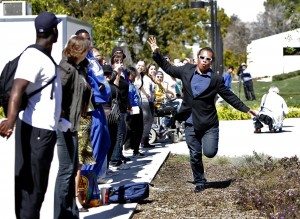 Tom Hanks' next movie that comes out in July, is about an older man who has been fired from his job.  He goes back to community college for his training.   We're trying to get him to do a premiere for us and have the funds go to the Foundation for California Community Colleges.  You can't just do one thing. You have to have reach out in a 100 different ways.
ME: Can you clarify how you're raising funds for Hands Across California?
KK: We will have sponsors who are paying for much of the event, itself; but to raise money for the scholarships, we are encouraging people to go out and get pledges for friends and family, much like charities do for Cancer walks. If you pledge $25 or more, you'll get a T-shirt.  If you pledge $50, you'll get a T shirt and a hat. And so on. Also, we're working on making it possible for people to contribute $5 or more by texting a specific number while they're standing in line.
ME: Are you producing a musical event to tie into this?
KK: We're holding the Hands Across California Song Contest to write a song that people can sing while standing in line and that may be used in a commercial and a documentary of the event. We're also trying to set up a lot of musical events along the route.
The question is, how do you get people to stand in the parts of the line where there isn't a large population, like along the coast from Monterey down to San Luis Obispo and then on down to Santa Barbara? If you have 60-100 miles and no real populations, how do you fill those areas?  You fill them by creating fun activities up there or by encouraging talent to stand there.
Or, if Aaron Rogers, the most valuable player at this year's Super Bowl, who is a community college graduate, will stand in an area where nobody is, that will get people out.
Kenny Rogers did that for Hands Across America.  He announced it and 10,000 people came out to see him. He stood on the border of New Mexico and Arizona.  People drove from everywhere to stand with him. The plan is to have celebrities, bands, activities and events.    With Hands Across America, I think 6 people got married in line.  We'll do everything we can to make this a super event for a good cause, and a big party, too.
ME: Any celebrities you can mention?
KK: Quincy Jones, Lily Tomlin, George Lopez, Mark Harmon, Bill Cosby, LA Mayor Antonio Villaraigosa. We're working on a hundred different celebrities.  We'll encourage them to stand in line.  Hootie and the Blowfish gave us their song "Hold My Hand" to use so maybe we can get Darius Rucker to stand in line.
ME: What route will Hands Across California follow?
KK: There are interactive route maps on the web site: handsacrosscalifornia.org.
ME: LuxEco Living supports students across the country.  What are your thoughts as far as the kids who can't afford school right now?
KK: Community college is the cheapest education you can get now. In California, it's about $26 a unit.  Even so, 90% of the students enrolled in community colleges can't afford it without some kind of financial help.  We're in a society where if you don't get an education, it will be very difficult to get a job.  You need that education; you need that training.  Community college training may not make you a doctor or lawyer.  But there are so many things you can do, and you need to look at that opportunity.
Here's a great example.  A young man named Tyson Condie told me that community college played a big role in his life.  He'd come out of the Marines and couldn't afford to go anywhere but a community college.  He went to a college out in Palm Dessert for two years.  He was able to use his education there to get into UC Berkeley.  He graduated from Berkeley and went to Stanford for a Masters Degree and then went back to Berkeley for his PhD.  He's now a top researcher at Yahoo.  He is the reason Yahoo is on board with Hands Across California.  Community college opened the door for him.
There are so many stories like that.  Aaron Rogers was not recruited by Division 1 colleges.  He went to Butte Community College up in Chico, played there for a year or two and then went to Berkeley and up winning the Super Bowl for Green Bay.  Los Angeles Mayor Antonio Villaraigosa says community college literally turned his life around and gave him the opportunity to succeed.
The community college system has an enormous impact on a lot of lives and opens the door to people who want to go on to 4-year institutions or go out into the world and find work.  Even community colleges are hard to get into nowadays because of the state's budget cuts. It's just how you push to make something happen for yourself.  Somebody's getting in, somebody's getting the advantage, somebody's getting the job that's out there and you just have to be the one who aggressively goes after that.
ME: Tie in Hands Across California with the cause of preserving the environment and environmental sustainability.
KK: While we're not a project that affects the environment directly, everything we do is going to have minimum impact on the environment.
The biggest thing that Hands Across California will demonstrate is the power of individuals coming together to attack a problem and solve it and make it a priority is going to be demonstrated by this project.
From an environmental standpoint, the fact that this college community represents a ton of people who are going to have a great impact on the future is an opportunity for Luxeco Living to get its message out in the months following.  When a group feels empowered, they can make a difference.
To read more about The Hands Across California and giving every California college campus and student a "Helping Hand"  see Part 1 and Part 3.