By Nancy Chuda founder and Editor in Chief of LuxEcoLiving and co-founder of Healthy Child Healthy World
"Books are the carriers of civilization. Without books, history is silent, literature dumb, science crippled, thought and speculation at a standstill. I think that there is nothing, not even crime, more opposed to poetry, to philosophy, ay, to life itself than this incessant business." Henry Thoreau
THANK YOU Los Angeles Public Library please donate today! And thanks Justin for the two tickets to your Young Literati Event. Like you said, "You don't have to be young just think young."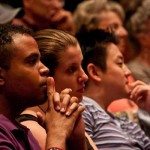 It was a great event! ALOUD featured two entrepreneur's who are changing the world one quick step at a time.
"Civilization is really sweet thing! Being here! We're so lucky." Ben Goldhirsh founder of  Good Magazine reflecting on the privledge of living in this day and age. The age of Conscious Capitalism. Ben inherited more than money. His father, Bernie Goldhirsh, founder of Inc. Magazine left a legacy of philanthropy and Ben got the gene. In 2006 he decided to go to print for social causes ONLY. His business strategy was Good from the beginning. By donating the magazines subscription fees to charities subscribers were offered the option to pick which charity their fees supported.
Goldhirsh explained the reasoning behind the strategy in an interview with Inc. Magazine: "The idea was that we would incentivize consumers with the added benefit that their money goes to charity, incentivize these charities to reach their constituencies for the $20 donation, and enjoy the added marketing and public relations that would come from having an innovative strategy."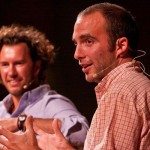 And Blake Mycoskie, not "Tom" as in Toms Shoes  pioneered, the "one for one movement." You buy one pair and the other is given to a person in an impoverished country. He tells the story of discovering people barefoot in Argentina. Struck by the notion that he could make life better he held fast to his visionary dream and today is one of the most successful shoe manufacturers in the world. One shoe at a time, whether its worn with or without socks (he prefers without) Toms Shoes is a huge success and brilliant business model. His book, Start Something That Matters, is the Cliff Notes for other young, and not so young but like minded people who question the inevitable. Should you focus on just earning a living or can you achieve both by pursuing your passions and devoting yourself to causes that inspire you?
Hello! Is this not the most dismal time for young people who are searching for jobs? Are college grads with degree's still waiting tables while business is being shipped overseas? Are companies outsourcing products that could be made in America? I think so! Obama we hear you loud and clear!
Blake Mycoskie tells his story, TOMS, with hubris and vigor. "It all started in a garage."  What matters most is that Blake, not Tom, has great ideas. The One for One movement claims, "you don't have to be rich to give back and you don't have to retire to spend every day doing what you love. You can find profit, passion, and meaning all at once—right now." That's good stuff. I just wish his business model and shoes were made in America rather than China.
Like most of my friends, I take my used shoes from a box I store  in my garage to Out of the Closet, a series of thrift stores that benefits people suffering from HIV Aids. My shoes, the good ones, are made in Italy. I have some Keds made in the US which I will never give away. Never. I like the brand. Made in America.
What's really good about these two (old souls) Ben and Blake, is  they help inspire others  find their own innovative paths for sharing wealth.  Not just money  but knowledge. Together they share a common bond, a unique gift to transform  their life experiences coupled with a fierce creative inertia into a mighty goal. To let go of fear and never doubt that giving back is just good business.
And their kind is as good as it gets.