By Nancy and James Chuda founders of LuxEcoLiving and Healthy Child Healthy World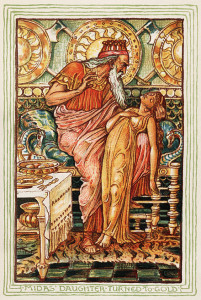 King Midas was known to have a golden touch but he's not alone. Meet Celebrity Chef Wendy Brodie!
Carmel California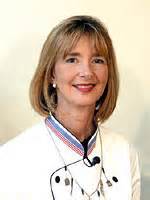 Speaking foodies to foodie… I have to say, spending time with celebrated California Artist/Chef Wendy Brodie and her husband Bob has to be one of the greatest culinary experience of my life. To add the topping, as if it were a cake… celebrating my birthday with close family friends made the outing even more enjoyable.
Chef Wendy Brodie greets Nancy Chuda and Olivia Newton-John at her home. LuxEcoLiving photo credit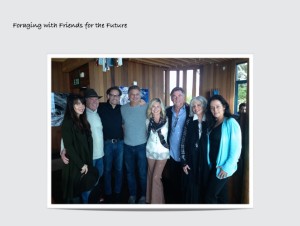 Having just spent three remarkable days in Big Sur at the Wind and Sea Estate, where we flexed our muscles, sharpened our knives and displayed our own culinary talents… made me yearn for much more.
Set in the Carmel Highlands, Wendy and her husband Bob Bussinger live above the sea and look out to a magical sunset almost everyday. It is the perfect atmosphere in which these two cultural creatives live, work and play. But play is more important because Wendy is like a concert pianist. She has traveled the world, to many parts unknown, seeking culinary disciplines but always imbuing her own midas touch.

Everything she has learned and experienced can be seen on her own local weekly television program. "Art of Food," is broadcast daily and can also be viewed  weekly on Public Television stations nationwide in the United States and Canada.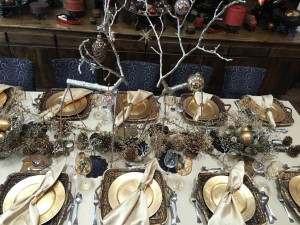 Wendy Brodie's table-photo credit Nina Montée Karp for LuxEcoLiving
Most foodies claim they can cook? But can they? Sure its easy to go to your local farmers market and throw together a salad, broil a piece of wild caught fish, pick up a desert at a fancy French pastry shop and claim it all took "hours to make."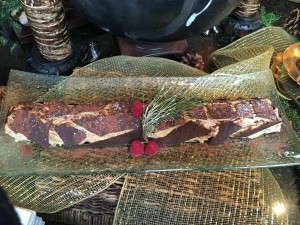 A graduate of the first class of the California Culinary Academy of San Francisco, Brodie has held executive chef positions at prestigious world-class resorts, including the Preserve at Rancho San Carlos, where she developed her own innovative style of ranch cuisine, Stonepine Inn and Gardiner's Tennis Ranch, all in Carmel Valley.
Her golden touch goes way beyond the preparation and  the serving of food. It all begins with her perspective of how food should be presented. She is a true culinary artist whose inspiration comes from the very sense of being surrounded by nature. The home she and her husband Bob built from the ground up contains antiquities from the Far East. Beautiful glass sculptures and wooden treasures. Cabinets inlaid with fine meticulous carvings. Every detail, which she and Bob proudly share becomes the appetizer for the unexpected treasures that her talents unveil. Simply cool and collected, the ultimate hostess and host, together they show no signs (at least not visible) of the vast amount of work and ambition; all that food prep, shopping, dicing, slicing, peeling, baking, poaching, boiling, plating… the least of which was our job and most certainly it was the most enjoyable… eating everything on our plates.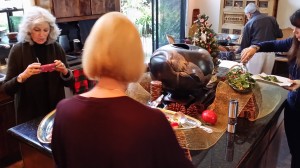 Photo Credits James Chuda for LuxEcoLiving
Please! Say no more. It was one of the greatest ever meals of our lives. My chorus of friends, all foragers and foodies too, had just witnessed why I have the best job on earth! To photograph one of Wendy Brodie's creations; a centerfold of fresh white sea bass adorned with caviar. What could be better?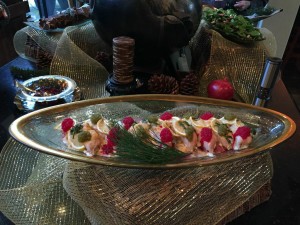 Brodie, who was born in San Francisco and grew up there and in Palo Alto, has written food columns, lectured and demonstrated cooking and tabletop designs at such venues as Filoli Center, Macys, Bloomingdale's and Neiman Marcus.
She has been a guest chef, developing menus to represent California cuisine, at numerous four and five-star hotels in Europe and the Jockey Club in Hong Kong. Wendy has sailed with the Crystal Cruise Line as their Celebrity Guest Chef.
But here's the part of her life experience that takes her into the sacred hinterlands of the world's most famous chefs including Julia Child, Jacques Pepin, Roy Yamaguchi, Paul Prudhomme and Martha Stewart. She has personally cooked with them all.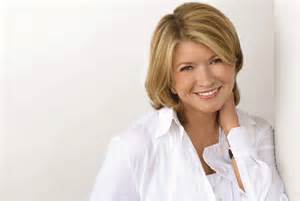 The meal she prepared for us… was spectacular. To begin a freshly picked
heirloom tomato and red pepper soup garnished with a basil infused and chive aioli, sour cream and dotted with with fresh garden peas. The delicate balance of Wendy's art and finishing touches  equaled the sensational flavors. It was the perfect soup for a festive occasion.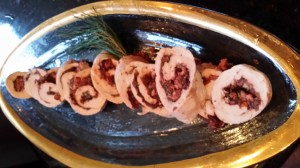 I was very impressed with one of the main courses she prepared simply because it was a welcomed addition to holiday recipes and supposedly not that difficult to execute… or so she claimed.
A turkey breast is rolled into a roulade in which caramelized red onions and smoked duck fills its center. This was not an easy recipe to prepare as all those ingredients had to be pre- prepared and then inserted before being marinated in a bath of hot water for several hours until cooked to perfection. Voila! Moist and delicious were the two superlatives used to describe its taste. We all loved it!

And in case your wondering how original American Pies were once made by hand, baked and delivered… I just happened to find one of those old hybrid buggy's at the Santa Ynez Historical Museum. And I am certain Wendy would agree that a good pie isn't just a pie… it's a miracle when all of the ingredients just meld into one remarkable taste.
LuxEcoLiving photo credit Nina Montée Karp
Deserts were too delectable to describe in words alone. We were treated to an assortment of both Wendy and Bob's favorites. The lightness of her chocolate mouse cake, the pumpkin roll, and my favorite the berry pie… with Wendy's incredible recipe for the Perfect Pie Crust. In fact, her recipe is a trade secret amongst other foodies and chefs. You just have to believe me when I say Chef Wendy Brodie can tell you how to make it… but she can't give you her true trade secret…. a Midas Touch.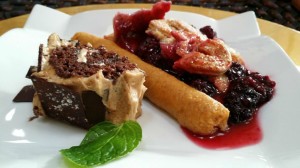 Editor's Notes:
Wendy Brodie is affiliated with The Confrerie de la Chaine des Rotisseurs, Les Toques Blanches, Knights of the Vine, American Institute of Wine & Food, International Wine and Food Society, American Culinary Federation and has been an officer and board member of several of them. She is also an honorary member of the American Academy of Chefs of the American Culinary Federation. She was awarded the 1982 Chef-of-the-Year of the Monterey Peninsula. Currently she gives classes of her artful style with food, table décor and entertaining in her demonstration kitchen in the Carmel Highlands. She also teaches cooking classes as team-building and spousal programs.