By Nancy Chuda founder and Editor in Chief of LuxEcoLiving and co-founder of Healthy Child Healthy World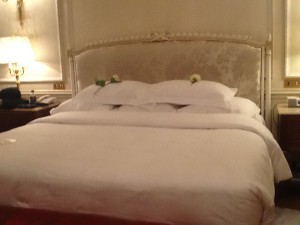 LuxEcoLiving Hotel Le Meurice Paris the Salvador Dali Suite
Are you feeling a sense of sleep deprivation? There are so many people traveling the globe for both business and pleasure but when the pleasure part becomes too short lived you begin to think… I miss my bed at home.
It's a fact. If more of us realized the importance of sleep to performance, not to mention health, we would get a lot more done and feel a whole lot better doing it. Losing as little as one and a half hours for just one night reduces daytime alertness by about one-third. Excessive daytime sleepiness impairs memory and the ability to think and process information. Sleep deprivation also leads to mood alterations, attention deficits, slower reaction times, and increased risk for accidents. And sleep deprivation is cumulative, building a sleep debt that must be paid.
The first thing you want to do after returning from a long international flight is sleep. The trip was great. Room service was even better. But what about those incredible luxurious linens you savored.
We just returned from Europe having spent a month between Italy, Switzerland and France. We stayed in some of the most beautiful hotels in the world. Each location was more luxurious then the next. Over the top! But the one component that made the difference between a 5 star and beyond was the bed linens, duvet and pillows. It is truly an art to assemble what appears to be a simple esthetic but it is far from it. Top designers in the world know exactly what colors will be most appealing but when it comes to the best bed linen in the world… the word is WHITE. Beautifully embroidered border colors offer pleasant contrasts. But the look and feel of these sheets are nothing short of marvelous.
Think about the amount of time you spend in bed. The average person gets between 8 to 9 hours of sleep immersed between layers of cotton, bamboo, silk or linen. I was amazed to discover that the majority of  sheeting materials are actually crafted in Turkey but hand finished in other countries.
In every hotel we stayed I asked this question. "Can we buy the bed linen we slept in last night?" They must have thought I was crazy… but seriously, I wasn't the first traveler to ask.
When I did my research I found companies that sell products throughout Europe, the Middle East and the Far East. I learned that most 5 star hotels insist on 400 & 300 thread count plus pure goose down or micro-fibre duvets and pillows. But what if you are allergic to down? Most companies on the Internet selling bed linens do not disclose the contents, grade, or amount of materials. This can become problematic for people who suffer from allergies.
Allergies to birds or feathers may be triggered by several sources. A person can be allergic to feather or down, the small, fluffy feathers that make up the base of the feather. When a person comes into physical contact with down from a direct source such as a bird or an indirect source like a down pillow, her sensitive immunoglobulins trigger an allergic reaction to alert her body to a potential infection. The most common symptoms suffered by people with down allergies are runny nose, watery eyes, itching skin or respiratory distress. Persistent skin irritation can lead to a chronic condition such as eczema. Severe allergies to down feathers could cause a life-threatening asthma attack in which a person's airway swells, restricting air flow to the lungs and other vital body organs.
After thorough examination of all my old bedding I concluded that I was subjecting myself and my husband to a whirlpool of dander and dust mites.
Not very healthy and certainly something that needed my attention. The first thing I did was take everything off the bed. I removed the feather bed which had provided years of comfort but now was becoming a toxic trap. I examined the mattress and thought it was in pretty good shape, made with natural materials and it did not contain any fire retardant chemicals. That was the good news. The sleeping pillows were hypo-allergenic. But the sheets were sadly worn. The duvet was old but an original Frette. Nothing looked fresh. And nothing about our bedding could compare to what we had experienced in the 5 star hotels in Europe.
Take stock in your bedding… think about how much time you spend between the sheets
I was convinced that I could find the perfect collection…. something that would bring the fine linen hotel experience home.
My research led me to hundreds of sites… I was so tired looking at product samples and jpegs that I fell asleep at my computer. When my husband said, "Honey come to bed!" I reached for the Kleenex and submitted myself to the dander. Yuk! At this point I knew too much.
I read an article about Overstock.com and sailed through their bedding department after seeing tons of home improvement decor items. I was yearning (then yawning) … please HELP me!  Voila! I found exactly what I wanted. And the price was great too.
There is no expense too great that is worth a great nights sleep. Pampering ourselves is something we deserve at any age. Sweet dreams.
Editor's Notes:
You can never tell just how beautiful it will look until you get it home.