At the Royal Wedding of Prince William and Kate Middleton "something blue" may actually be tinted a little Green.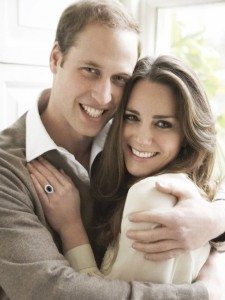 By Hannah Canvasser LuxEco Editorial Assistant
With Prince William and Kate Middleton's wedding rapidly approaching, and the highlight to this week in Tivo, many are curious to know if green standards will be carried out throughout the celebration. The Royal Family's interest in reducing energy and their environmentally friendly practices in and around the Palace are evident, and it is expected that the Prince and his bride will share the same habits in Friday's event. Although the ever so famous wedding rhyme still holds true to weddings of every nation, it is rumored that Kate Middleton's "something blue" may actually be tinted a little green this Friday.
From the wedding decor to bride and groom registry, it is clear that Prince William and Kate Middleton are definitely staying eco-conscious on their special day. The floral arrangements by the green-friendly London based designer Shane Connelly will be seasonal to keep the surroundings of Westminster Abbey and Buckingham Palace as organic as possible. It has been noted that a variety of local English trees, bushes, plants, and blossoms, will be used, most live from the royal estates, afterward which will be donated to charities or replanted.
The cake, or rather cakes, for the royal reception are designed by Fiona Cairns, and made using only the finest local British ingredients. The main cake will be decorated with fresh fruit and flowers, in a traditional British fashion. In addition, Prince William has asked Cairns to create a chocolate biscuit cake, after his family's recipe.
Following the service, Prince William and Kate are rumored to depart as newlyweds in a horse-drawn carriage, which will travel in a procession past some of London's greatest landmarks. While having the complete Cinderella fairy tale, and saving gas, this procession will give Prince William and Kate a chance to not only make their first appearance as a married couple, but show off Kate's rumored-to-be wedding gown by a green minded designer.
Buying gifts for an occasion is usually the most stressful part of attending, especially if it's for a future King. Prince William and Kate Middleton have made this daunting task an extremely rewarding one by creating a charitable gift fund to celebrate their wedding. The funds support five causes chosen by the couple; children fulfilling their potential, conservation for future generations, changing lives through arts and sport, help and care at home, and services personnel and their families. Funds can be given directly through a Royal Wedding Charity website accessible to the public.
Click here to stream the royal wedding live, or log on to Youtube.com and search The Royal Channel
Click here to read more details about Friday's Royal Wedding