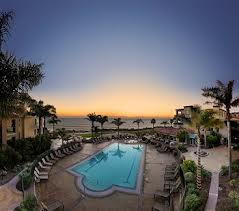 By Nancy and James Chuda founders of LuxEcoLiving and Healthy Child Healthy World
"Best in Show for Service, Pet Amenities, Accommodations, Location, and Marisol's Fabulous Cuisine" Nancy Chuda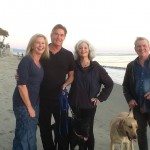 Olivia Newton-John and husband John Easterling and their dog Raven join Journey Jim and me
We had the best weekend! What could be better. Best friends and their canine companions celebrate two special birthdays… Jim and Journey's… both from Nebraska and born a day apart.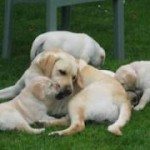 When we adopted our six month old puppy, Jim was delightfully surprised to learn that Journey was born in Atkinson Nebraska. How ironic that they would be celebrating their birthdays one day apart. Personalities were a match. Two Scorpios. There's so much love between them… and dog hair too. I use my Dyson DC41 Animal Ball Upright to show my luv and keep our home clean and tidy!
 Courtesy of LuxEcoLiving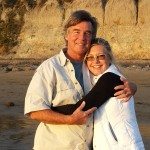 Olivia and husband Amazon John Easterling bring Raven for a special "TWJF" weekend.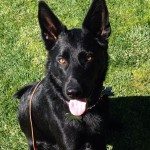 Courtesy ONJ for LuxEcoLiving
Both advocates for health and wellness, John recently launched a product called Zamu Gold which contains valuable nutrients from the Amazon Rainforest. Having spent years formulating this and other wellness products, they share their special history and desire to help others achieve optimum health.

Best friends. Olivia Newton-John and I have shared a cherished relationship for many years. Our friendship began with an introduction from my father Gerald Breslauer in 1972.
Olivia had a beautiful male Irish Setter named Jackson and horse named Judge. I had a setter named Beau and horse named Gilligan.
Who would have thunk that after all these many years, she circling the globe performing and raising money for the Olivia Newton-John Cancer and Wellness Centre… we would both wind up they way we started our friendship… with our love for our pets.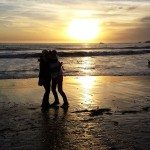 Courtesy LuxEcoLiving
It was a special return visit to one of our favorite Travels with Journey hotels. The Cliffs Resort in Pismo Beach. Journey couldn't wait to get back to room 153, and pick-up his favorite little rubber duckie.(A special welcome from the Cliff Resort staff)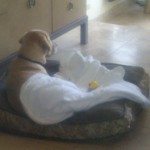 Courtesy of LuxEcoLiving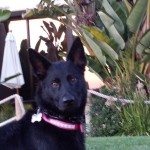 Journey's special friend is Raven but I call her Liz (as in Taylor) She loves diamonds too.

Jim and I awaited her arrival but it was Journey who caught her scent first.

Raven is a beautiful K9 female German Shepherd, coal black, bred for highly intellectual purposes. In fact, most K9's are so astute when it comes to uncovering dangerous and threatening weapons of mass destruction. Others have received high military honors for their dedication and service, but John and Olivia Easterling's pick of the litter turned out to be a playful, precocious, some say, Alpha BITCH. She has an unending reservoir of energy.And the sweetest disposition.
If I could read her mind I know this is what she is thinking."Get a life Journey! All you think about is sex!"
What's a dog to do without his "cajones." Chase birds?
Journey loves to share and Raven loves to dominate. Journey being so Labradorable teases and struts his stuff while Raven uses her stealth technology, acute sensory preparedness for sniffing out any foul play. And to her, most of what Journey does…. is foul play!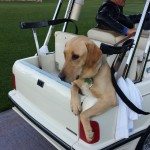 On the 9th hole and hoping to make a birdie
Bed time for our pets was a welcomed relief. We dined at the fabulous Marisol Restaurant.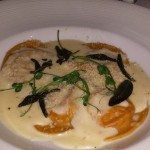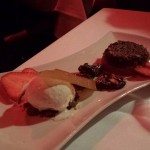 Pumpkin Squash Ravioli and a fabulous desert… just a couple of items worth trying
Photos courtesy of LuxEcoliving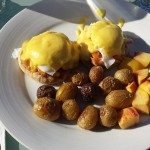 Breakfast was the best! Sitting ocean side thanks to David Kline (Director of Social Media at Marisol) we loved the Eggs Benedict and the pancakes were divine! Raven loved her special scrambled eggs with beef from the Cliffs Doggie Diner Menu.
If ever there was a sight to behold it was their classic water play on Shell Beach at sunset.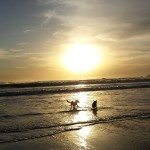 Together, Journey and Raven were gone with the wind. Tripping over shells and seaweed, curiously admiring other dogs off leash and dreaming about their freedom in a place every dog and pet owner just loves.
And in case you miss your cats…just know they love tech toys and can occupy themselves for hours.  What a way to go!
Courtesy of David Kline

When you think you've had enough dog play consider taking a nap. (Jim, dreaming about our romantic getaway)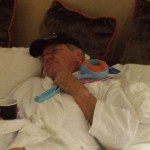 Courtesy LuxEcoLiving
Editor's Notes: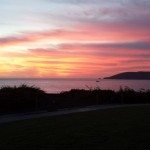 Courtesy LuxEcoLiving
Be sure to tell them Travels with Journey and Friends sent you.
The Cliff Resort 2757 Shell Beach Rd, Pismo Beach, CA 93449