The horrific news of Cecil the lion sounded a worldwide cry for help. The news  of the poaching and eventual trophy kill by the Minnesota dentist who  supposedly was lead astray by Zimbabwe field guides usurped every mainstream media sound bite including those of Donald Trump. But the impact of his slaughter was not as heartfelt in Zimbabwe.

International Animal Rights activists were alarmed by the news but this one incident is only the "tipping point," in terms of how Wayne Pacelle, CEO of the Humane Society of the United States (HSUS) views the world and the helpless animals he rallies to protect every single day.
The statistics are staggering. Six to eight million dogs and cats enter shelters every year with very little recourse for sustainability. Twenty three million pets are living in poverty with people who themselves are stricken with lack of means to get access for services for their pets. According to the HSUS, this is a major problem, one which has captured tremendous media attention thus now has become a focal point of the charity.
In its first year, HSUS has started a program called Pets for Life (PFL) which is addressing this and other major concerns.By reaching out to the communities and offering assistance with service needs free of charge their mission is to not only change the face of poverty for pets but infuse optimism and inspiration for their owners.
Putting a face on this problem ranges from heart rendering (sometimes heart breaking) video images that catapult a communal outcry for change. People who care about animals are in my opinion, the most sensitive and intelligent among us.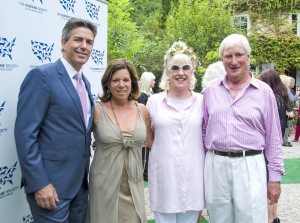 Celebrating Animals/Confronting Cruelty
A good friend, poet and lyricist, Joe Henry once  stated, "I only trust the 4 legged."
Wayne Pacelle and hosts Penelope and Adam Bianchi

That rang true at a magnificently orchestrated event at the home of Penelope and Adam Bianchi held to honor celebrities and companies that have made major changes in the animal protection movement. Hosted by philanthropist and National Council Member of HSUS, Alanna Tarkington set the stage with her team of supporters for a magical night in the Montecito Woods.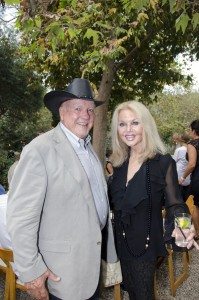 Photo credits Margo Schwab- The San Diego Social Diary-Alanna Tarkington Host and Alan Day
The setting was a perfect backdrop to gather the mighty and powerful guests, all warriors in this movement. The awards given to the awardees were not shiny trophies, rather tremendous words of gratitude. Celebrity helps. I was deeply touched by the words of Priscilla Presley who stated that the best use of her name has helped to spearhead a movement to stop the unwarranted and despicable abuse of  Tennessee Walkers.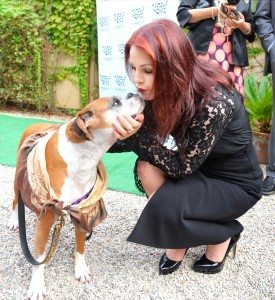 Ignorance and ego have always been the mantra of some equine fanciers who are more partial to how the horse looks and presents in the arena. Presley herself awakened to this threat and need to bring this issue to the United States congress, spoke about a law that if passed will ban the mistreatment and tortuous wrapping of horses legs (soaring) as it applies to this breed in the entire US. She was presented with the Humane Campaigner Award. Also additional champions for pet and equine welfare were given to Wendie Malick who was presented with the Horse Hero Award and John Paul Pet with the Humane Corporate Award.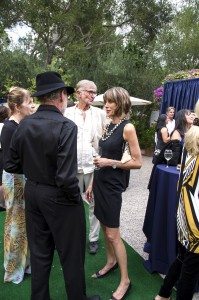 Wendy Malick and John Paul Pet with Wayne Pacelle, above Priscilla Presley with KIMA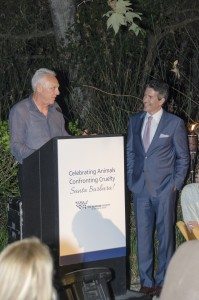 Pacelle shared his efforts with dignity and devotion. No CEO of any charity that I have met can match his brilliance in solving problems and finding solutions. This man, in my opinion, should run for president. There wasn't a moment wasted in his deliberation and unrivaled determination to lay the groundwork for tremendous change. And change has come.

He stated that the biggest ticket item is spay/neuter and vaccinations. Fewer than 10 percent of pets in underserved areas are sterilized. Here's the big advance, he stated,  "through the PLF approach, in the areas we work, we are converting 78 percent of the unaltered pets to spay/neuter, bringing the communities up to the national average of 88 percent. " Outreach is key, he added, "the program operates on a city/town level. We are currently in 30 markets (27 states) and in the process of finalizing five additional markets by the end of September. By the fall we will be in 35 markets (32 states).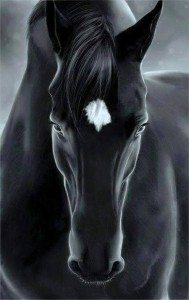 Mixing metaphors from household dogs and cats then led to the bigger picture, one that is hard to imagine in this country as compared to the world where horse meat is considered a staple. HSUS stands strongly behind this issue and is opposed to horse slaughter. The question of overpopulation and over-breeding, neglect and irresponsibility were the the focused keynotes in his description of an overarching problem that many are unaware of outside the activists arena. Wayne stated, "In the U.S., horses are not raised or treated as food-producing animals. Horse slaughter is not only inhumane but may also pose serious health risks to humans. Unlike animals raised for food, the vast majority of horses destined for slaughter will have ingested, or have been treated or injected with, multiple chemicals known to be dangerous to humans, untested on humans or specifically prohibited for use in animals raised for human consumption. Horses are gathered for slaughter from random sources at various stages of life, and there is no system in the U.S. to track medications and veterinary treatments given to horses to ensure their meat is safe for human consumption.
When you think of horses running free you immediately identify with how the west was won. The open range and its wild Mustangs are symbolic to American history. It is our heritage. The horse is the noblest and most sovereign gift to mankind.
Tears were shed on this hot and muggy night for the helpless creatures who have fallen into a demonic trap– the fact that it is currently illegal to slaughter horses and sell their meat for human consumption has not prevented killer buyers who ship more than 100,000 American horses– those that have worked the land, gave tremendous energy and stride to the racing tracks, and worse those who provided trust to children, ponies who served families with years of joy and hubris and unconditional love– all sent cramped in trailers, denied of food and water or rest before they met their ill-fated deaths only to be covered by gravy on some European's plate.
There are many wrong doings in the world… this we know. And you have to pick your issues wisely and not be daunted or paralyzed by thoughts of what you could have done. You just have to do it. Speak up and lead the way for others.

Aside for the celebrities and companies that took  the stage with tremendous accolades and applause, there were others in the audience, perhaps less recognized for their efforts and talents. Two of whom deserve to be center stage next year when HSUS rewards public citizens for their undying efforts and devotion to this movement. My dear friend Suzanne LaCock Browning and her mentor Chris D'Rose, both attended and are early activists who created tremendous change. They get my vote!
Suzanne has been affiliated with Wylders, a "rescues only" pet store in California that in the last 20 months has successfully rescued and found homes for 702 dogs.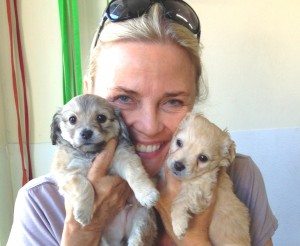 "I was so pleased and honored to be part of the Humane Society event that Alana put together but I want to remind everyone that we can all do something to save animals every day of our lives. It has to do with the choices that we make, the foods that we buy and the clothes that we wear. And I guarantee there is an animal near you that needs help! You can volunteer at a shelter or with a rescue group, you can rescue, you can foster. Go do something in your community it will make a big difference in your lives and the life of the loving pet. Remember 'adopt don't shop' and always spay and neuter your pets."
Editor's Notes
A big thank you to Alanna Tarkington and to Margo Schwab for her magnificent photography. (Dress by Jordan of Jordan Art Couture)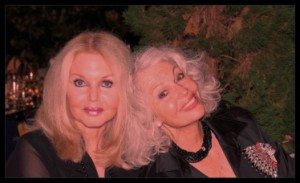 Alanna Tarkington and me. Margo and her husband Scott Johnston and of course KIMA