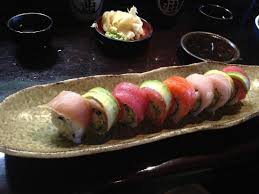 By Nancy and James Chuda founders of LuxEcoLiving and Healthy Child Healthy World
Heading Sideways in Santa Ynez Valley from Los Olivos to Buellton
Two Great LuxEcoLiving4U Picks for locally grown organic food and safer-seafood caught fresh for sushi. Sides Hardwear and Shoes and A-Ru Sushi. Get ready to motor up and try two fabulous restaurants.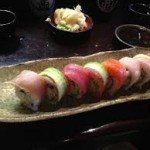 Sushi in Buellton? Sounds like and oxymoron. Set amidst a cowboy culture that prides itself on grass fed beef you mosey into a shopping mart and pick up paper goods at CVS, stop by Albertsons for locally grown corn, peaches, apples and tomatoes, and head to the vitamin barn for supplements…. but if your hankering for fresh sashimi sushi or a California Roll your out of luck… until you discover ONE OF THE BEST JAPANESE restaurants this side of the Rockies.
A-Ru sushi, like its name means "living in the moment." And you certainly can say that the owner of this fine, and I mean really fine restaurant,  Jina Bae, does more each day than most other proprietors of sushi to find and prepare some of the most sumptuous dishes I have ever had.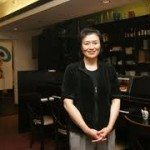 Enter her world of serenity and you become calm and collected. Taste her food and your love of sushi and all her other hand crafted morsels from the sea will awaken your taste buds and entice you to desire more. Not just for the typical yearning for soy and wasabi, which elicits a compelling and addictive desire for more succulent tasting raw fish… in this case, Jina throws in some surprise ingredients which makes a I love sushi eater out of anyone who has ever said…. I don't like it.
Growing up in a Japanese restaurant and home in Korea, Jina became influenced at an early age. "The key to a good sushi restaurant is getting the freshest fish. I go to the Los Angeles fish market to bring back the freshest catch I can find."
What a treat! Jina Bae is one of the best sushi chefs in America and she deserves great credit for making her dream come true.

A very special thanks to David  Herning, headwaiter for suggesting great wine pairings. A-Ru Sushi's wine list includes many great choices from local vineyards, including Di Bruno's Pinot Grigio, Sanford's Pinot Noir and Chardonnay, Fess Parker's White Riesling and an amazing assortment of sake's starting at $20 a bottle (Taru) as well as a $200 bottle for (Otokoyama). And for those who love the cold and thirst quenching sensation of beer, (my perfect choice for sushi) you can order Sapporro and Asahi as well as Hitachino Res Rice Ale and Morimoto Sobe Ale.
For Jina, her love of cooking and sharing time with good friends and loyal patrons is matched with why she came here in the first place. "The people in this valley are really wonderful. I came her because this is such an idea place to raise my son. There's just no place like it."
 Sides Hardwear and Shoes Los Olivos- a Brothers Restaurant

Stepping out with friends, Marcy and Strath Hamilton and their Toy Poodle Bagel, we discovered why The Brother's are the most respected restauranteurs in Santa Ynez Valley and the entire Central Coast.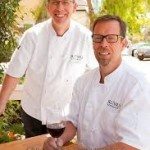 The Brother's Jeff and Matt bring their culinary history and excellence to an ultimate dining experience.
Known for their impeccable style, service and of course menu. Stepping off from the most famous culinary stage, Mattei's Tavern, they didn't have to go far to find the perfect location for an intimate setting in the charming little haven some called "heaven", the town of Los Olivos.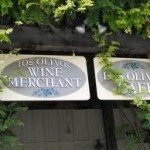 People who live in the town are lucky. Sandal clad, denim jeans, and T's that sport sayings like "LUST," are first responders to the array of designer culinary dishes, all made from the freshest, organically grown, LOCAL FARMERS, who pride their produce like rare jewels; lettuce like emeralds and tomatoes like rubies (especially heirlooms).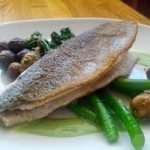 Aside from the fact that you do need a reservation even if you are a local, hanging around town while waiting is a perk and pleasure. You can increase your expected appetite 10 fold by sampling wine at a variety of tasting rooms or listen to a local musician in the park across the street Better yet, YOU CAN DINE WITH YOUR DOG ON THE TERRACE at SIDES, so it's a good time for a walk in the park.
Once seated we did not anticipate the extravagance that would soon follow. A six course tasting menu was designed by chef Michael Cherney to enhance our love and appreciation for what the Brother's cherish most; hearty exclamations for the love of food.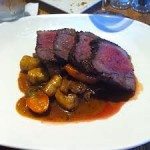 The level of our oratory exclamations…. all positive, made soundtrack possibilities for an X- Rated film. Marcy went bonkers for the Blue Fin Crab, Strath saddled up to the lamb leaving not a trace behind and by the time deserts were served we were over the moon… literally. We closed the place.

Life in Los Olivos is more than just swell. It's perfect because Sides Hardwear and Shoes is meant to last a very long time. Like the leather on a saddle… it just gets better and better over time.
Editor's Notes:
A-Ru Sushi is located at 225 McMurray Rd  Buellton, CA 93427 and is open for luch Tuesday through Saturday, from 11:30 a.m. to 2 p.m. and for dinner Tuesday through Sunday, from 5:00 p.m. to 9 p.m.  Take out is also available but no delivery is available. Call for reservation at 805- 686-9001.
Sides Hardwear and Shoes- a Brothers Restaurant is located at
2375 Alamo Pintado Ave  Los Olivos, CA 93441