By Nancy Chuda founder and Editor in Chief of LuxEcoLiving and Healthy Child Healthy World
Backstage at The Flamingo Hotel Las Vegas Nevada
She sings with Grace and Gratitude for her special friends…. Wednesday Moms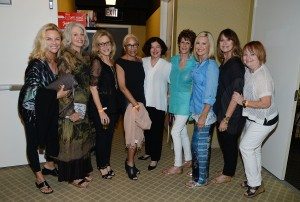 Denise Truscello photo credits
The English Garden provided the beautiful arrangement for Olivia… a gift from WM's.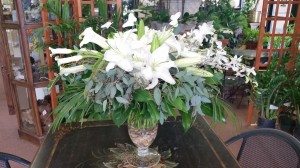 Friends for life! Suzanne LaCock Browning, Nancy Chuda, Colette Ament, Linda Grey Heitz, Marcy Hamilton, Cindra Ladd,  Rebecca Foster and Lindy Willingham pay special tribute to Olivia after her spectacular performance at The Flamingo Hotel in Las Vegas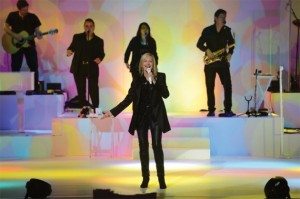 Take a journey through Olivia's life and you will be more than entertained. It's her passion; to reach out to others whose lives like her own have been touched by illness.
It's more than a medley of super hit songs all of which resonate with an audience of every age.
She asks, "How many of you have seen the movie Grease?" And the crowd goes wild. Some as many as 100 times and the beat goes on and on. The movie, a genre all its own, is more than a classic. It's a culture that keeps growing in a petri and  Sandy keeps dishing it out. Night after night, Olivia reigns in Vegas. They come in droves into the cozy atmosphere of the Donny and Marie Osmond theater and leave energized by the music, validated by their culture (Boomers and others dancing in the aisles) and are left humbled by her heart of gold; added her ability to transcend through the hardest part of her journey, breast cancer and how she never gave into it.
Vegas for Newton-John is "the candle" on top of the icing of a hugely successful career, spanning over four decades with over 100 million records sold world wide. But the key to her success now is more meaningful than ever. A portion of ticket sales from her Las Vegas show benefits the Olivia Newton-John Cancer and Wellness Centre in Melbourne Australia.
She is determined to help others through a revolutionary multi faceted approach in having created one of the first state-of-the-art hospitals that heals more than just the disease… the entire person.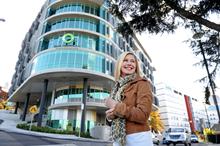 The Olivia Newton-John Cancer and Wellness Centre is located at the Austin Hospital in Heidelberg, Melbourne.  Her vision from the beginning, was to create a world-class Cancer & Wellness Centre dedicated to providing the very best in medical care and treatment; combined with research programs for new treatments to help stop cancer from destroying the lives of so many people. She's done it!
Cancer still claims lives but Olivia is using the power of her celebrity and her own personal experience to help others heal.
And speaking of healing… to listen to her voice capture the range of a twenty five year old, to see her in motion chronicling her life, dancing across the stage, working out to Physical, swooning and swaying in the medley of country hits that launched her career, then if that wasn't enough… putting on the black leather jacket and slinky black pants, looking svelte and with swag while swinging, literally with the Pink Ladies.. if that doesn't bring chills to an audience I frankly don't know what will.
And when you think of her hits… don't just think Grease. You get ("If You Love Me Let Me Know)," ("Please Mr. Please,") "Let Me Be There"); the Xanadu oeuvre (title tune, "Magic" and  "Suddenly"); and more ("Have You Never Been Mellow,") ("I Honestly Love You,") John Farrar's major hit and one of Olivia's favorites ("Sam") then ("A Little More Love"); of course ONE of the show stoppers is "Physical"). And when the song came out Olivia was ONE of the first artists to hear the words "banned."; then comes more, "Over the Rainbow," and two of my favorite songs, "Cry Me a River" and "Send in the Clowns").
She leaves you breathless while your left wondering how does she do it? At 65 you have to believe in her kind of magic…she's a consummate artist whose athletic abilities coupled with years of hard work puts her in front of the stratosphere of Divas… some who would rather kiss their lucky stars before they say goodbye. But not our Olivia… she's got the whole world and the universe wanting more.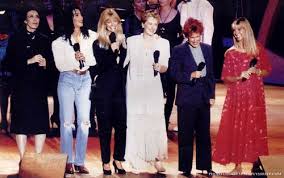 Editor's Notes:
To raise critical awareness about children's health and the environment  in 1990, Olivia appeared with Bette Midler (also a Wednesday Mom) and Meryl Streep, Goldie Hawn, Cher, Lilly Tomlin and the late Robin Williams in the ABC Variety Special I co-produced with Jeff Margolis, An Evening With: Friends for the Environment.
Wednesday Moms is a group of dedicated friends that helped to support (CHEC) Healthy Child Healthy World, a non-profit organization Jim and I founded in memory of our daughter Colette Chuda who died at the age of five from a non-hereditary form of cancer, Wilm's tumor.