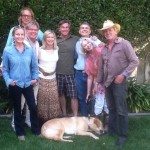 By Nancy  and James Chuda founders of LuxEcoLiving and co-founder of Healthy Child Healthy World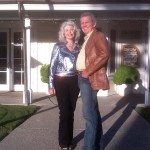 Step into paradise. Once you enter the Fess Parker Inn all of the stress of travel, parenting, business and any other excess baggage disappears. Greeted by a youthful and friendly staff (most are locals) you begin to feel the beauty and the history of this diamond in the rough. Best part, romance is in the air!

Legendary doesn't even begin to describe Fess Parker's unique history. Not an ordinary man. He was determined to live life to the fullest and share his extraordinary accomplishments with the world.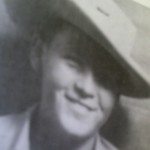 He certainly knew the meaning of luxurious hospitality and when you add his great wines and and a visit to his vineyards on horseback… well, you might just sing, Davey Davey Crocket King of the Wild Frontier.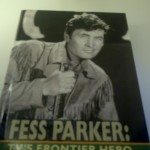 Let's focus on how he won the west, east, north and south and why everyone who is lucky enough to stay at The Fess Parker Inn keeps coming back for more.
In fact, I ran into a friend and supporter of our charity, Herbert Allen Jr. on his racing bike. He had just checked in and rented the entire Inn for a long weekend. A treat for all his cycling buddies.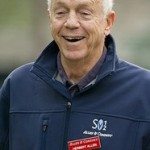 We started our romantic two night, Wine, Dine and Ride package getaway by having lunch at Petros with close valley friends. Petros uses only the best and freshest ingredients, many of which are from his own region in Greece. The menu balances classic Greek cuisine with dynamic Mediterranean ingredients and haute stylings that hit the mark perfectly every time.

We began with a selection of cold appetizers. My favorite was the Fried Calamari with lemon, olives and topped with a delicious lemon garlic sauce. Oh my! Followed by  the four Greek cheeses (all that was missing was the wedding) which included the hot peppers. Served with homemade grilled pita bread. So delish! Their Karpouzi Salad is by far one of their best dishes. I could eat this as a main course! Fresh watermelon, heirloom tomatoes, Epirus feta, manouri cheese, drizzled with Greek honey,  and mint. Don't share this with anyone!
Olivia had her favorite, pasta bolognese. Instead of meat, Petros serves Chicken Spaghetti grilled chicken, broccolini, Epirus feta, chili, garlic, tomato and basil. She loved it! You want to hear more?
Jim had the Greek Burger. A mixture of ground beef and lamb, red onion relish, confite tomatoes, kafteri cheese and beets Served with fries. He's a sweet potato and shared those fries.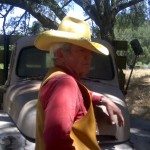 I had the Fish of the Day a la Grecque
with grilled vegetables and Latholemono sauce.
Desert was fabulous! Baklava Walnuts, almonds, pistachio, phyllo soaked with citrus syrup, served with vanilla ice cream. Please dear God! Let me get into my one piece bathing suit!  This was going to be a challenge after the meal but a very necessary part of the romantic two night package.  I ate it lovingly with no regrets thanks to Amazon John Easterling's famous digestive botanicals from the Amazon rainforest. Order Digestazon Plus you will be amazed!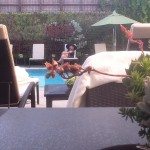 We awoke early to discover a slight problem. What else? The little town of Los Olivos was experiencing a brown out. No electricity at all. Jim electric razor left a morning fuzz. My hair, wet as mop  was saved by my favorite hats. I never travel without Carol Carr's entire spring collection.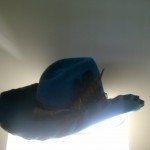 I chose one, Territories (13521). We headed to Petros for breakfast only to discover that none of the kitchen appliances were working. Not even the coffee makers, drip or espresso. I was craving the Penelope Cruz buzz for a Nespresso… the way she says that word, "Nespressso" made me crave one even more.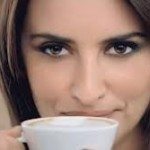 We had to get ready for our Vino Vaqueros horseback ride. A short drive up Foxen Canyon Road brought us to the Fess Parker Winery. The horses were waiting, saddled and bridled. We were excited and couldn't wait to get on.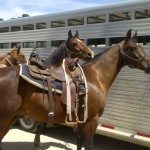 Imagine a day in the country on horseback. A gentle breeze lifting the bright green leaves on the vines all across the famous Parker ranch and vineyard. The California Live Oaks so majestic throughout the property. Turkey vultures and red tailed hawks circling above in the bright blue sky. We walked along and amongst the vineyard catching the long stretch of trellising vines with our tech toys. Horses were calm and sensible. No sudden moves. We talked together and we languished the magical moments above the ground thinking out loud how much Fess Parker must have loved his life and land. It was said by all who knew him that he was incredibly motivated, hard working, and enjoyed sharing his success with friends and family.
We could just imagine how hospitable he must have been. And you will too when you experience your stay at The Fess Parker Wine Country Inn and Spa. His kindness, manners and dedication to detail lives on.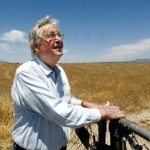 No romantic getaway could be complete without a full body massage. Luxuriating in the scent of essential oils with names like Forest and Sea I was drifting far, far, away from the daily amps of stress. My cell phone was locked away with all my other possessions. My mind was busy untangling the tedium of life. I rebooted the memories of our special 48 hours and rekindled the sounds of the horses hooves, clip clopping through the vines , gave a sigh of relief, and felt like I found home.
Editor's Notes:
The Fess Parker Wine Country Inn and Spa-805-688-7788
2860 Grand Avenue, Los Olivos, California, 93441
A very special thank you to Brooke Atkins at Fess Parker Public Relations, Vino Vacqueros, and Petros staff for providing all of the best hospitality and service.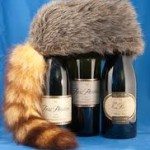 Special thanks to our fashion contributors: Steven West Designs, Carol Carr Hats, NYDJ, DoubleD Ranchwear, Ryan Michael Western Heritage Cowboy Shirts, The Orchid Boutique, and Back at the Ranch, Santa Ynez California