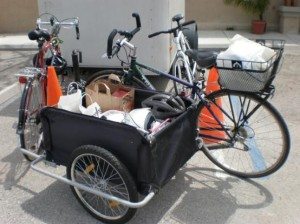 By: Annie Huang, LuxEco Living Marketing Assistant
People bike for many reasons such as exercising, commuting from one place to another, or simply just touring around the neighborhood for fun. And my biking reason for last Saturday, was to promote green living with LA Greensters. For those of you who don't know about LAGeensters, they are a group of eco-activists who would get together and bike-ride with recyclable electronic goods in tow. The whole mission is to demonstrate to LAians that it is more than possible to travel on bikes.
It was a beautiful Saturday with cozy ocean breeze. The temperature was just perfect for a good bike ride in west Los Angeles. I had the pleasure to meet a dynamic group with a mixture of churchgoers, social event planners, and active bikers. Everyone was brought together to share this one passion we have in common, which is to make Earth a greener and more eco-friendly place to live in.
Last Saturday was really an exciting day for me.  I have always wanted to take action in some kind of eco movements. Before I continue here, there is one thing that readers should know about me. I used to be very athletic and outdoorsy when I was younger. However, now that I have become a working professional with a 9 to 5 job, there is less free time for me to do what I used to do. My energy level is no longer comparable to "once upon a time…" The truth is, I was not only excited about participating in such an educative gathering, but also thrilled to finally have an opportunity to do some workout with my long-neglected body.
When the team leader finally got us moving, I hopped on my bike and started pedaling like a child. I even thought to myself, "What a wonderful day to recycle electronics on a bike!" The route for the day was to take major roads through West LA, so that the public could see how easy it is to travel on bicycle with a heavy load. Shortly after I caught up with the team, we made a turn at National Blvd. onto Sawtelle Blvd. and continue the troop up to Pico. At this point, my energy level started to drop rapidly. After another ten minutes of forceful pedaling, I decided to ignore the calling of the troop and yield to my body for a rest. I ended up biking on my own in LA in a snail's speed! A friendly reminder for spontaneous bikers like me: don't forget to bring extra bottles of water to avoid dehydration. My Klean Kanteen was a real life saver that day.
Despite my embarrassment of not being able to finish the trip with the group, I was still able to ride around town and see things from a slower and slightly different perspective than that which you experience from a driver's seat. I found that many people do bike during the weekends, whether for grocery shopping or just to enjoy the sun. I was actually surprised to find many interesting restaurants and stores in the area that were not as obvious to see when driving a car. Finally, after an hour of joyful ride, I thought maybe I should treat myself to some nice cool yogurt at Yogurtland. I was so sad to find out that there was no bicycle rack to park my bike anywhere! And it was that moment when I truly encountered the car-dominance culture shock. I walked with my bike around the parking lot and could not spot a designated bike parking area. Without a lock, I could only ride back to my car and just call it a day.
Overall, I had a wonderful experience meeting LAGreensters and biking around the city. As a travel enthusiast, I have always enjoyed flexibility and slow traveling to allow myself to feel all the elements of a beautiful place. Last Saturday was memorable and sensational because I was not in a hurry to be somewhere else. Most of all, I was exposed to the ocean breeze, warm sunshine, and breath-taking landscape of the streets without adding more car pollution to the air. But of course, next time I try a group biking, I'll make sure my energy is fully charged!