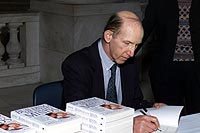 By: Emily Lynne Ion via Heathy Child Healthy World on Wednesday, April 28, 2010
Today, the Healthy Child family is mourning the loss of an inspirational pioneer and beloved member of the community, Dr. Stanley Greenspan. Dr. Greenspan, the creator of the DIR model and Floortime therapy for autism, passed away yesterday after a long illness.
It is difficult to emphasize how much Dr. Greenspan's work has contributed to improving the health and well-being of children worldwide. Dr. Greenspan is considered the world's foremost authority on clinical work with infants and young children with developmental and emotional problems, and his prolific work continues to guide parents, professionals and researchers.
He was a true leader in the autism world. His developmental model of therapy changed the way that children with autism are taught, and improved upon behavioral approaches by making learning more meaningful. Dr. Greenspan was decades ahead of the curve in understanding the importance of emotional awareness in treating developmentally challenged children, and thus in helping them reach developmental milestones.
In the words of our founder, Nancy Chuda, "Stanley Greenspan's life work created the platform from which autism therapies found their roots. He helped countless millions of parents understand the complexities of the disorder. He created new pathways for learning and opened a universal discussion surrounding hereditary versus environmental factors. He embraced each child as his own– he did what others could not understand or do."
Dr. Greenspan was Clinical Professor of Psychiatry and Pediatrics at George Washington University Medical School, and Founder and Chairman of the Interdisciplinary Council on Developmental and Learning Disorders (ICDL), whose mission is to advance the identification, prevention, and treatment of developmental and learning disorders.
He is the founding president of Zero to Three: The National Center for Infants, Toddlers and Families, and former director of the NIMH Mental Health Study Center and the Clinical Infant Development Program. He authored over 100 scholarly articles and chapters, and is author or editor of over 40 books, translated into over a dozen languages. His research has been featured in all the major media, including Newsweek, Time Magazine, The Washington Post, New York Times, ABC, NBC, and CBS news broadcasts, and the subject of a PBS NOVA documentary, "Life's First Feelings."
Among the many accolades Dr. Greenspan received throughout his long career are The American Psychiatric Association's Ittleson Prize for outstanding contributions to Child Psychiatry Research and the American Orthopsychiatric Association's Ittleson Prize for outstanding contributions to American mental health. Dr. Greenspan is the only individual to receive both Ittleson awards.
For children who suffer from autism, Dr. Greenspan opened minds that were previously locked, previously impenetrable. "Often we look for a way to reach a child – the magic key that will unlock the hidden door – when all the while the child is showing what he needs by his actions and the way he's processing what comes his way," wrote Greenspan in his book, "Engaging Autism." To understand the full impact of his contribution, take a moment to read these testimonials from parents whose lives were touched by Dr. Greenspan.
Stanley Greenspan holds a special place in our hearts. He and his wife, Nancy, were instrumental in the foundation and formation of Healthy Child Healthy World, and served many years on the Board of Directors, Scientific Advisory Board, and in an advisory capacity. "He was truly a great man," said Christopher Gavigan, our Executive Director, "and a guiding force behind the advancement of our work and mission."
An obituary published today in the Los Angeles Examiner summed up our feelings beautifully:
"Greenspan has improved the lives of countless children with developmental disabilities. He personalized, rather than trivialized their differences.
He helped give parents hope by giving them a road to follow to help their children develop empathy and social skills in a spontaneous rather than a scripted way. He said children can learn to think in a creative and logical way. He said children with autism can feel affection and develop emotionally and socially at a time when many researchers said this was impossible. "
From all of us here at Healthy Child Healthy World, we offer our condolences to Dr. Greenspan's family and promise to honor his memory by advancing his indelible and vital work on behalf of all children. He will be greatly missed, and his impact will be forever felt.
Memorial contributions may be made to the Stanley Greenspan Memorial Scholarship fund, established by the Greenspan family to support future leaders in the field of infant mental health and developmental disorders, currently enrolled or applying to the ICDL Graduate School. Applications for this scholarship will be made available online soon.
Learn more about Stanley Greenspan and his legacy:
StanleyGreenspan.com
Interdisciplinary Council on Developmental and Learning Disorders