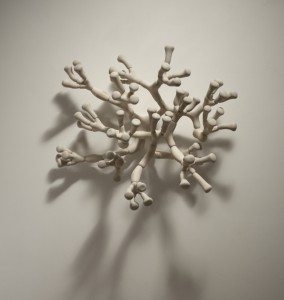 By Edward Cella, Owner of Edward Cella Art+Architecture
How often are you struck by the intricately constructed beauty of nature? For Venice Beach based artist Brad Miller, that appreciation happens each day in his home and studio but was recent reinforced by an exhaustive excursion though the coastal waters and reefs surrounding Thailand and Myanmar. Upon returning, Miller embarked on the planning for debut exhibition at Edward Cella Art+Architecture in Los Angeles. Transforming the white box of the gallery into a laboratory to construct and present his insights into the fundamental mechanisms of existence, one comes to appreciate that Miller is a naturalist at heart and has built upon these universal relationships which have appeared in various contexts throughout his career.
Immersive in scale and yet all together new in form; Miller seeks to engages the viewer in an experimental journey traversing fire, water, earth and sentient cells. Offering compelling evidence of his own evolutionary theory, he juxtaposes sultry and bisymmetric patterns on burned wood panels against a reef of coral-like porcelain branching forms. Opposite these are polished clay vessels that call to mind cellular or atomic structures. His installation of branching porcelain sculptures, burned wood panels inscribed with bisymmetric forms, and carved clay vessels evoke the cellular patterns that are the very genesis of life.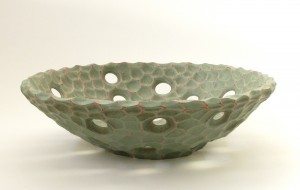 Using a vocabulary of ceramics, steel and wood to manipulate and construct his creations, Miller harnesses and applies fire as the catalyst to transform each medium. It is this proclivity that mirrors the earth's own volatile birth of primordial formations. To recreate both the subtle and explosive quality entailed in such processes; Miller has spent years experimenting and refining his techniques to serve his creative objectives, including creating his own kiln and experimenting with a range of butane torches. Unified in concept, each component represented in the exhibition has, at one point or another, been subjected to burning, polishing, tumbling, or carving
Although Miller has exhibited nationally and his work is in numerous public and private collections, for example the Los Angeles County Museum of Art and the Renwick Gallery of the Smithsonian, the exhibition offers an opportunity for everyone to see and touch these elegant and seductive works. Furthermore, the public is invited to hear the artist discuss his work at two different public programs which accompany the exhibition. The first conversation on Saturday, April 30th features noted independent curator and an art and design historian, Jo Lauria, who will discuss the new freedoms that new approached in contemporary art empowers artists to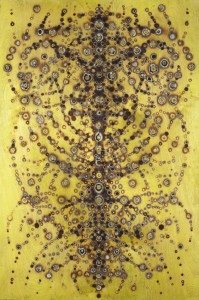 cross all categorical boundaries in materials and techniques, melding fine art, craft and design. The second conversation on Saturday, May 28th offers a panel discussion of three leading historian, critics and educators, Michel Crettaz, Marlena Donohue and Dr. Rob Spruijt in a discussion of the concepts of symmetry, rhythm, pattern, biomorphism, selective randomness
as they occur in parallel and spontaneous arrangements in the natural word and the visual arts.
The details:
Brad Miller: Primordial Algorithms
April 23, 2011 through June 28, 2011
OPENING RECEPTION: Saturday, April 23, 2011/ 6:00 – 8:00 PM
AT: Edward Cella Art+Architecture
6018 Wilshire Blvd.
Los Angeles, CA 90036
323-525-0053
http://www.edwardcella.com/html/map.asp
PUBLIC EXHIBITION PROGRAMS
In Conversation: Jo Lauria and Brad Miller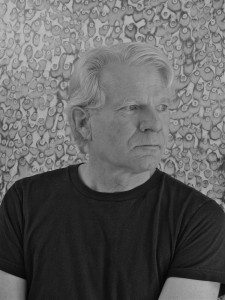 Saturday, April 30, 2011/ 4:00 – 6:00 PM
In Conversation: Marlena Donohue, Jean Michel Crettaz, and Dr. Rob Spruijt
Saturday, May 28, 2011/ 4:00 – 6:00 PM
6018 Wilshire Blvd., Los Angeles
THE PROGRAMS ARE FREE AND OPEN TO THE PUBLIC
Seating is limited. To reserve please call 323.525.0053