New vegan restaurant in Los Angeles, Sage Organic Vegan Bistro, provides affordable and healthy comfort food.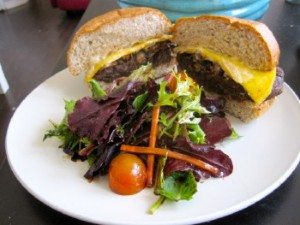 By: Lauren O'Neill, LuxEco Editorial Assistant
Los Angeles foodies can rejoice because there is a new vegan restaurant in town, Sage Organic Vegan Bistro on the corner of Sunset and Logan in Echo Park. Formerly raw food restaurant Mooi, the space is now a dream team of organic vegan delicacies: healthy comfort food from Sage, and delicious, dairy-free ice cream from the popular KindKreme desserts (also in Studio City and Pasadena).  With the owners of Millie's in Silver Lake and a former employee of well-renowned vegan restaurant Flore, it's no wonder the food is so good that it will satiate the taste buds of vegans, vegetarians, and omnivores alike.
From falafel to eggplant, Sage uses only local (when possible), organic ingredients, combining them to create fun and innovative dishes.  My personal favorite was the Jack Daniels Barbeque Jackfruit burger, which was served open faced with marinated jackfruit, caramelized onion, arugula, garlic aioli, and smothered in a spicy barbeque sauce. It was hot, filling, and hit the spot.  I also had the pleasure of trying my friend's Smoked Soyrizo burrito, which was a bit heavy on the sodium, but hearty and extremely satisfying.  With soyrizo, roasted potato, tofu egg, gazpacho, guacamole, sautéed jalapeno, red pepper and mushroom, it was the perfect choice for brunch on a hungover Sunday.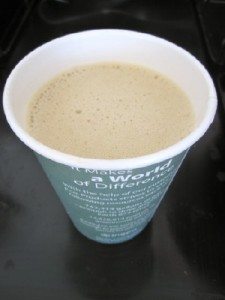 Luckily, it didn't end with their impressive entrees. The restaurant's vast displays of vegan chocolates and KindKreme ice cream tempted me to indulge in dessert.  The staff is very personable and accommodating- they humored me and let me try nearly every one of their unique flavors, notably among them, Chocolate Almond Butter and Carrot Coconut Ginger.  To create their light and sweet flavors, KindKreme uses all natural ingredients such as, coconut, chia, almonds, cashews, cacao, vanilla, agave, and even honey.  Since there is much debate about the use of honey in vegan cuisine, Kindkreme is 'kind' enough to label the flavors they use it in.   To top it all off, I got to end with a latte consisting of cold-pressed coffee and almond milk, a rare find in most coffee shops.
All in all, the Sage/KindKreme hybrid is definitely a great addition to Los Angeles and the vegan community as a whole.   The restaurant is airy and spacious, with modern décor and big windows, allowing for plenty of natural sunlight.  Not only are they committed to the environment, using biodegradable to-go containers, but they are also committed to affordable, healthy, vegan comfort food.  Prices ranges from around $6-12.  I'm sure they will be successful in all of their ventures and will only continue to grow in popularity- I know I'll be back.
Sage Organic Vegan Bistro is located at 1700 W. Sunset Boulevard and is open Monday-Friday 11am to 10pm, and Saturday -Sunday, 9am to 10pm.  You can reach the restaurant by phone at (213) 989-1516, or go through their website to access the restaurant's vegan menu.