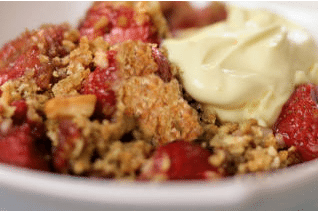 Hit your nearest farmer's market for some farm fresh strawberries and get baking!
By Brooke Rewa, LuxEco Editorial Assistant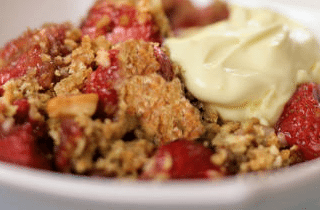 It's strawberry season here in Southern California and we're baking our way into spring.   This homemade  crumble filled with locally grown strawberries will have you sprinting to your local farmer's market for supplies.
Ingredients:
2 pints farmer's market strawberries
1/2 cup sugar
1 Tablespoon Cornstarch
1/2 cup oats
1/2 cup brown sugar
1/2 cup flour
1/3 cup melted butter (I use Earth Balance's vegan butter substitute)
First cut the strawberries into quarters.  In a large bowl mix your strawberries, cornstarch and sugar.  Pour this into an un-greased pie pan.  In a seperate bowl mix the flour, butter, brown sugar and oats until blended and fluffy.  Spread this mixture over your strawberries and bake at 375 for 30-35 minutes.
Top with a scoop of Purely Decadent's coconut icecream and smile your way into strawberry season.