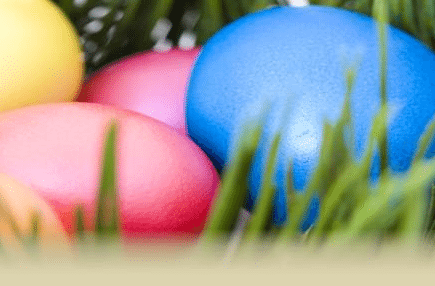 Let's get healthy this Easter with some sustainable, non-toxic alternatives to the usual holiday traditions.
By Brooke Rewa, LuxEco Editorial Assistant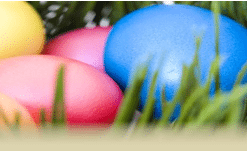 Filled with treats and trinkets it's easy to see why the
Easter
basket is one of the focal points of the holiday.  While
"healthy"
isn't  usually a word we associate with the contents in our
Easter
baskets, this year it can be.
Skip the cavities and the sugar high and fill your baskets with some of these:
– sunglasses
– gardening tools
– disposable cameras
– stickers
– jump ropes
– homemade dehydrated fruits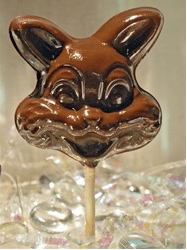 – bird feeder kits
Sticking with the idea of a sustainable Easter, save your basket.  Tuck it away in a closet with the rest of your Easter decorations or stash it in the garage and re-use it every year.
You can also make your own basket from materials around your house.  Start this up as a new Easter tradition with your kids!
Make a handle out of pipe cleaners and attach it to your leftover berry baskets with some ribbons and stickers for a simple, sustainable basket.
Another option is to take an orange juice carton, dry it out and cut one of the long sides off.  Cut out the side with the spout and glue pretty construction paper over the entire outside.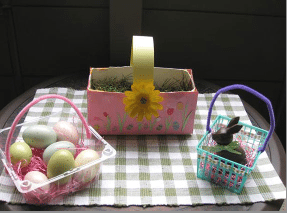 Use paint, buttons, stickers, whatever you can fin to add some flare to your homemade baskets.  Get creative and teach your kids the importance or re-use.
Let's not forget healthy and sustainable when it comes time to color the Easter eggs.  Non-toxic is the way to go this year; for the health of your family and the environment.  It's also extremely easy and fun, turn it into a science lesson!
To Make Non-Toxic Egg Dyes:
– wash your hard boiled eggs in soapy water to remove all residue
– place one to three handfuls of dye stuff in a saucepan (use your judgement on the amount)
– add water- about 1 inch over dye stuff
– Bring the water to a boil and then reduce to low.  Let simmer between 15 and 30 minutes, or you get the color you want.  Remove the  pan from heat.
– Pour mixture into a liquid measuring cup.  Add 2 teaspoons of white vinegar for each cup of strained dye liquid.  Pour mixture into a bowl or cup that is deep enough to cover your eggs.
– Use a slotted spoon to lower your eggs into the hot liquid.  Keep them in there until you reach your desired color!
– After the eggs are dry you can rub them with cooking oil to give them some shine.  `
* You can also make fun designs on your eggs with wax crayon before you dye them.
What to use:
BLUE- canned blueberries
PURPLE- purple grape juice
GOLD- tumeric
GREEN- boiled spinach leaves
ORANGE- carrots
PINK- beets or cranberry juice
YELLOW- orange or lemon peels