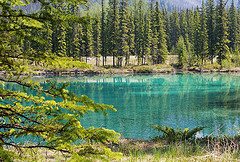 Heighten Your Awareness and Lengthen Your Limbs in the Perfect Virtual Setting.
Tourism Alberta is bringing the full heli-yoga experience to L.A. and we are inviting all LA and Orange County residents to attend a yoga session lead by an actual heli-yoga instructor from Alberta. This is a *free* event. The first 75 people to arrive to the event will receive a free yoga mat to join the practice, and the first 200 people free t-shirts, water bottles and totes. All participants will also have a chance to win a heli-yoga trip to Alberta, Canada and a month pass to YogaWorks.
* Note: Please note that in case of rain, the event will be rescheduled to Wednesday, April 13th.
Looking to stretch your vacation imagination?  Heli-Yoga is just one of the many exciting experiences that summer travelers can enjoy in Alberta this year.