By Stephanie Nickolson a contributing LuxEcoLiving advocate and Interior Designer
It wasn't that long ago that the meaning of the word "spa" conjured up an image of traveling a distance, to escape to a destination, a resort or spa or other place away from home to enjoy relaxation or spa-like treatments. Today, you can create your own respite or spa retreat in the convenience of your own home. It can be done in many varying degrees; from the fully-loaded spa, equipped with the latest technology to simply wrapping your body in the softest 100% organic cotton bathrobe to be comforted. For the sake of this blog being technology-free, I'll save the tech part for another blog. (For example, the mirror that turns into a TV when turned on…ok, no more) This blog is more about relaxing, connecting yourself to nature, using water and energy-saving products and just clearing your mind.
What exactly is the meaning of an "eco-friendly" spa? There are many factors that contribute to this meaning, but a few examples are: environmental codes are dictating that brass fixtures are now lead-free. Plumbing companies are manufacturing toilets that are as low as 1.2 gallons a flush, down from 5 gallons. Basically, it means using water and energy-saving fixtures, incorporating green products that don't harm your health or the environment, while relaxing, enjoying silence and being connected with yourself and nature. I'll break it down here:
~Water and energy-saving:
WaterSense label: Established in 2006, this is an unbiased, 3rd party certification developed by the EPA for fixtures, toilets and shower heads that save water by 20%, thus saving money. Bathrooms, by far, use the most water in the house. So if you're interested in saving water and money, look for this label. Water is elemental and essential and has the power to soothe, heal and rejuvenate our bodies. Ancient cultures in Greece, China and Japan were among the first to develop hydrotherapy, which is the practice of submerging your body in water for medicinal purposes. The natural minerals in water help to detoxify your body, and in general, help relieve pain and sore muscles. Some companies offer bathtubs with everything from massaging air jets to hydrotherapy and LED chromotherapy. Chromotherapy is a method of treatment that uses the visible spectrum of colors' electromagnetic waves to heal the body. The hues include blue for serenity and calming, white for clarifying and green for balancing.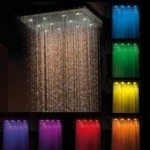 More on water: Also certified by WaterSense, Jaclo www.jaclo.com offers a true spa experience with their Quadrato showerhead which has 350 jets that stream a rain shower from a metal plate above. You can utilize one color or the changing color mode of all 12 LED lights, incorporating the chromotherapy experience.
One of the leaders in eco-friendly bathroom fixtures is the company TOTO. www.totousa.com which manufactures baths with air jets that provide massages with different settings;  from a gentle massage to a more vigorous one. It has an integrated silencer on the motor so that you can enjoy a quiet bath.
According to the company MTI Whirlpools,  www.mtiwhirlpools.com "simple is good", offering a freestanding tub called "Elena" from their Boutique Collection. According to MTI, the water of the bath relieves some of the gravity's stress on your body and the heat helps create deep relaxation, slows internal organs and increases circulation in the body.
Native Trails  www.nativetrails.net offers artisan-crafted, earth-friendly, freestanding tubs made of recycled copper. This company suggests that copper has anti-bacterial properties!
~Bathroom vanities:
Replacing the wall to wall counter tops with single or double sinks are the furniture style vanities. They range from rustic to glamorous and everything in between. All of these furniture styles are IN. Exciting combinations of wood, bamboo and metal bases support these glass and stone vessel sinks or solid tops. Again, Native Trails offers great products in this category. Their 36″ wide Chardonnay Vanity is made in the U.S.A. of reclaimed white wine-stained oaking staves used for flavoring wine during the fermenting process. The result is, it infuses tannins and aroma, giving it a grape-colored, natural stain.
The company Xylem  www.xylem.com offers their Bambu vanity; made with an eco-renewable bamboo veneer over solid poplar wood and can be wall mounted or freestanding. Xylem uses a finishing process that reduces waste in manufacturing and eliminates harmful chemicals from the staining and coating process.
~Faucets:
Delta faucet offers Touch2O technology (This is the only time I'll mention technology here) You can touch it to make it go on or off, and after seconds of removing your hands, automatically shuts off. It senses your presence within 4″ and helps conserve water. If your hands are messy, you simply tap it with the back of your hand. Great for kids!
~Materials:
Walls and floors: stone, glass, porcelain or slate are other natural materials that look beautiful and are durable and offer practicality for bathrooms which inevitably get a lot of water. Mosaics are very popular now and natural scenes can be installed with birds, leaves and floral designs. A great source for no-VOC paints, formaldehyde-free caulks and adhesives is www.afmsafecoat.com
~ Other Suggestions:
Bamboo or 100% organic cotton towels and bathrobes
Radiant heat flooring (easier to install prior to flooring installation or best during new construction)
Candles, candles and more candles
Towel warmer racks
Shower sprays
Steam room or sauna room additions
~Enjoy your peaceful, sensory spa experience!