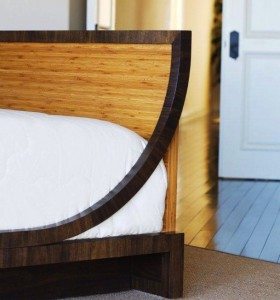 By: Leslie Harris, Interior Designer, Leslie Harris Interior Design and LuxEco Advocate.
Jill Salisbury, founder of Chicago based el: Environmental Language, formally educated and trained as an interior designer, has found her true calling and passion in the design and manufacturing of furniture. Ten plus years ago, while working as an interior designer, she began learning about the benefits of sustainability but wasn't able to find furnishings that were stylish and had any kind of environmental initiative.
"There wasn't anything available and I felt the Interior Design community needed to have what I call the Eco-Chic Alternative where you can have style with environmental integrity and promote a healthy indoor air quality for your clients."
Beginning in 2001, Jill spent two years with an environmental consultant who had previously worked with William McDonough and was very well versed in the concept of "Cradle to Cradle", which she applied to her own practice and product.  The two met with manufacturers in the Chicago area and asked if they would take a leap of faith with them and re-think the way they made furniture. Having no idea who she was, Jill asked if they would manufacture her furniture and to make it like they had never made it before, going back to the way furniture was made before the Industrial Revolution, before all of these chemicals were introduced into the work stream.
Much to her surprise, the top upholstery workroom in the area, which fabricates products for many of the high-end furniture companies, agreed to quarantine an area of their workroom that would be specifically for the production of her furniture. The three of them worked as a team, learning and testing out how well these products would hold up.  Because they do not use solvents of any kind, one of their biggest challenges was in the cure time of the finishes. Unlike many of the chemically based solvents used today which can dry in minutes, these require a minimum of 24 – 48 hours for each coat to dry resulting in much patience on their part.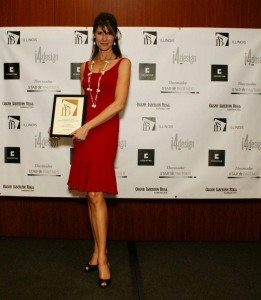 Jill's "Eureka" moment in becoming a Healthy Home influencer in the design community began when she attended the Environ Design convention about 12 years ago and attended a workshop led by William McDonough where he spoke of toxicities and VOC's, terms she had never heard of before.  Shocked by what he was saying, in that moment she realized that as an Interior Designer she had a new responsibility to inform her clients of what they were going to be living with, touching and breathing every day of their lives for a long period of time.  At that point in her career when she realized that she had absolutely no idea of what kind of impact she was having on their homes, her passion was engaged.  Becoming a human sponge, Jill attended every environmental workshop, read every book she could get her hands on to learn what she could do to educate herself and then to educate others.
Healthy Child Healthy World, sponsor for Healthy Home 2010, is a groundbreaking designer showcase house that sets a new benchmark for stylish green living with a focus on healthier indoor air quality.  Jill was brought in as co-chair of HH 2010 to establish the healthy interior guidelines.  Penny Bonda, Annette Stelmack and Leigh Anne Van Dusen were among the illustrious group of leaders in the sustainable design movement for interiors that  Jill invited to join her. This advisory group oversaw everything that the designers did and took on the not so very popular job of basically policing everything that came into the home to insure that it met the guidelines.  In some cases, when a product was not acceptable, they were able to talk to the manufacturer and educate them about what would be required to be involved in HH 2010 and they were able to revise their production so that it would qualify.  What Jill finds so exciting about HH 2010 is that it looks like any other transitional style home. What does stand out is that upon entering there is no new house smell, which was their goal.  Among some of the Greenguard certified products that Jill is most excited about are: Cambria, "a stunningly gorgeous,"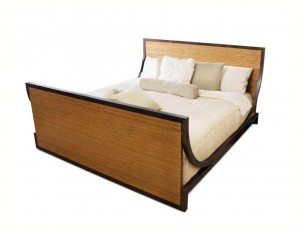 non-porous quartz material, used on all of the counter tops and made in the US, O ecotextiles, window coverings from Hunter-Douglas, vegetable dyed custom wool rugs and Colonial Bronze cabinet hardware, which has an anti-microbial finish that is benign so that no bacteria can not survive on the surfaces and eliminates the use of any harsh chemicals to clean them.
Jill is also the very recent recipient of an ASID Illinois Design Excellence Award for her design of el: Environmental Language "Crescendo" bed, a modern interpretation of the traditional Sleigh Bed.  This 100% sustainable bed is made of a FSC-certified core material with a Walnut veneer on the curved sides with an Amber  Bamboo headboard and footboard.  The finish is a non-toxic natural lacquer derived from tree sap.