By Nancy and James Chuda founders of LuxEcoLiving and co-founders of Healthy Child Healthy World
Las Vegas Nevada, City Center, Vdara/ Travels with Journey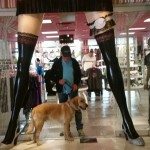 Our Journey is your Passion
Thinking of going to Vegas? Wanna drive? Don't leave home without your dog. WATCH!
  No way! Pack all your gear. Don't forget your lingerie. Just cuz your traveling with your pet doesn't mean you won't make nooky. Throw in a few sexy t's and don't forget your Pro-Digest Plus and that special bottle of Channel #5.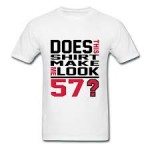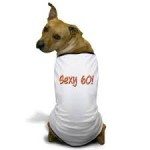 Our Journey began at Macdonald's. It was Journey's first  Golden Arch experience Nothing on the menu appealed to him so we just ordered fries and split a burger. Have you ever tried sharing  a Mac.. (burger scented but cardboard tasting)… while driving? Journey's olfactory scents from the outside world (one we have coveted meticulously) only allowing him the tiniest, freshest morsels of Taste From The Wild (smoked salmon) was  interrupted big Mac time.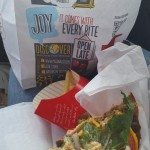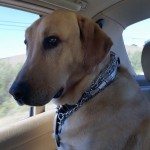 As you know a Big Mac comes with the JOY from EVERY BITE. Its iconic. Its classic. What! He ate it! I turned for less than a second to fasten my seat belt and my half was his WHOLE  mid-afternoon snack. Like a magnate…labs are notorious for eating anything and EVERYTHING. Desperation set in.. I was starving!
The Mad Greek was miles away. Only pet pee stops… for Journey. My bladder was holding up like a camels but my stomach was crying out for more than organic fruit and nuts.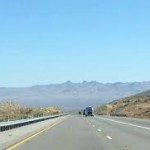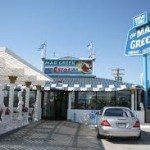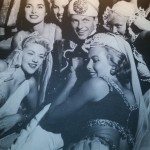 Courtesy LuxEcoLiving
I knew once we got to Vegas… just like for FRANK they would roll out the welcome mat because Journey's become a dog celebrity. I swear! The concierge cues the doormen, tells the reception area as soon as they see him, "JOURNEY'S HERE!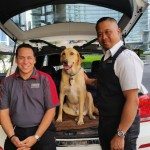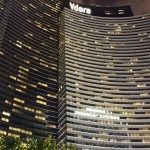 LuxEcoliving
And as far as the schleppers, the tote carriers, the canines most trusted companions, we're just back-up. Every once in while they throw us a few bags of peanuts but Journey gets First Furry Class treatment. WATCH!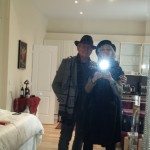 Treats! Did anyone say treats…of course they did. Vdara Hotel knows how to treat guests two and four-legged alike. Lucky for us we were Journey's special invited  frenzied friends. Too much coffee on the road left us wired but wiling to gamble… we headed for the slots at City Center's magnificent Aria Hotel. Yep, dogs are welcome on leash of course but they just can't steal chips, dice or money clips. Jim had a feeling he was going win big so I left my boys in front of the slots while I treated myself to a fabulous ESPA Treatment with Kristen Ortega including a restful nap in the comfort of our own Vdara Executive suite with a magnificent view of the Bellagio gardens and fountains. At night what an experience!! Double Wow!
Room Service was a phenomenal experience. I can always judge a hotel by the kind of service it offers its guests. Prompt and attentive to your every need. SLEEP! I want a great nights sleep and Vdara furnished the perfect bed and mattress. The sheets were so cool and freshly ironed… not just tumbled dry. I'm really picky about these things. Journey had his own swank bed and blanket… it was perfect. Jim snored and I slept with Journey.
Dining Out Vegas Stye Was A Blast
We were walking around the strip to loose weight instead of money. Smart! And to work up an appetite. I was following my hero, Anthony Bourdain's suggestion. That man rocks more than ice cubes. He's quintessentially cool except for the occasional misogyny jokes. I think he could do well in Vegas.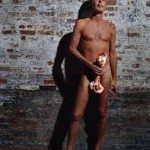 Anthony Bourdain photo credit
The Guernica Culinary Challenge: Jose Andreas versus Julian Serrano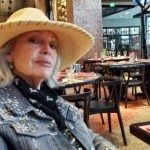 LuxEcoLiving
It was getting close to lunch time and the countdown had begun for The Battle of Guernica's Best Authentic Spanish Cusine.  Two top Las Vegas Celebrity Chefs, Jose Andreas from Jaleo and Julian Serrano at Aria were about to compete for Best Spanish Restaurant in the World.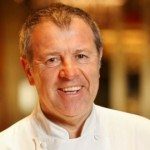 Meet our first contender. Julian Serrano has been a master chef for over 40 years. He hails from Madrid Spain. If you hunger for short rib braised by a three-star Michelin chef that lets your knife goes untouched. A cabernet selected by one of the world's 186 Certified Master Sommeliers that changes what risotto means to you, and absinthe expertly prepared to follow today's selection of scallops. The credentials of his roster of culinary talent go beyond expert training and esteemed awards. Take a bite, and you'll know.!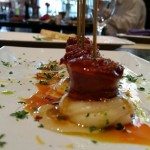 Julian Serrano's signature Oxtail wrapped in Panccetta fabulous!!!
Meet our second contender, Jose Andreas also a native of Spain.  José was named Outstanding Chef of the Year at the 2011 James Beard Foundation Awards and was named among the 100 most influential people in the world by Time magazine in 2012. Recently he was named Dean of the Spanish Studies program at the International Culinary Center.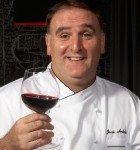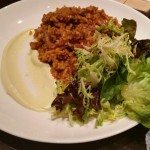 Jose's signature Paella simply divine!


It was a tie for The Battle of Guernica's Best Spanish Cuisine… you decide the next time your in Vegas try both restaurants. But if I had to pick I would return to Serrano at Aria in a heartbeat!
Don't Miss Summer Nights with Olivia Newton John in Las Vegas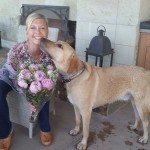 It just so happens that Olivia is Journey's God Dog Mother. She loves her Raven who by the way is a real celebrity's dog. Raven gets red carpet treats naturally. Journey works online … and is syndicated on The Huffington Post. Not a bad start for an adopted dog who was looking for a home and travels the country staying in four star hotels.. He has his own travel blog! Lucky Puppy!!!
Olivia's Summer Nights concert is at The Flamingo and if you are lucky to get into the Meet and Greet tell her Journey sent you.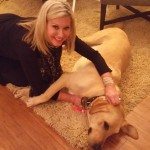 Olivia Newton-John. All photo credits LuxEcoLiving
Editor's Notes
Don't miss Vdara in City Center Las Vegas for your next Furry Friends adventure. It's one of the best!  2600 West Harmon Avenue Las Vegas, Nevada 89109. Call 18667457767 to make a reservation today.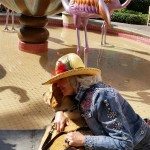 Travels with Journey/the blog is a LuxEcoLiving Media Group production. All rights reserved.
Nancy's wardrobe by Double D Ranchwear. Hat by Carol Carr