LA Pollution:  It may not go away any time soon!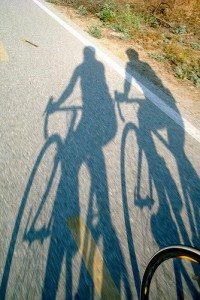 By: Linsley Oaks, LuxEco Living Editorial Assistant
Los Angeles: home smog contamination, congested freeways, smog, and long commutes. "No body walks in LA" as that famous pop song of the 80's astutely observes. And for the most part, they are right: no body does walk in LA.  Which is creating more and more pollution in LA. Even the most casual observer covering ground in this megalopolis will take note of how few pedestrians there are. It is a car culture; people sometimes cover 40 + miles in a day just to get to work and back.
As a local "LAian" I may not walk much; but I do ride my bicycle. Minimizing LA pollution should be one of the priorities of the typical "LAian". I have been a bicycle commuter for almost 5 years, 3 of which have been miles logged on LA streets. I have also commuted in Cleveland, Ohio and Vancouver, British Columbia. Commuting by bicycle in LA has proven to be simultaneously the most rewarding and the most challenging by far. The most rewarding because of the climate- almost every day is the perfect day to be on a bike. 75 degrees and sunny is perfection to a person exposed to the elements. The most challenging because of the dominant car culture.
It is not just the 3-D experience of "frogger" I enact on a daily basis with rush hour traffic. It is also overcoming the social challenges. You try showing up for a job interview, or a date, or a day at the office in this city with a bicycle helmet in hand and chain grease on your pants, a little sweaty and out of breath. People in LA take not owning or using a car as an act of youthful rebellion but also as not measuring up to the ʻstatus quo'. People treat a car as a necessity in LA. It is seen as your access point to all things a person needs to live in this modern world. It is not impossible though. I am living proof: I work in an office and am a functioning member of society even though I do
not drive a car. Bicycles are not just for hipsters and their stylish obsessions.
I love being a bicycle commuter. I feel really good that I am contributing less to the layer of smog that gives this city that entrancing green hue at sunset. I am going to be less of a burden on society because I stay in good health and shape by riding my bicycle every day. I take pride in every mile I pedal.
And you know what? Many of you could do it too! I see you, in traffic, looking bored and tired. Being on the bicycle gives me a much more intimate perspective of my surroundings; most of which are people driving cars. Of course, if you are needing to transport large objects, or take your kids to school, then a car is the logical choice. Most of the cars I pass, however, are occupied by one able-bodied person, looking morosely at the long line of cars between them and their destination. I hope that I inspire a spark of curiosity or longing to try something new as I flash by you on my bike (and yes, many times I get to move faster than traffic) wearing my helmet and a smile.
My point is, we are a culture of choice. And choosing to participate in car culture to the degree that we have over the decades has created big ecological problems. Cars are accountable for most of our ozone pollution. Maybe it is time for society to make a better choice on something as simple as getting from A to B.
Contamination of our lives in LA Pollution can begin environmental protection with a simple Trek