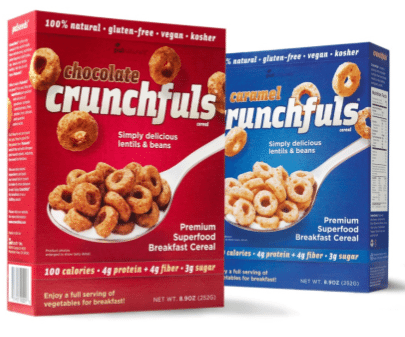 Nutritional Facts can easily help shape your Figure: How to get vegetables in that breakfast cereal.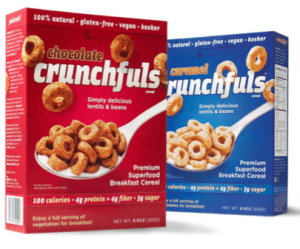 By Brooke Rewa, LuxEco Editorial Assistant
Pulfoods is bringing us a nutritious breakfast that both parents and kids can get behind; Crunchfuls cereal. Made from beans and lentils this cereal is the perfect way to sneak in a full serving of vegetables first thing in the morning. With 4 grams of protein and only 3 grams of sugar this gluten-free, natural product is a great alternative to processed, sugary breakfast cereals.
Created by Deepa Shenoy, Ph D, a pharmaceutical scientist and molecular biologist, Crunchfuls is meant to harness the goodness of lentils and beans while appealing to a large market of consumers.  This gluten-free, vegan, kosher, all natural product is perfect for individuals with food allergies, digestive sensitivities, cardiovascular conditions, or just those who are active and health conscious.  With two delicious flavors, chocolate and caramel, each containing the power of vegetables and a complete protein, it's the perfect way to trick your kids into eating a healthy breakfast .
The primary ingredient in Crunchfuls is Pulseeds, seeds of pulse legumes.  Pulse legumes are defined by the Food and Agriculture Organization (FAO) as an annual leguminous crop that's harvested solely for it's dry seed.  Pulses are important food crops due to their high protein and essential amino acid content.  They are used as a major source of protein in many developing countries and in recent years have had growing popularity in countries like the United States because of their overwhelming health benefits.  Pulses also play a key role in crop rotation due to their ability to fix nitrogen; meaning they naturally enrich the soil to help reduce the use of artificial fertilizers and improving the output of future crops.  It takes only 43 gallons of water to produce 1 pound of pulses.  When you compare this to the 216 gallons it takes to produce the same amount of soybeans, 469 gallons for chicken and 1,857 gallons for 1 pound of beef, it's easy to see why this product is not only healthy for our bodies but also healthy for the environment.
Coming in at only 100 calories per serving, Crunchfuls puts other breakfast foods to shame.  So throw out the Fruity Pebbles, put the Pop Tarts back on the shelf and treat your kids and yourself to a delicious healthy bowl of Crunchfuls.
Click here for more easy way to incorporate vegetables into your diet.
[youtube]wKpUCxJHCNU[/youtube]
Nutrition Facts and Nutrients can be difficult, but finding the Nutritional Value shouldn't mean giving up on Vibrant and Tasting Living. Follow the Nutritional Articles Below for more tips