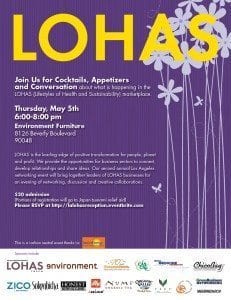 LOHAS Second Annual Los Angeles Networking Event & Reception – Provides Forum for Green Business Leaders.
LOHAS, the producers of the annual LOHAS Forum is the leading edge of positive transformation for people, planet and profit, provides the opportunities for business sectors to connect, develop relationships and share ideas. The second annual Los Angeles networking event will bring together leaders of LOHAS businesses for an evening of networking, discussions and creative collaborations.
Join us for cocktails, appetizers and conversations about what is happening in the LOHAS marketplace.