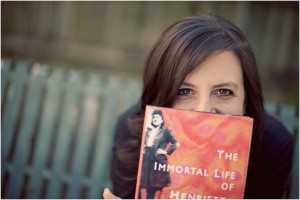 By: Molly Cimikoski, Editorial Assistant
Last week, LuxEco Living was lucky enough to be graced with a phone interview from New York Times bestselling author, Rebecca Skloot. Our founder, Nancy Chuda, spoke with Rebecca, fresh off of her international book tour, about the success of The Immortal Life of Henrietta Lacks.
For those of our readers new to the story of Henrietta's amazing, immortal cells, here's the video from Rebecca's CBS Sunday Morning interview.
Listen on to learn details of how the personal characteristics of Henrietta have carried over in the generosity of her cells.
Rebecca, on the importance of HeLa cells: "They have been used for everything from the first polio vaccine; they went up on the first space mission to see the results of zero gravity. The number of scientific landmarks that have come from the cells just goes on and on to this day. There's something like 5 Nobel prizes now that have been awarded for research that used her cells. The scientific importance of them you really can't overstate."
As the health care debate rolls along, we spend a lot of time addressing issues of bioethics. In this clip, Rebecca discusses the duality of medical advancements with the need for quality health care, with a specific look at how this has played out, or hasn't, for Henrietta's family.
More recently, Oprah and Allan Ball (creator and executive director of "True Blood") have come together to make The Immortal Life of Henrietta Lacks into an HBO movie! Here, Nancy and Rebecca discuss the excitement and possibilities for what lies ahead as the film production begins.
Who do you think should be cast as Henrietta Lacks?
For the full-transcribed interview between Nancy and Rebecca, read on here!