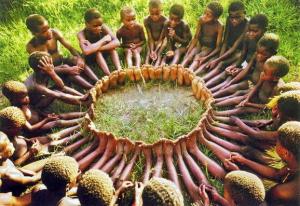 Traveling is a look into culture, tradition and history.  Learning about Médici's Renaissance Florence might give you a more profound appreciation of art, religious history and early finance. The pyramids and ancient structures through Central and South America give in a glimpse into an exciting and mysterious civilizations long lost. And other times, enjoying a country's beauty and bouty of natural resources and cultural heritage forces you to look a little bit deeper into more recent history and reflect on our status of world citizenship.
While on a SITA safari in Africa, Alan Fox, CEO of VacationsToGo.com wrote a moving peace about the appreciating the magnificent beauty of Rwanda and the generous spirit of the natives.  However, he recognized the devastatingly bloody massacres of the early 90's, the toll it has taken and ultimately, the rebirth of a nation full of people who have de-emphasize tribal differences and remain committed to working together for a more peaceful, united and prosperous Rwanda.
The article inspired me and gave me hope. Politically, socially and culturally, we often find ourselves in a polarized society of "us" and "them." But imagine: If Rwanda can come this far in 16 years, think about the change and possibilities afforded to us who have a far less to overcome.
If we all acted more like citizen's of the world and lived togeth in a "tribe" that was bound by respect for our duty of faithful stewardship of each other, nature and the land, what problem's solution would really be beyond our reach?
Thank to Alan Fox, CEO of VacationsToGo.com, for his beautiful letter to subscribers:
In earlier reports, I covered the exciting game drives and chimpanzee trekking in Uganda and a wondrous and poignant visit with mountain gorillas in Rwanda. We have enjoyed every day of our SITA safari and every place we have been, and I can certainly recommend it all to the truly adventurous.
But I resolved before I arrived in Africa that I was not going to overlook the troubled history of this country, for that would not be fair to you or to the people here who have suffered so greatly. Many of us remember the shocking headlines regarding Rwanda's genocide in 1994, and others have seen the movie on that subject, Hotel Rwanda.
I came to Rwanda not knowing what to expect and today, I will tell you what I have found. This letter was not easy to write and I should warn you that it may not be easy to read.
**************************
We crossed the border with Uganda on foot, in the rain, and I approached a tall, distinguished-looking man in a dark suit and asked him to point us in the direction of the immigration office.
"Welcome to Rwanda," he said, with a warm smile. He took my hand in his, as is the custom here, and led me to a nearby building andpresented me at the immigrations office, where our group was again welcomed and quickly processed.
A short drive later, we checked in at the Sabyinyo Silverback Lodge, elevation 8,200 feet, on the slopes of the towering Sabyinyo Volcano and near the border with the DR Congo.
The front desk manager, Merarry Kanyesigye, was waiting with a friendly smile, wet towels for our hands and a cool fruit drink. He took us on an orientation tour as our bags were delivered to our cottages.
The main lodge was spotless and beautifully appointed, the rolling grounds were covered in wildflowers and the spacious guest cottages were scattered on the hillside in a way that ensured complete privacy.
In the evening, we arrived at the dining room where the charming head waiter, Flavia, softly sang her thanks to us for visiting before presenting the dinner menu and the sumptuous meal that followed.
Sabyinyo Silverback Lodge is owned by a community trust that has conservation and local economic development as primary objectives, and a large share of its revenues are plowed directly into the local community.
The weather was cool throughout our visit and we enjoyed the wood-burning fires in the lodge and cottages and the hot water bottles that warmed our beds. In the mornings, we were awakened by a soft knock at the door, announcing the delivery of coffee and biscuits. In the afternoons, after gorilla tracking, we were met on the patio and helped into slippers while our mud-covered boots were taken away to be cleaned.
These fine touches from our Rwandan hosts were much appreciated.
On consecutive mornings, we took the short drive to the mountain gorilla tracking center, where we were assigned trackers and briefed about the gorilla families we would visit. We met game wardens, guides and porters and were sincerely thanked for coming.
After unforgettable experiences with two mountain gorilla families, we traveled to Kigali (Rwanda's capital city) for one last night in the country, and checked in at the Kigali Serena Hotel, where we enjoyed the "Africa Night" buffet of local delicacies.
Having stayed in seven Serena properties in Africa, I was not surprised that the property was 5-star in every way. You simply cannot go wrong with Serena, in the cities or in the bush.
There are a few places in the world where tourists are merely tolerated, but everyone we have met in Rwanda has seemed genuinely glad to see us and eager to help us enjoy our stay.
I wish I could say that the sun always shines on the people here, but there is darkness in the world and one day darkness came to Rwanda.
In the spring of 1994, long-simmering tensions between the majority Hutu tribe and the minority Tutsis boiled over. A murderous Hutu militia (the Interahamwe), trained and sponsored by extremists in the Hutu government, sought to hunt the Tutsis to extinction.
For 100 days, the streams ran red with the blood of innocent children, women and men hacked to death by panga (machete) or shot. The Interahamwe forced pro-peace Hutus to participate and killed many who
refused. They turned neighbor against neighbor and friend against friend. An estimated 800,000 people were massacred.
Eventually the radical Hutu government was overthrown by a Tutsi militia, and the worst of the murderers fled across the border to northeastern DR Congo, where they band together to this day, the so-called FDLR.
More than 250,000 genocide victims are buried in mass graves at the Kigali Memorial Centre, which opened on the 10th anniversary of the genocide and is the focal point of the country's public healing.
We visited the centre this morning and found that the dead still speak.
They whisper not to look away as they float by, face down, in the river. They call to us from burned out houses where they hid and were found. They scream at us from bulldozed churches, from ditches beside the road, from the bottom of latrines.
Horrific images tell their stories to anyone who will listen.
The last room of the centre is dedicated to the thousands of children who were killed. There is a sign on the wall: In memory of our beloved children, who should have been our future.
There are 14 windows in the room, each detailing the life and violent death of a single child. There is a photo of the child (in some cases the only one in existence), along with his or her favorite food, best friend's name and favorite thing to do. The last entry is cause of death.
It is without doubt the most heart-wrenching thing I have ever seen in my life.
From the ashes of war and against all odds, the current government of Rwanda has created a stable, secure and peaceful new country. Sixteen years removed from the madness, there is a renaissance underway, and on the streets of Kigali, one can see the purposeful pace of a nation on the rebound.
In all aspects of daily life, the government has de-emphasized tribal differences in favor of a focus on what all Rwandans share, their common dreams and aspirations. I've been told several times on our short visit that there are no longer Hutus and Tutsis, just Rwandans.
The government attempted to bring the leaders of the genocide to justice but they have broken the cycle of retribution that marks so many ethnic conflicts around the globe by instituting a forward-looking amnesty program for many thousands of others.
Confessed murderers who felt forced to kill were pardoned and entered a "solidarity camp" for reorientation and sensitization. In a short time, they were released to return to their villages, where they went to the surviving relatives of people they had killed and apologized face-to-face, asking for forgiveness.
Not everyone could forgive of course, but once again the Hutus and the Tutsis live peacefully together.
Dian Fossey was murdered before the genocide swept across Rwanda, but one line in her book, Gorillas in the Mist, would seem to sum up the attitude of Rwanda's leaders today as it did her own thoughts:
"When you realize the value of all life, you dwell less on what is past and concentrate on the preservation of the future."
As we wait in the Kigali airport to begin our journey home, I want to thank the many kind people we met in Rwanda and Uganda, our splendid driver/guides (Jean-Marie and Steffie), and the folks at SITA who make sure their customers are well looked after on every safari.
I would not have missed a moment of this trip, even the painful ones.
Rwanda has come back not from the edge of the abyss but from its depths, and her return is a powerful testament to the resilience of the human spirit.
Alan Fox
Chairman & CEO
________________________________
To view photos or a slideshow from this leg of my safari, please click here. To read earlier reports from this safari, please click here.
To see SITA safari itineraries that include gorilla tracking in Rwanda or Uganda, click here.
To find out what the Dian Fossey Gorilla Fund International and Karisoke Research Center are doing to save mountain gorillas–and how other humans can help–please visit GorillaFund.org.
[nggallery id=14]