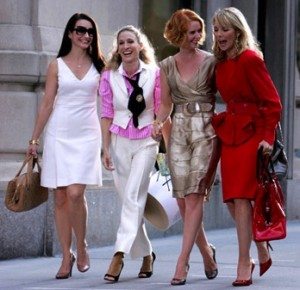 By Alanna Brown, LuxEco Editorial Assistant
The Sex and the City ladies each seem to have a sixth sense: fashion. As the world continues to grow eco-conscious, these stylish New York icons have begun fusing their glam with their green.
One fashion site gives us the scoop on how Danny Santiago, the feature film's stylist, chose a silver Ecoist handbag for Samantha Jones to tote on an outing. "We chose the Silver Mega because it's very modern, the proportion is perfect, [and] it went great with her look," Santiago said. This handbag is no less fab than its non-recycled fashion-world counterparts, and is made entirely from disposed candy wrappers. Retailing at just $178, it's not only eco-friendly but also wallet-friendly. "Ecoist handbags are trendsetters of eco-fashion," said Jonathan Marcoschamer, Ecoist co-founder. "Having our handbag chosen only confirms our commitment to creating handbags that are high-style while low-impact." Ecoist also gives second life to soda cans, magazines and other waste through the manufacture of their eco-friendly handbags.