By Nancy Chuda  Founder and Editor in Chief and of LuxEcoLiving and co-founder of Healthy Child Healthy World
How many of you have seen the Alfred Hitchcock's movie about the crows?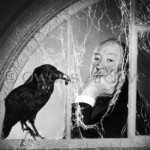 You've heard the expression, "It's for the birds." Well in this case crows happen to be as intelligent as chimpanzee's. In fact, they are more literate.
WATCH:Joshua Klein TED Talks About the Crows