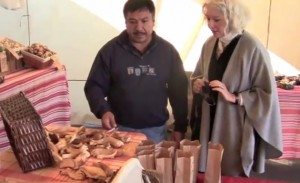 Intro By: Nancy Chuda, co-founder of LuxEcoLiving.com and Healthy Child Healthy World
This Thanksgiving lets give thanks to all of the people who start from seed to grow all the bountiful produce and to the distributor's who get to your tables on time.
Recently, a National Restaurant Association survey of more than 1,800 professional chefs have revealed that locally grown produce and locally sourced meats are among the top trends among the nation's restaurants for 2010.
"Many restaurants are sourcing some of their ingredients locally, and you often see chefs shopping at farmer's markets to create a host of better-for-you options that today's diners want," commented Dawn Sweeney, president and CEO of the National Restaurant Association. "We are going back to our roots and the foundation of our craft that made it more pleasurable." said Michael Ty, president of the American Culinary Federation.
In my search for locally grown produce for this Thanksgiving's meal I headed to the closest farmer's market. I was looking for a variety of fresh picked organic mushrooms.
I want to combine several different varieties to make a creamed mushroom soup for the first course. I was amazed in my search for mushrooms to still find heirloom tomatoes being harvested and sold.
Finding the perfect "Tom" lead to me to discover some facts about Mary's Organic Free Range Turkeys. Free Range does not mean Organic. According to one of the largest foodservice distributors in America, Goldberg and Solovy, Mary's Free Range Organic Turkey is top quality.
I had a chance to meet with President, Earl Goldberg and learn how your turkey gets from the farm to your table.
I also learned that America's top chefs rank locally grown and half-portions among hottest menu trends for 2010
12 Hottest Trends from the nation's top chefs:
1. Locally grown produce
2. Locally sourced meats and seafood
3. Sustainability (conserving an ecological balance by avoiding depletion of natural resources.)
4. Bite-size/mini desserts
5. Locally-produced wine and beer
6. Nutritionally balanced children's dishes
7. Half-portions/smaller portion for a smaller price
8. Farm/estate-branded ingredients
9. Gluten-free/food allergy conscious
10. Sustainable seafood
11. Superfruits (e.g. acai, goji berry, mangosteen, purslane)
12. Organic produce
By Sahar Ghaffari, LuxEco Living Editorial Assistant
Thanksgiving Day has come and gone all across America and leftovers are still being devoured, especially for the big star, the turkey. Indeed, the turkey is as American as the people eating it on Thanksgiving; Benjamin Franklin fought to have the Turkey be our nation's symbol before the bald eagle was chosen. However in recent years, the turkey hasn't been treated so well. Stuffed with antibiotics and hormones, the wonderful natural flavor and taste of the turkey has been diluted to a mere shadow of its former self. This is probably why more people are moving towards buying a fresh and organic turkey for their Thanksgiving festivities.
So what is an organic turkey? While the definition of "organic" seems ever evolving, it usually means that the turkeys are fed a diet without any preservatives, antibiotics, or hormones. On the other hand, "free-range" means the birds are allowed to graze in an open area; but that doesn't necessarily mean they are roaming about in open fields their whole lives or that they're organic. Some birds might only be let out of their cages and into an open area just once in their whole lives. So read the label of your turkey carefully!
One company on the forefront of fresh organic and free-range turkeys is Mary's Free-Range Turkeys. The company located on Pitman Family Farms in Sanger, CA is dedicated to locally grown fresh turkeys that are raised humanely and with love. And it's not just the Pitman family who has an interest in organic turkeys; sales for these birds are on the rise, especially in California where healthy eating habits are prevalent. In fact, Mary's Turkeys sold out of all their Thanksgiving birds months ago, although you can still buy one of their turkeys from your local Whole Foods.
One of the major complaints of organic turkeys these days is about how expensive they can be and there's no doubt that they do cost more than your average Butterball. However, what you lose in money you gain in taste and in health; the comfort of knowing that what you are feeding your family is free of any additives, antibiotics, and hormones. So go check out your local market or Whole Foods and discover the old fashioned taste and goodness of a natural and organic turkey; and enjoy your turkey just the way the pilgrims and Native Americans did on that very first Thanksgiving!