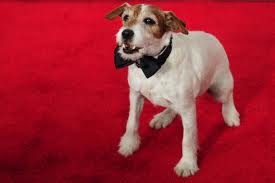 By Nancy Chuda Founder and Editor-in Chief of LuxEcoLiving and co-founder of Healthy Child Healthy World
Silence is golden as in oscar winner. You betcha!
If you haven't seen The Artist you must! One of the best films ever! Silent Movies gave birth to this nation. It was and still is a miraculous invention. The seemingly nondescript  events in The Artist parallels just about everything you have seen and experienced in movies; boy discovers girl, girl chases fame, fame creates  loneliness which leads girl back to boy in just the nick of time.
So as luck would provide I sat in the golden splendor of one of the most beautiful cities in all the world. And in awe of the silence in a darkened theater in the midst of The International Santa Barbara Film Festival, I observed the audience going crazy with laughter just for Uggy. Not because he's just a dog but because he's the only character in the film who knows how to do a pratfall and that trick is no small feat by any means. A good pratfall is what turned the silent screen into an audience's  roar.
But what makes this film extraordinary is the pure chemistry between its stars, not the umpteen takes it took to achieve it. Pure magic from beginning to end of credits.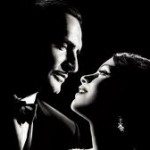 Jean Dujardin and Bérénice Bejo as George and Peppy are so delightfully matched. They bring  perfect pitch  in this  French cineaste in which 
Michel Hazanavicius
celebrates
the coming of sound to Hollywood.
When I was a film critic at  (
KABC Eyewitness News
) I saw no less than ten new releases a week. Most, not all, were pretty boring. The best part of the job was having the opportunity to study the history of old hollywood and in particular the artists that added to hollywood's fame and fortune. Hollywood's roots are truly organic.
D.W. Griffith, Lillian Gish, Mary Pickford, Buster Keaton, Charlie Chaplin, and my favorite of all time,
Mable Normand
brought their magic to the silver screen a frame at a time. And what a laborious process.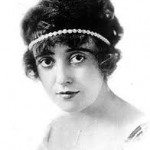 Years later, I wrote a screenplay about the first comedic heroine, Madcap Mable and sold it to Frank Price at Universal Studios. It sat on his desk for years. Later, I wrote a sequel, Tillies Punctured Romance, which I will now send to Spielberg. It's never too late to add a new theme to Universal City and the park which attracts millions.
One of the best reviews of The Artist is shared here by Philip French. He
writes," from time to time moviemakers have attempted to recapture silent cinema. Anthony Mann, who grew up in the silent era, announced in the mid-1960s that his war film,
The Heroes of Telemark
, was going to be almost devoid of dialogue, but he was talked out of it. A decade later Mel Brooks made
Silent Movie
, a strained comedy with one really effective joke: Marcel Marceau is the only person to speak, and has one word, "Non!". Hazanavicius is altogether bolder, more original.
The Artist
is in black-and-white and is genuinely silent. Set between 1927 and 1933, it focuses on the relationship between the handsome, narcissistic George Valentin (Jean Dujardin), an established movie star, and Peppy Miller (Bérénice Bejo), a pert actress on her way to stardom. The opening sequence takes place at the premiere of George's latest adventure film,
"
A Russian Affair", in which he appears with his gifted performing Jack Russell terrier, and we see both the silent movie itself and the silent orchestra and mute black-tie audience in the cinema. The outrageously self-regarding George then takes an onstage bow, largely ignoring his angry female co-star, before greeting fans on the sidewalk outside the cinema where he meets cute with Peppy. There are references here to similar scenes in
Singin' in the Rain
. George's name echoes Valentino, and his appearance is a wonderful combination of Gene Kelly, John Gilbert and Douglas Fairbanks," and I add Errol Flynn. (later on he actually watches a clip of Fairbanks's
The Mark of Zorro
). Peppy's name and appearance inevitably invoke Clara Bow, the It Girl with the cloche hats and provocative manner."
The pair meet again when she appears in a small role at his studio where they dance before the camera, fall for each other and part without declaring their love. Then sound comes to Hollywood and the industry is transformed, a crisis marked by a surreally comic sequence in which George hears objects around him making noises. Passing girls chatter, a feather falls with a mighty explosion, but he himself is silent, unspeaking and, as he perceives himself, unspeakable. Like Chaplin he decides to buck the trend and continue making silent films, writing, directing and financing his own work. Hazanavicius provides two striking metaphors. First, George meets Peppy on the staircase of what is, I believe, the Bradbury Building, that classic late-Victorian block in downtown Los Angeles with a magnificent atrium, from where the camera frames three floors, catching her going up as he's going down."  Architect James Chuda remarks, "the Bradbury is  an architectural wonder designed by a genius who was just a draftsman. It was  conceived as a high rise office building with an enclosed atrium, the first of it's kind built in America and it  truly remains as a landmark LuxEcoLiving heritage site."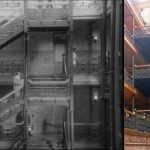 The most joyful surprise of all is experiencing Uggy, who plays George's Jack Russell. The Artist sees Uggy playing the hero's constant companion throughout the film's emotional roller-coaster ride, providing a performance that is at once clever and versatile. Other than the little dog in the movie  Frida, based on the life of artist Frida Kahlo  whose tumultuous marriage to Diego Rivera the legendary artist who becomes obsessed having discovered that his dog has left his "mark" on one of  his most notable works  and later admits that he (his dog) was the best critic of all.
Well if a dog can steal a scene it can sometimes steal the show. Don't forget W.C. Field's feared being upstaged when he said,  "Anyone who hates children and animals can't be all bad."
In this case its a universal fact. The audience goes crazy for Uggy, when  he saves George's life. He is the true hero of this film.
The Artist will win Best Picture for all the right reasons but also because it shines a tremendous light on man's best friend. Go for the gold fido!