By Nancy and James Chuda founders LuxEcoLiving and Healthy Child Healthy World
Santa Ynez California, twilight time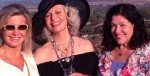 It's a marriage of two of the most celebrated tastes. Pairing fine wines with French cheese is pure matrimony… till death do us part!
Forget your cholesterol count! Indulge! Life is to be lived in the moment. Insist on living.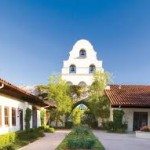 You can't imagine the thrill and the excitement we shared with a group of our special friends when we received the most incredible assortment of  cave aged cheeses from Mons fromager-affineur in France.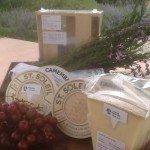 No one takes cheese more seriously–or treats it more lovingly–than the French, whether they are making it buying it, serving it or eating it. It is the crescendo of a great meal, a showcase for the principal wine of the evening, or in this case the late afternoon. In France, the annual per capita consumption is the largest in the world: On the average, nearly 38 pounds of cheese are consumed by each person every year.
Thanks to the best intentions of Laure Dubouloz from Mons she assured me that Mons- fromager cheeses, are  the finest exports from France and when shipped Federal Express they arrive fresh and ready to consume.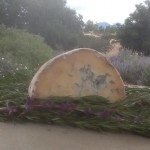 These are not your everyday variety. They are the best cheeses in the world from the best sources and aged to perfection
To taste, treasure, and yes, suffer some of the consequences of indulging in the best cheeses from France we paired them with Bridlewood Estate Winery's finest wines in Santa Ynez California.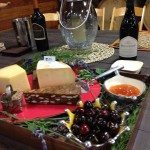 For those who have traveled throughout France you will remember the ooze, texture and rinds of the cave aged cheeses, the pungent stinky smell (of some others loathe ) and the desire (some say better than sex) others  love.
WATCH: Fall in love today! The images are contagious and you will want to order both the wine and the cheese when finished viewing our event.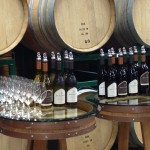 In the heart of Santa Ynez Valley, Bridlewood Winery reigns as one of the best vineyards in California. In the sun drenched hills where the beautiful vines produce robust grapes the finished product, a labor of love and alchemy, provides a fabulous assortment of wines at a great price for any cheese pairing.
Just 30 miles north of Santa Barbara on the eastern edge of the Santa Ynez Valley, the 105-acre estate is home to world-class wines, hillside vineyards and breathtaking views of the magnificent Santa Ynez Mountains. This is the faberge of all Central Coast Wineries.
Darcy Wright, a local resident shared some fascinating history about Bridlewood Winery. Once home to some of the most notable race horses in the world, today, the beautiful grounds  still conjure days of wine and winner circle ribbons. WATCH: The history of horses.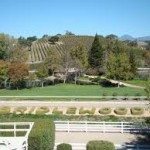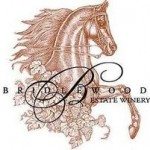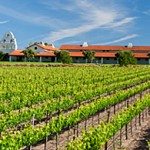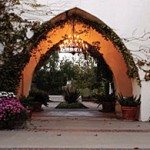 A destination all its own, Bridlewood blends rustic, Spanish-style architecture with a modern, artisan winery.
Lindsey Jessup Wine Ambassador for the Central Coast did a fantastic job in describing the wines by comparing their bouquets and flavors. It was a fabulous event. The wine and cheese pairings were a perfect match.
The Special Tasting Menu
Wine and Cheese Pairing
MONS-Gabietou: thermalized mix of sheep and cow's milk from the Pyrénées– 2010 Monterey County Pinot Noir
MONS-Camembert: pasteurized cow's milk from Burgundy–2011 Paso Robles Cabernet Sauvignon
MONS-Ovalie Cendrée: pasteurized goat's milk from Poitou region–2011 Santa Barbara County Reserve Chardonnay
MONS-Meule de Savoie: raw cow's milk from Savoie (wheel from Summer 2012)–2010 Monterey County Chardonnay or 2011 Grenache Syrah Marsanne Blend
MONS-St Soleil: pasteurized washed rind from Burgundy–2009 Santa Rita Hills Pinot Noir
MONS-Persillé du Beaujolais: pasteurized cow's milk from Beaujolais region–2011 Santa Barbara County Viognier
We relished every morsel of cheese and sip of wine in the magnificent Bridlewood Estate barrel room. A real treat!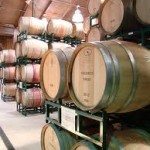 And just as the sun began to set behind the mauve colored Figueroa mountains, we entered the twilight time where Santa Ynez illuminates astounding beauty. Some people claim that it rivals the golden light of Tuscany. And the only way to experience it is to join us for a very special carriage ride. WATCH: The magical moments shared by friends. A ride through the country thanks to Charlie and Oprah. And be sure to join us next time on LuxEcoLiving.
LAFFINAGE' C'EST DU TEMPS… DONC DE L' EXPERIENCE The maturing is: Time… Thus experience. DU GOUT… DONC DE LA CURIOSITE- Taste… Thus curiosity… DU VIVANT DONC DE L'EMOTION- Living… Thus emotion…
Editor's Notes:
A very special thanks Toy Canto Tasting Room Manager and Linsey Jessup at Bridlewood Winery, Laure Dubouloz from Mons- Fromagier-Affineur and our special friends, Marcy and Strath Hamilton, John Easterling, Olivia Newton-John, Sabine and Pearl Brouillet, Grace and Darcy Wright, and Michael and Nancy Lippman for sharing the experience.
Bridlewood Estate Winery is located at 3555 Roblar Ave  Santa Ynez, CA 93460
Mons-Fromager-Affineur contact directly and they will help you plan your event.