By Nancy Gould Chuda founder and Editor-in-Chief of LuxEcoLiving and co-founder of Healthy Child Healthy World
The Brazilian Court turns  a spectacular wedding into a magical memory in impeccable
organic

Palm Beach style.
Sustainable food from chef Daniel's Cafe Boulud plus a  resplendent setting,  historic tropical gardens which restores the past and creates a harmonious future for a very blessed bride and  groom.
Marriage is like a golden ring in a chain, whose beginning is a glance and whose ending is eternity.
— Kahlil Gibran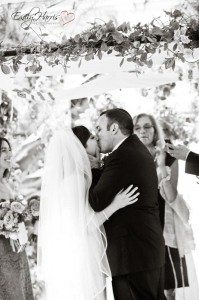 Four years ago, when Lynne Gaynor looked at her Facebook page, she saw a familiar face.
Someone she hadn't connected with in years. She was only 18 when she and Jeffrey Schiller dated in high school but somehow they both did what most young people do, drifted apart.
While Jeffrey married and had a family, Lynne moved to California, dated a lot and continued her education. But somehow the orange glow of her home state, Florida, and her loving parents, cousins and friends, lured her back to her roots.
And for Lynne and Jeff their roots mattered. The early spark of  their chemical attraction was more than sustainable…. it was purely organic.
NGC- When you first met Lynne, did you have any idea that the first impression would make such a lasting impact in both your lives?
JS- No.We had no idea.  But the instant chemistry was beautiful and natural.  Catching up for the first time in eighteen years was as though we hadn't missed a beat.
When he popped the question and presented Lynne with an engagement ring he offered more than just gold. The real family jewels are his four children, Jillian 10, Benjamin 8, Maisy 6 and  Miles 4. So, becoming a Bonus Mom was equal to becoming a bride.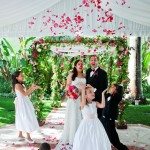 And for the Gaynors, Betty Ann and Bob,  Lynne's parents, their engagement  was more than they could ever have imagined. Instant grand parenting required more then knowing how to operate a microwave oven.
There is no crash course. Although Bob, retired from a  successful toy business, the kids were not old enough to appreciate his repertoire of products. At least not yet.  Just a very large swimming pool and a child-friendly cafe on their retirement property, (a village of sorts) and the patience of two Jobs, Bob and Betty's gave them entry into a magical and loving world.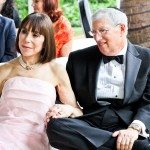 Planning the wedding was almost… a piece of cake. After Lynne stepped onto the property she knew she had found Paradise Home. The Brazillian Court is not just one of the most beautiful boutique hotels in the world, it is the crowned jewel of Palm Beach. In fact, the extraordinary truth is that some of PB's most affluent residents are considering sizing down, just a little, so they can take up residence. And why not! Imagine chef Daniel's Cafe Boulud restaurant at the touch of a button. Or a quickie at the Frederic Fekkai Hair Salon and Makeup Bar on your way to the dining room to meet friends for lunch. You never have to leave the property.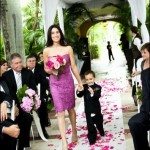 Known for their exclusive wedding events, I asked Lynne if the Brazilian Court lived up to all her expectations.
NGC-What made the Brazilan Court such a special venue?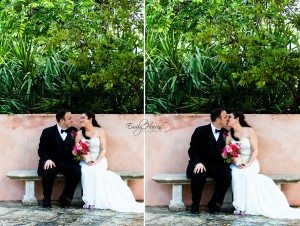 LGS- I wanted to carry out my vision of our BIG day, which included an intimate elegance and the beauty of nature. I truly feel The Brazilian Court was exactly that! The hotels Mediterranean charm and tropically landscaped garden courtyards created a picture perfect scene for our special day.
Emily Marrah, director of catering has a very special midas touch.
NGC- What made this wedding so special from the many others you have undertaken?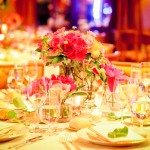 EM"I immediately felt an affection surrounding Lynne and Jeff's wedding. From my first meeting with Lynne and her mother, Betty Ann, I was captivated by their enthusiasm and the clear vision they had for the Wedding Day."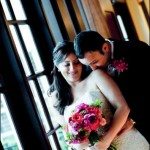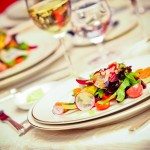 EM- Lynne wanted to host an elegant affair that included custom lace linens, white china and colorful centerpieces.  Working with a bride who has a complete idea of how she envisions the look of her Wedding Day is refreshing.
NGC-How difficult was it for the chef to find and prepare organic or sustainably grown food for the wedding dinner?
EM-  We worked with our established purveyors and other sources for organic ingredients.  Because of the growing season in Florida, we couldn't work with our usual farm resources, but the purveyors we did use were able to provide us with specific ingredients that met the clients' requirements.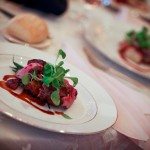 NGC- What ingredients did Chef Jim Leiken use in the Chocolate Souffle?

EM- Pastry Chef Arnaud Chavigny prepares this classic signature Daniel dessert with 70% guanaja chocolate.  The profile is rich in taste and has a hint of bitter flavor that comes from the high- quality chocolate that is used.  Traditional soufflé s rise up from the dish, but ours has a unique twist – we serve the soufflé upside down.  The dish is topped off with a gold-dusted chocolate disc, bringing a simple and elegant touch to this beautiful dessert.
NGC- Aside from the incredible chemistry exuded by the bride and groom, their enthusiasm seemed to affect not only the guests but the vendors as well.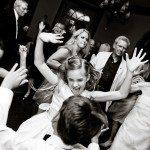 EM-My delight in planning this wedding was further  enhanced by working with incredible vendors – Petal Harvill of Petal Designs, Michelle Doyle of VoxBlu, and Emily Harris of Emily Harris Photography, who were consummate professionals.  In my experience, working with a team endowed with the know-how and passion to create a memorable occasion makes ALL the difference between a good and great event.  The Gaynor & Schiller Wedding was a truly great affair!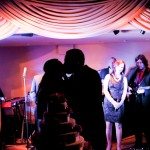 NGC- That cake! It truly was one of the most beautiful wedding cakes I have ever seen and or tasted. Describe how it was made?
EM-Pastry Chef Arnaud Chavigny Vanilla Genoise with Vanilla Bean Mousseline and Mixed Berries.  The cake was made by using a more French traditional technique that incorporates balancing the biscuit to mousseline.  The Traditional American technique consists of creating a cake that is mostly biscuit (80%) and very little filling (20%).  Chef Arnaud's approach to creating the perfect cake is laying 50% biscuit with 50% mousseline.  The berries used were from a local farmer and were a mix of strawberries, raspberries, blueberries and blackberries.  The vanilla bean paired beautifully with the profile of the berries used resulting in a perfect summer wedding cake that ended the meal on a light, refreshing and satisfying note.
What was the most daunting moment on your wedding day?

No wedding day can possibly be described as a "piece of cake," in terms of nerves. Anyone who tells you their's was seamless  without any last minute jitters or trepidations is just not of this world.
While on their honeymoon in Costa Rica, I had a chance to ask Lynne and Jeff what their special days leading up to their marriage were like, including the Big One.

NGC-What was the most daunting moment the day of your wedding?
Lynne- When I heard there was one of the worst hail-storms to-date and many of our guests were driving through it on the way to our wedding.
Jeff- When we received 3 cancellations first thing that morning, and when my friend Doug pulled me aside before the reception to say that he did not see his and his wife's names listed on the seating chart!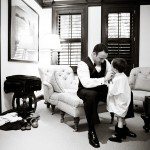 NGC-What advise to you have for other brides and grooms? Any tips for calming THE nerves?
Lynne- Don't forget to breathe and if your not comfortable in front of crowds, some good advice I got before a public speaking event years ago, pretend everyone in the audience is naked.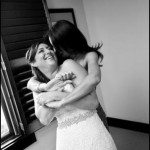 NGC- Jeff how did your sons feel about wearing tuxedos? Was it their first time?
JS- Yes, it was their first time.  They loved it.  The hilarious part to me was that when we went for our final fittings, they didn't want to take them off!  The day of the wedding they wanted to put them on first thing in the morning!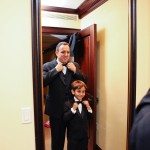 NGC- Lynne, I know that planning the wedding and taking your vows will always be one of the most memorable days in your lives together but seriously, taking on his family is an even bigger commitment. How does that feel?
LGS- My love had 4 children from his previous marriage and now that we are married, I am the lucky recipient of these 4 beautiful, fun, loving boys and girls! I choose not to use the word step-mom, as I feel it has a negative connotation. I am their bonus-mom. They add so much to my life and hopefully I to theirs, and for that, I feel abundantly blessed.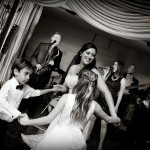 NGC- Jeff, what advice do you have for other grooms who may be taking vows a second time around?
JS- "Learn from yesterday, live for today, and hope for tomorrow." – Albert Einstein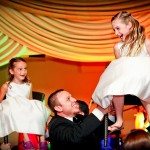 Editor's Notes: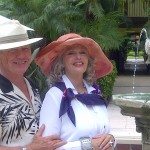 The Brazilian Court is a LuxEcoLiving4u resort destination. For further information about all of the details for both photography and wedding planning please contact Emily Harris and Emily Marrah. Also, I would like to acknowledge the hair and make-up artistry at the Frederic Fekkai Salon and Spa who provided for the entire wedding party including the flower girls.
Lastly, I asked Lynne Gaynor what was is the most precious memory she will always treasure? And she said, "The evening was rich in magical moments…sharing the joy with family and friends the moment Cantor Stettner pronounced us husband and wife. It just kept getting better and better!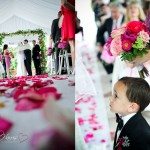 On Children- Kahil Gibran
And a woman who held a babe against her bosom said, "Speak to us of Children." And he said:
Your children are not your children.
They are the sons and daughters of Life's longing for itself.
They come through you but not from you,
And though they are with you, yet they belong not to you.
You may give them your love but not your thoughts.
For they have their own thoughts.
You may house their bodies but not their souls,
For their souls dwell in the house of tomorrow, which you cannot visit, not even in your dreams.