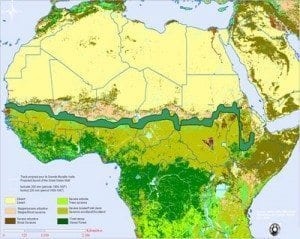 Move over Great Wall of China, the Great Green Wall is coming and it's much more colorful and eco-friendly. In an effort to subdue the advancing Sahara Desert and lessen drought in Africa, the Great Green Wall will consist of a band of trees over 4,000 miles long and nine miles wide. From Dakar to Djibouti, the luscious living wall will sprout through 11 countries in the Sahelo-Saharan region of Africa.
Africa suffers from climate change, which results in severe drought and desertification. The wall of 37 recommended drought-tolerant native plant species aims to slow soil erosion, slow wind speeds and enable more rainwater to be absorbed by the ground. Desertification along with mono cropping and overgrazing has led to a tremendous degradation of agricultural lands in northern Africa. As crops fail, rural villages are forced to move their families to urban areas in order to survive.
Recognizing the need for preventative action to ward off these recurring issues, the African Union has backed the Great Green Wall initiative. Plans for the wall initially began five years ago, but due to financial shortcomings and concern about the trees' maintenance and longevity, the project has been on hold since. However, with recent financial support from the Global Environment Facility (GEF) who has committed to $119 million, the plan is closer to becoming a reality. The GEF is an independent financial institution that unites 182 countries and international institutions, NGOs and the private sector to address major environmental issues around the world.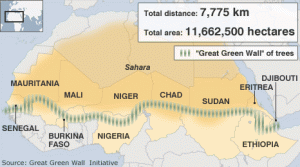 With support from the GEF, African leaders are meeting in Chad to further advocate for the wall. Some skeptics doubt the trees will be able to survive in the dessert, while others fear upkeep of the wall will fall through the cracks. But if this leafy barrier proves as successful as its advocates are boasting, northern Africa may succeed in halting the spread of the great Sahara Desert and preserving crucial nearby agricultural lands.