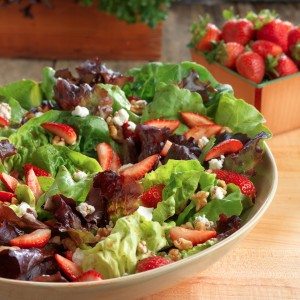 Excerpted from The Earthbound Cook
Copyright 2010 by Myra Goodman
Used by permission of Workman Publishing Co., Inc. New York
All Rights Reserved
Sweet-tart and succulent, strawberries are a true joy of spring and summer. This light and delicious salad uses whole heirloom lettuce leaves as a beautiful and flavorful base for the delightful blending of sweet strawberries, creamy goat cheese, and toasted walnuts. The flavors are melded perfectly by a quick-to-make balsamic vinaigrette that features toasted walnut oil.
Serves 4 as a side salad
1 pint fresh strawberries, rinsed, dried, and hulled
Walnut Balsamic Vinaigrette (recipe follows)
7 ounces heirloom lettuce leaves, left whole, or 5 ounces mixed baby greens, rinsed and dried if not prewashed
½ cup walnut pieces, toasted (see box, page 31)
½ cup (about 2 ounces) crumbled goat cheese
Cut the strawberries in quarters, place them in a small bowl, and toss them with about 2 tablespoons of the vinaigrette. Set aside.
Place all of the lettuce leaves in a large bowl and add 3 tablespoons of the vinaigrette. Toss to lightly coat the leaves; then taste and add more vinaigrette if needed.
Transfer the lettuce to individual salad plates. Top the lettuce with the strawberries, toasted walnuts, and crumbled goat cheese, and serve immediately.
Walnut Balsamic Vinaigrette
Good-quality balsamic vinegar and walnut oil make all the difference in this dressing. If you can find a roasted walnut oil, its intensely nutty flavor will not be overpowered by the rich balsamic vinegar. This vinaigrette is delicious paired with Heirloom Lettuce Salad with Strawberries, Walnuts, and Goat Cheese, but it's also light enough to dress delicate baby spinach, mâche, or baby greens.
Makes about ½ cup
2 tablespoons balsamic vinegar
½ teaspoon Dijon mustard
3 tablespoons toasted walnut oil (see sidebar)
2 tablespoons extra-virgin olive oil
Salt and freshly ground black pepper
Combine the vinegar, mustard, and both oils in a glass jar and seal the lid tightly. Shake the jar vigorously to combine. Season the vinaigrette with salt and pepper to taste. (Th e vinaigrette can be refrigerated, covered, for up to 1 month. Let it return to room temperature and shake vigorously before using.)