By Nancy Chuda founder and Editor in Chief of LuxEcoLiving and co-founder of Healthy Child Healthy World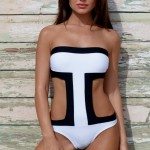 Making Waves Over 60
It takes guts! You stand in a badly lit dressing room, doesn't matter if the store is upscale or downscale, the truth is the SCALE never lies. Forget it! I'm not going to go to the rack. The swim suits are jammed together like cotton balls and they are hanging on the very THIN threads from which they are sewn. We're talking, itsy bitsy teenie weenie black and white bikinis that are so darn small… they wouldn't even fit a Barbie.
What's a boomer to do? Call Jenny Craig and tell her its all her fault. One of her reduced calorie dishes ( the one with the little bits of cheese on top) had way too many carbs!
What a dilemma!
I found my comfort zone at home positioned in front of my computer.  I began surfing the net  wishing I could find the perfect one piece bathing suit. And then it appeared. The Orchid Boutique had the most amazing and versatile selections of bathing suits, cover-ups, accessories and even better, real customer service that do more than tell you the companies return policy.
Finally! A person I could communicate with. A younger woman, who was more then half my age but had all the right answers. She gave me courage, confidence, and the will to give it a try.
Elizabeth Velez knows that buying a bathing suit online can be very challenging. She also knows that some of the most beautiful women in the world are seen wearing the most beautiful bathing suits on the beaches in South America. Many of which are not easily found  here in America. Besides its a real body burden to think of those gorgeously tanned girls showing up on our sand and turf.
When I called her I said I was hoping to find a one piece bathing suit that offered support. Nothing flimsy that would stretch after a few dips in the pool. Her calm manner and intuitive sense was so assuring. A welcomed interaction ensued.  We talked for a great length of time and explored many different options online. It was easy to see the images and even more confidence building to hear her positive but realistic advice and suggestions.
The Orchid Boutique was started to share the beautiful bikinis from South America with the rest of the world. They create embellished swimsuits by hand with beaded details you can't find anywhere else. None of their styles are made in China! They are one-of-a-kind. They now carry swimsuits from Colombia, Peru, Brazil, America, Australia and more.

I asked what were the latest trends and she said,  "fashion trends in one pieces are underwire support, color blocking and keyhole cut outs.
 The Orchid Boutique is known for  being fashion specialists. We worked together to find a great option that I was comfortable with, while still staying stylish.  One of the best aspects of how they resource their products is what Elizabeth refers to. "We try on all of the brands to see how each of them fit all of the different body types. "Every season we have company try on parties."
Feel Confident with a Cover Up
Elizabeth convinced me that I could wear  a Black Kailua Cover Up over  a black One Piece. She said it would look classic and beautiful.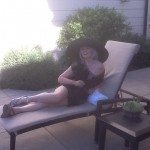 The Madonna. It made sense.  Years ago, I discovered, Billy Steinberg, an award winning lyricist who wrote one of her biggest hits, Like a Virgin.
Why not?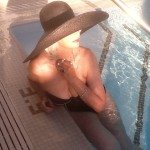 Editor's Notes:
By Phone:
Call their online team at 1-877-288-9564 
By Mail:
(Use this address for Returns/Exchanges) The Orchid Boutique
1444 Biscayne Boulevard, Suite 313
Miami, FL 33132