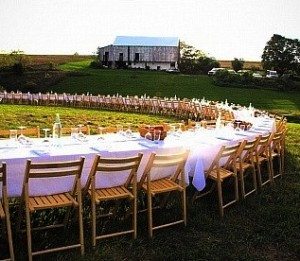 By Nancy Chuda, co-founder of LuxEcoLiving.com and Healthy Child Healthy World
Edible, adj.:  Good to eat, and wholesome to digest, as a worm to a toad, a toad to a snake, a snake to a pig, a pig to a man, and a man to a worm.  ~Ambrose Bierce
A divine inspiration. A remarkable event. An outstanding evening. Jim and I were treated to one of the most memorable moments in our lives—at Coleman Farm's annual dinner. Their mission is to re-connect diners to the land and the origins of their food, and to honor the local farmers and food artisans who cultivate it.
Outstanding in the Field is a roving culinary adventure – literally a restaurant without walls. Since 1999 they have set the long table at farms or gardens, on mountaintops or in sea caves, on islands or at ranches. Occasionally the table is set indoors: a beautiful refurbished barn, a cool greenhouse or a stately museum. Wherever the location, the consistent theme of each dinner is to honor the people whose good work brings nourishment to the table.
We had the opportunity to immerse ourselves in an evening, which to this day- stands alone as one of the most remarkable culinary experiences of our lives. Terra ferma. Nothing like the smell and feel of raw earth and the accompanying vision of it undulating across landscape, hills and valleys covered in fresh greens. Vegetables and herbs in neat rows stretching as far as the eye can see. The smell and taste of a rare mint from India and a basil from Thailand.
Ingredients for the meal are almost all local (sometimes sourced within inches of your seat at the table!) and generally prepared by a celebrated chef of the region. After a tour of the site, we all settle in: farmers, producers, culinary artisans, and diners sharing the long table.
Chef Rich Mead and the Coleman Family Farm is a match made in heaven. Father and son farmers Bill and Romeo Coleman have hosted several past Outstanding in the Field farm dinners. We look forward to what has become a yearly tradition. There is a lot growing here and Bill and Romeo always lead a fascinating walk around the grounds. And for those who can't get to the farm we highly recommend that they go to Chef Sandy Gelden's priceless gem, Pace restaurant, located in Laurel Canyon across the street from the legendary home of Jim Morrison. Superb!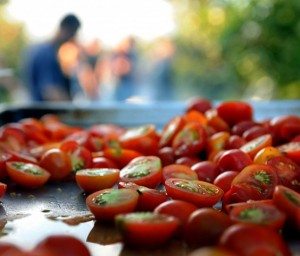 Follow the Outstanding in the Field bus calendar
Check out the Coleman Farms Photo Gallery
"Welcome to the Church of the Holy Cabbage.  Lettuce pray."  ~Author Unknown