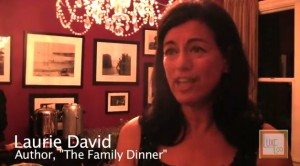 By Kammie Daniels, LuxEco Editorial Assistant
When Nancy Chuda, Founder of LuxEcoLiving accepted an invitation to interview  Salman Rushdie and review his new children's book, Luca and The Fire Of Life, she asked if I would cover an event celebrating Laurie David's new cookbook, The Family Dinner.
It's not every day I get to dust off my shiny black heels and drive out to lovely Bel-Air to mingle with Los Angeles' rich and famous. Who knew I would wind up right next to Tom Hanks when I arrived, never mind moments later having the beloved Hollywood actor playfully popping his head into my camera lens. What an amazing start to the night. I felt honored to be in attendance, amidst prominent supporters taking every opportunity to congratulate Laurie David on her debut cookbook, The Family Dinner.
As I waited patiently to interview the woman of the hour, I could not hide the 100-watt smile on my face, and wore it proudly as an accessory. As Laurie greeted each guest individually, conversation and laughter flowed as easily as the wine. The positivity in the room was electric, and the support continued until the last note of soft jazz had been played. Though my buddy Tom left before I could say goodbye, I will always have the footage of his forehead to remind me of the special connection we shared that night.
Congratulations Laurie from all of us here at LuxEco Living. We wish you great success!