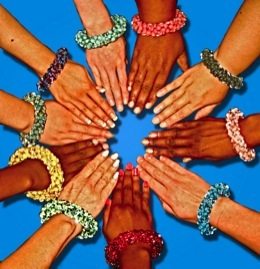 Introduction by Nancy Chuda Editor-In-Chief LuxEcoLiving and co-founder of Healthy Child Healthy World
I have many friends who plant great seeds for the future but few have actualized their visions internationally. My friend Francine LeFrak began her mission with the horrific news of the 1 million people murdered in Rwanda. Having realized that the women and their children, those that survived, would become lifelong victims of poverty and disease, she decided to make a very big difference in their lives. Francine's Huffington Post article today summarizes how trends in consumerism can lead to a more soulful economy.
" Ten years ago, I started a company in Rwanda to empower the female victims of the 1994 genocide. I did so because I felt powerless to help in any other way. At that time, I had no idea that my desire to give a hand-up, not a handout, and to provide employment to women genocide survivors would lead me to become a prominent voice in the ethical fashion movement."  Francine LeFrak
From America to Africa,wealth to poverty; the empowerment of all women is important.
By: Francine LeFrak, Founder of Same Sky, a company that handcrafts glass bead bracelets made in Rwanda and LuxEco Advocate. Read
My dream is for the empowerment of women and eradication of  poverty.  In 1994, 1 million people were murdered in 100 days in Rwanda, a country in East Africa that has been plagued with violence.  I spent eight and a half years trying to produce a film about this massacre– I wanted to tell the story of this genocide. Ultimately, the film never got produced. I was still left with the passion to shed light on this important story. By that time, my focus had also turned to the empowerment of women and girls.  It was with the mission of helping  the women in Africa  that Same Sky was born.
I also chose to focus on the women of Rwanda because it has the most progressive policy on women and peace as a part of the public policy.  50% of its parliament is made up of women, including the Speaker of the House.
I chose to empower women that were left behind; the ones that had been raped during the genocide and are HIV Positive . Here was a chance to try to lift them out of poverty by giving them jobs– "trade" not "aid".  A job that not only provides financial support, but also dignity and confidence and working in a collective where they can discuss the social issues that are most pressing to them.  It gives them a real future.
After working for Same Sky, these women artisans are now smiling, positive, and hopeful.   They are able to open a bank account, or start a business with their daughter; they can wear a dress that someone who works in an office wears. They give me the courage to realize how fortunate and blessed I am every second of the day.
Each bracelet is signed personally with pride by the artisan. This personal touch, is a reminder of the connection you have with the women supported through your purchase of a Same Sky bracelet.
For more information about how to help the Women of Africa in their fight against poverty please visit Same Sky.